SINGAPORE: Prime Minister Lee Hsien Loong delivered his National Day Rally speeches on Sunday (Aug 29) at Mediacorp. 
His speech in Malay started at 6.45pm, before his Mandarin speech. In his English speech, he spoke about what Singapore must do to sustain longer-term growth amid COVID-19.
Guidelines under the Tripartite Alliance for Fair and Progressive Employment Practices will be written into law, and the Government also plans to pass new legislation on racial harmony.
Mr Lee also announced that from November, nurses in public healthcare sectors will be allowed to wear the tudung with their uniforms if they so wish.

Highlights: 
From workplace discrimination to racial harmony, these are the seven things you need to know from this year's National Day Rally speeches.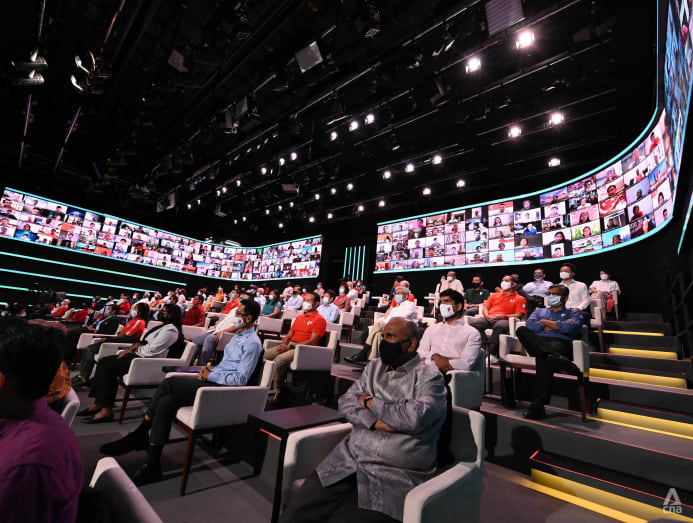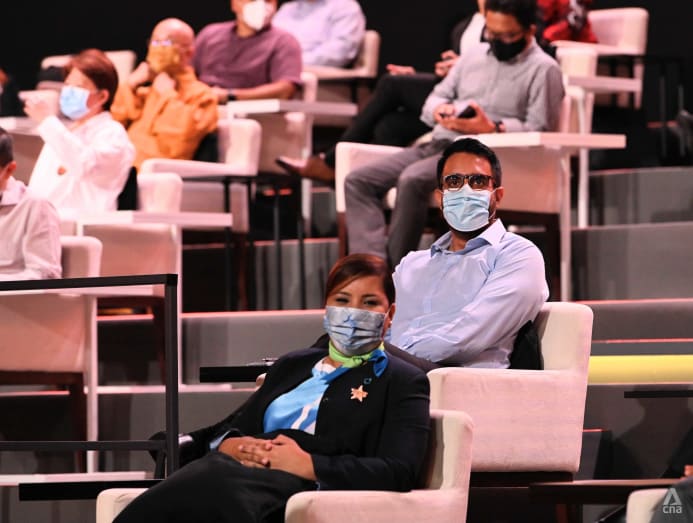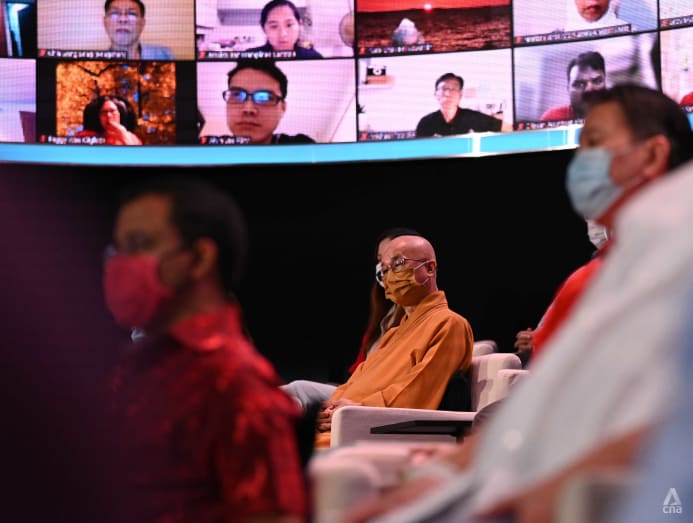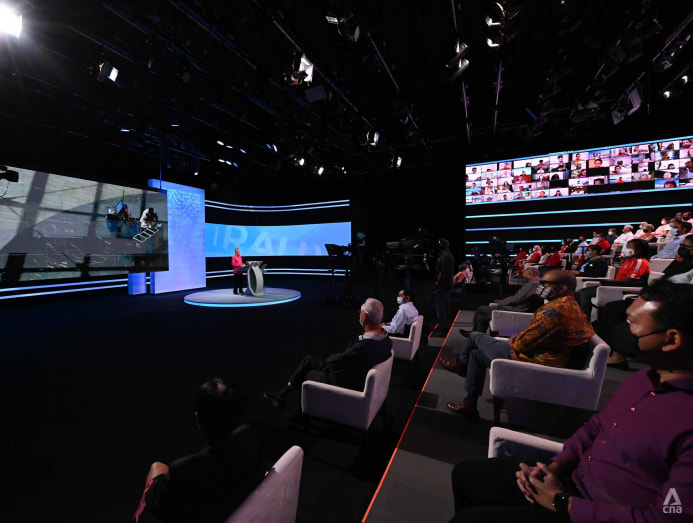 9.10pm Mr Lee concludes his speech
COVID-19 will not be Singapore's last crisis, and it will encounter more trials in the road ahead.
"We will be tested again, sometimes severely," he says.
"Each generation will wonder, as their parents and grandparents did: Will we survive? Will Singapore prevail? Will Singaporeans stay together as one people?
"My answer? We have done it before, we will do it again."
9.08pm Things to be proud of
As a country, Singapore has many strengths to be proud of, says Mr Lee. This includes its healthcare system, civil service, public infrastructure and national reserves.
"But our greatest strength is our people – united and resilient, steadfast and resourceful, in good times and bad," he adds.
He mentions Olympian and nurse Joan Poh, who took part in the recent Tokyo Olympics. Ms Poh, who is a nurse at Tan Tock Seng Hospital, returned to work and compromised her training when COVID-19 hit.
"She never gave up her dream to be an Olympian," says Mr Lee.
"She said: 'When I'm at work, I'm 100 per cent a nurse. When I'm at training, I'm 100 per cent a rower.' Joan, you represent the best of being a Singaporean."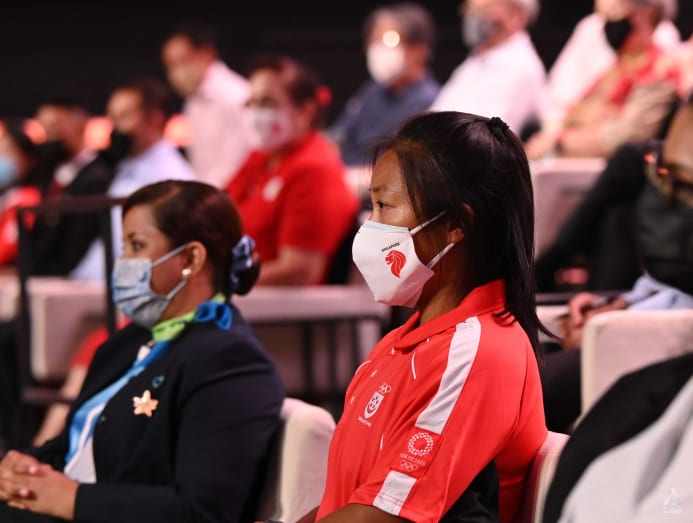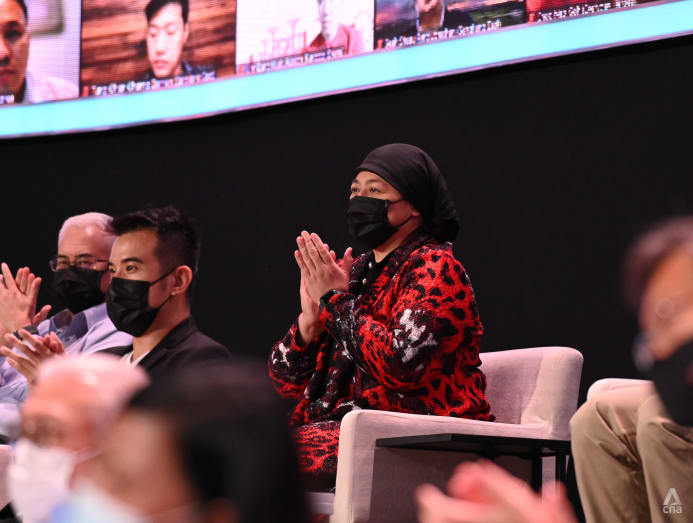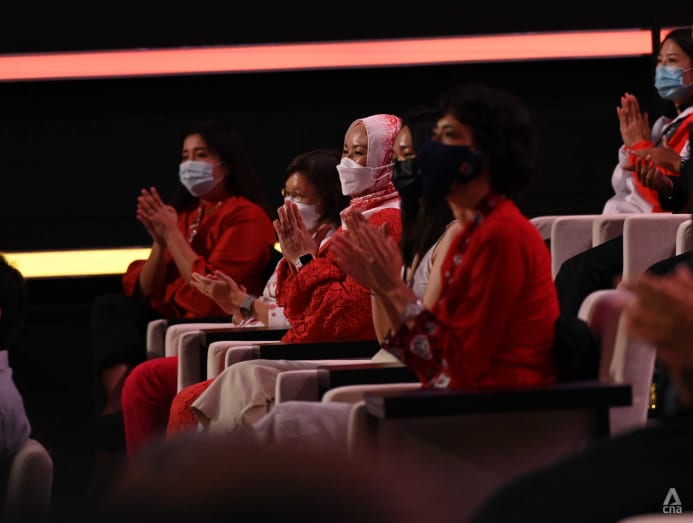 9.03pm Nurses will be allowed to wear the tudung
Starting in November, Muslim nurses in the public healthcare sector will be allowed to wear a tudung with their uniforms if they wish to, says Mr Lee.
"I hope everyone will take this move on the tudung in the right spirit. We are making a careful adjustment to keep our racial and religious harmony in good order."

8.59pm The tudung
Mr Lee speaks about nurses wearing the tudung, having touched on it in his Malay speech.
He says the Government fully understands the desire of more Muslim women to wear the tudung, but it is cautious about how non-Muslims will react to the visible change.
For school uniforms, the Government has reasons such as the need to emphasise students' similarities and minimise their differences, so students can build bonds in their formative years that will shape their attitudes for life, Mr Lee adds.
8.53pm New racial harmony law planned
Laws dealing with serious racial offences are currently scattered in different places, like the Penal Code and Sedition Act, says Mr Lee.
Singapore intends to pass the Maintenance of Racial Harmony Act, which will collect in one place all the Government's powers to deal with racial issues, and incorporate some "softer and gentler" touches.
For example, it can order someone who has caused offence to stop doing it, and to make amends by learning more about the other race and mending ties with them.
"This softer approach will heal hurt, instead of leaving resentment," says Mr Lee.
The Maintenance of Racial Harmony Act will "encourage moderation and tolerance between different racial groups", adds the Prime Minister.

8.50pm Harder to belong to a minority race
Mr Lee says ethnic minorities are the ones most affected by racial discrimination.
"They feel angry, hurt, disappointed that the words in our national pledge are still an aspiration, but still not fully achieved.
"I know it is harder to belong to a minority race than to the majority. This is true in every multiracial society.
"But it does not mean we have to accept this state of affairs in Singapore," says Mr Lee.
The majority race must be more sensitive to the concerns of ethnic minorities, he stresses.
8.48pm A work in progress
"Our racial harmony is still work in progress, and will be so for a long time," says the Prime Minister.
"We all take pride in Singapore's multiracial identity. But all of us still retain at least some racial or religious preferences.
"We make friends more easily with others who are of the same race, or who share our own religion. We mostly choose life partners who are of the same race, although that is changing. 
"All this is human, and natural in every society."

8.44pm Race and religion
The Prime Minister's third topic for tonight is race and religion.
Pointing out recent racist incidents, including a polytechnic lecturer who berated an interracial couple, Mr Lee notes that several incidents have specifically targeted Indians – both work pass holders and citizens.
One reason could be the large number of Indian work pass holders here, and another could be the Delta variant of COVID-19 that was first detected in India.
"But it is illogical to blame this on Indians," says Mr Lee.
These racist incidents remind us how fragile Singapore's harmony is, he says, but they do not negate Singapore's multiracial approach, which has worked well so far.
8.33pm Guidelines for fair employment to be enshrined in law
The Government has received repeated requests to toughen up the Tripartite Alliance for Fair and Progressive Employment Practices (TAFEP).
It has held back because it did not want the process to become legalistic or confrontational, Mr Lee says.
But after consulting the tripartite partners, it will enshrine the TAFEP guidelines in law, giving them "more teeth".
Conciliation and mediation are tried first, and if they fail, it will go before an Employment Claims Tribunal.
A similar tribunal will be created to deal with workplace discrimination, Mr Lee says.

8.29pm Work pass holders
The Prime Minister says there is a "growing restlessness" over foreigners, particularly some work pass holders.
This "unhappiness" was already present before COVID-19, but economic uncertainty has intensified it, he adds.
The Government must assure Singaporeans that Employment Pass and S Pass holders are of the right standard, and continue to tighten the criteria for issuing such passes.
While most companies follow the rules, a few have not been fair employers. "They hire from their own countries, using familiar links and old boys' networks, rather than openly on merit," says Mr Lee.
8.25pm Consumers must chip in
As consumers, we must be ready to pay a little bit more for our favourite things to help chip in and help lower-wage workers, says Mr Lee.
"I am especially concerned about a specific group of lower wage workers. These are the delivery workers."
They have become a familiar sight during COVID-19. It is hard work and most earn modest incomes, he says.
These workers have no employment contracts with online platforms and lack the basic job protection most employees have. The Manpower Ministry (MOM) is studying this growing problem, and will be doing consultations, says Mr Lee.

8.19pm Govt accepts key strategies to help lower-wage workers
The Government has accepted a tripartite work group's recommendations to help lower-wage workers more.
This includes extending progressive wages to more workers and requiring companies hiring foreign workers to pay all their local employees at least a local qualifying salary.
"Today, these companies already have to pay this qualifying salary (S$1,400) to some of their local employees, depending on how many foreigners they hire," says Mr Lee.
The Government will tighten this to require these companies to pay all their local employees this local qualifying salary if they wish to hire any foreigners, says the Prime Minister.
A Progressive Wage Mark will also be created to accredit companies paying their workers progressive wages.

8.16pm Supporting lower-wage workers
During the pandemic, many lower-wage workers were on the frontline.
Singaporeans saw the importance of jobs like cleaning, food delivery and security and gained fresh respect and appreciation for these workers, says Mr Lee.
But these workers are more stressed than others – their jobs are less secure, they are more likely to be laid off, and they have less savings to tide over tough times.
The Government has helped improve their lives, with the Workfare Income Supplement Scheme and the Progressive Wage Model, he says.
8.11pm 3 things to sustain longer-term economic growth
Singapore has survived its worst economic crisis since independence, drawing on every available resource to support workers and companies, says the Prime Minister.
But it must now generate new growth. To do so, Singapore must preserve its status as a business hub, attract more foreign investments and grow Singapore companies and entrepreneurs.
It is important for Singapore to open up soon and allow people to travel in and out of Singapore in a safe way, he says.
The country has also attracted new investments despite the pandemic, with BioNTech setting up shop here and Zoom opening a new R&D centre.
Some Singapore firms, such as SecretLab, Carro and Carousell have become global names.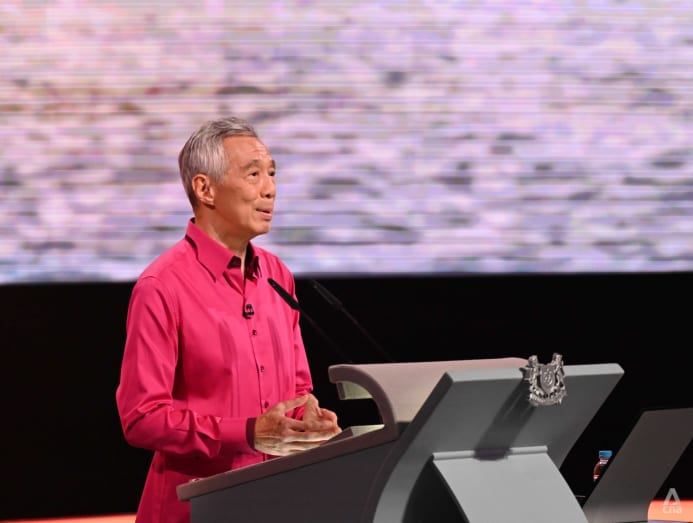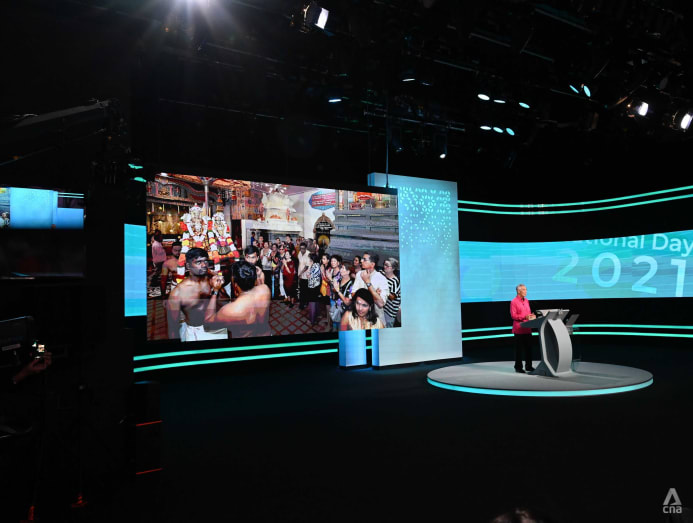 8.06pm COVID-19
Mr Lee says many people have gone beyond the call of duty during the COVID-19 pandemic in Singapore – contact tracers, swabbers, ambulance drivers, workers running quarantine facilities and vaccination centres – and thanked those on the frontline.
With 8 in 10 people now vaccinated, and added precautions, Singapore can live with the virus, he says.
We may have to tap on the brakes from time to time, but we want to avoid having to slam on the brakes, says Mr Lee.
8pm English speech starts
Mr Lee's has started his speech in English. He opens by thanking people for their trust and cooperation amid the pandemic.
"Your discipline and resilience have made all the difference in the fight against COVID-19," he says.