IN FOCUS: Child's play? Why many fathers don't take paternity leave and why experts say they should
While the latest official figures show more fathers are taking the paternity leave they are entitled to, almost half do not. CNA looks at the reasons and why experts say families would benefit from new dads taking time off to spend time with their babies.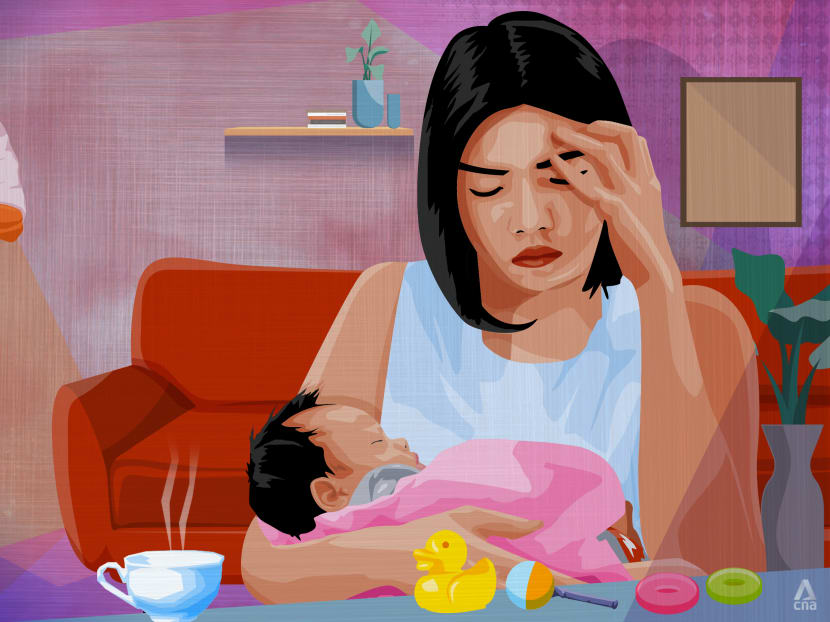 SINGAPORE: When one father wanted to use his government-paid paternity leave for the birth of his son in November 2018, resistance from his manager made it hard for him to do so.
"When I tried to take paternity leave, there was no clear answer as to whether I could take it," said Mr Gary Lee (not his real name), who was then working in the finance department of a multinational corporation.
Mr Lee, 35, said his female supervisor made passive-aggressive comments and pointed to the backlog of work he would accumulate if he took the two-week entitlement.
"When she (my wife) was in the labour ward, I was still doing a conference call. The next day, I was back at work and I probably only used three days of the paternity leave, taking half a day each time."
He felt guilty and frustrated over the situation, but was thankful for the support from his wife, he said. Mr Lee has since left the firm.
"I feel that a huge part of paternity leave depends on the tone set by the management and how the managers execute it," he said.
THE ISSUE OF WORKPLACE SUPPORT
While growing numbers of dads use the government-paid paternity leave to which they are entitled, almost half do not.
In response to queries from CNA, the Ministry of Social and Family Development (MSF) said the take-up rate of paternity leave was 55 per cent in 2019, according to its latest figures. Among fathers who utilised the leave, the majority used the full two weeks.
The take-up rate is an increase from the 47 per cent in 2016, a ministry spokesperson said. Since 2017, eligible fathers have been given two weeks of government-paid paternity leave.
While MSF's research across different types of jobs and companies showed that most fathers want to use their paternity leave to be more involved when their child arrives, the key reason they do not is workplace support.
"This includes whether supervisors are adequately assuring that using paternity leave will not affect fathers' career prospects and that colleagues are willing to cover fathers' duties in their absence," the spokesperson said.
With just over half of dads taking up paternity leave, this is not an "ideal" situation, said Dr Rashimah Rajah, who teaches at the National University of Singapore (NUS) Business School.
How a company signals its support for employees with paternity leave and other forms of leave is important, she said, adding that organisational policies need to reflect changes observed in society.
"Fathers who want to be involved may not be as involved as they want to if companies do not provide them with the correct support they need and hold them to extremely high standards as though they do not have any caregiving duties," said the lecturer at the Department of Management and Organisation.
Empathy from managers is "extremely important".
"Treating the birth of a child as an event for both mothers and fathers is a first step," she said. 
STEPS IN THE RIGHT DIRECTION
Mr Adam Cich, head of household appliances firm Electrolux in Asia Pacific, Middle East and Africa, said that social and cultural issues are why companies do not provide more paternity leave.
Mr Cich, whose firm is among nine Swedish MNCs that have committed to giving employees in Singapore an extra two weeks of paternity leave on top of what is mandated by the Government, said that these issues involve expectations that child caring is the sole responsibility of women and that career is of more importance to men than women.
This creates resistance to change the status quo, he said, and companies question the impact of providing additional paternity leave.
"Offering more parental leave rights for fathers, as well as for mothers, gives benefits to our employees as working parents. Equality starts with equal rights and equal representation of both genders. We hope the bold step we take will encourage other companies to follow," he said.
Pharmaceutical firm AstraZeneca, which also now gives four weeks of paid paternity leave, said that the COVID-19 pandemic has seen gender roles evolve at home.
"The benefit is also to encourage men to participate actively in caregiving roles, allowing women a more equal footing in the workplace," a spokesperson for the firm said.
MSF said that even though workplace norms take time to change, it has seen "encouraging" progress, pointing to 84 per cent of those eligible in the public sector taking paternity leave in 2020.
For civil servant Lee Kwok Cheng, it was the support and assurance from his supervisor that made him comfortable with taking a month off – two weeks of paternity leave plus another two weeks of annual leave that he had set aside – for the births of his two daughters.
When his first daughter was born in 2017, he and his wife did not have any other help, Mr Lee said.
He did the housework, took care of diaper changing for the first two weeks, bathed the baby and ensured that his wife, who was recuperating from childbirth, had enough food.
"My wife was sleep-deprived, and it's important that one person is there functioning normally and providing support in whatever way that we can, and I think it's the husband's role to do it well," said the 38-year-old.
The second time round, in 2020, Mr Lee looked after his older daughter who was then three years old so that his wife could take care of their newborn without worrying too much about their older child.
BENEFITS OF TAKING PATERNITY LEAVE
Taking paternity leave has benefits, experts said, urging fathers to use their entitlement.
Yale-NUS College Associate Professor Anju Mary Paul said that studies show that fathers who take paternity leave soon after their children are born and are involved during those stages tend to be more involved for the rest of their children's lives.
"That's why it's important to take paternity leave because it starts them on the right path," said the sociologist who studies policies protecting family caregivers and paid domestic workers around the world.
Paternity leave is a time for husbands to support their wives during a time of transition in the family as well as start building a bond with their babies from birth, said Mr Bryan Tan, chief executive of non-profit organisation Centre For Fathering which promotes active and involved fathering.
Fathers who support their wives and are involved in their babies' lives tend to experience greater satisfaction in their fathering journey, as well as less conflict with their wives, he added.
"This not only benefits children, it strengthens the marital relationship, and (that) also has long-term benefits for children," he said.
He said that fathers who care for, nurture and play with their babies also raise children with better language and cognitive skills.
On the work front, a company can reallocate its resources when a member of the team goes on paternity leave, Mr Tan said.
"We know from experience that many things would crop up at home in the first four weeks of a baby's arrival that would require the dad to be away from work at short or late notice. Planning for paternity leave would help to mitigate the disruptions at work," he said.
A local study by NUS also found that children whose fathers took paternity leave are significantly less likely to have behavioural issues such as hyperactivity or anti-social behaviour.
WHAT SHOULD BE DONE
MP Louis Ng (PAP-Nee Soon), who has raised the issue of paternity leave in Parliament more than 10 times, said that a study needs to be done on why men in labour-intensive jobs are less likely to take paternity leave compared to those who are professionals, managers, executives and technicians (PMETs) – a finding from the NUS study.
The study should also look into how Singapore's policies can be adjusted to help them, he said.
"We have been looking at workplace culture (as a barrier to taking paternity leave), but actually, it might just be workplace culture for the lower-income," he said.
The National Trades Union Congress (NTUC) said that company culture, individual mindset and social norms are some of the factors which may affect how men choose to utilise their paternity leave, and these will take time to change.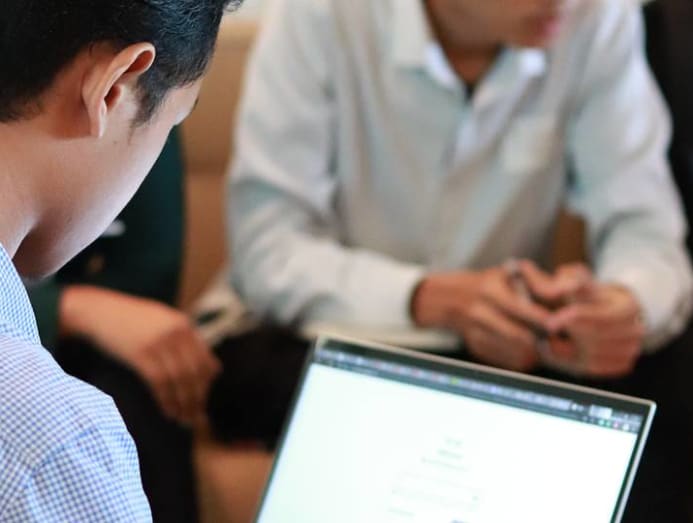 "At times it might be challenging to implement work-life harmony policies in sectors and occupations which are more labour-intensive, which could be why fathers in these jobs take less paternity leave," said assistant secretary-general Desmond Choo.
The model of parenting has to change as well, said Prof Anju. In one model, when a child is born, there is a primary caregiver, the mother, and then the father, who is the helper.
"That creates the status difference between them and it perpetuates this idea that it's always the mother who has to be the primary source of support," she said.
Even if the mother were to return to work, she would still have to carry all the household responsibilities, and this puts the burden of care on the mother, she said.
"Ideally, what you want to move towards is a co-parenting model, where the father is recognised as a fully fledged caregiver too, who should be able to make caregiving decisions with the mother of his children."
She suggested that some of the paternity leave should be automatically given to fathers instead of requiring them to decide whether to take it. 
"Maybe one week should be compulsory, because that sends a very strong message about the need for co-parenting, where fathers should be present and available to help care for their newborn children," she said.
Mr Lee Kwok Cheng said he would never trade the time he spent with his daughters in their infancy.
"I would encourage all fathers to take paternity leave, be as hands-on as possible – not that we are helping our wives, it's actually our duty," he said.
"I hope that by doing so, as the kids grow up, they feel that they have a daddy they can always depend on."