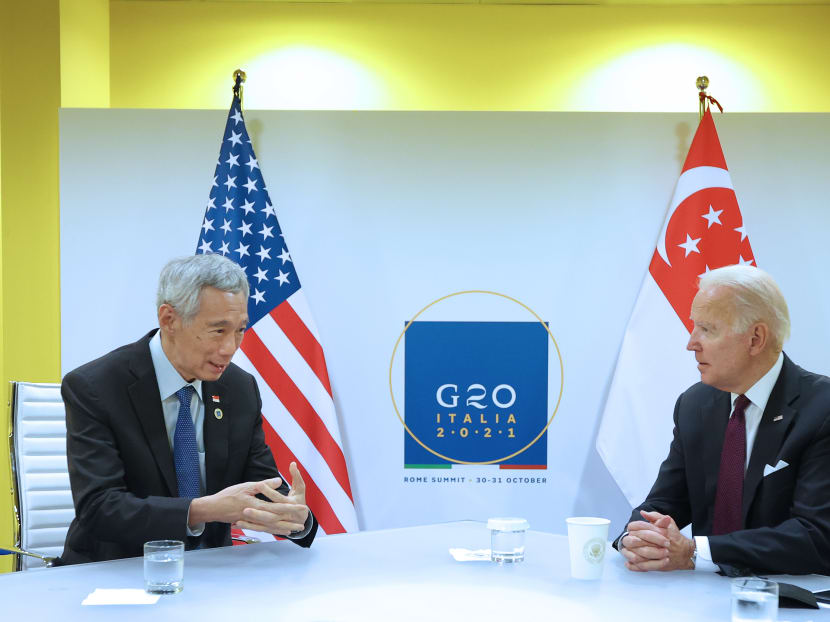 SINGAPORE: Prime Minister Lee Hsien Loong will make a seven-day working visit to the United States from Saturday (Mar 26), during which he will meet with US President Joe Biden.
The visit to Washington DC and New York will "build on the robust, longstanding and multi-faceted relationship" between Singapore and the US, said the Prime Minister's Office (PMO) in a press statement on Friday night.
Mr Lee will meet Mr Biden in Washington DC. This will be the second meeting between both leaders, following their first meeting at the Group of 20 (G20) Summit in Rome in October last year.
Mr Biden will welcome Mr Lee to the White House on Tuesday, White House press secretary Jen Psaki said in a statement.
The two leaders will reaffirm the importance of US-Singapore strategic partnership and Mr Biden will "review efforts to ensure a free and open Indo-Pacific and discuss Russia's unjustified war against Ukraine", the statement added.
"The President also looks forward to deepening cooperation on a range of shared interests, including upholding freedom of the seas, advancing supply chain resiliency, addressing the crisis in Burma, and fighting climate change," said Ms Psaki.
Mr Lee will also have separate meetings with US Vice President Kamala Harris, other Cabinet secretaries, as well as senior members of the US Senate and House of Representatives.
"The meetings will review and discuss ways to further advance our close cooperation in various fields," PMO said.
In addition, the Prime Minister will participate in a dialogue at the Council on Foreign Relations, an American think tank in Washington DC.
In New York, Mr Lee will meet United Nations secretary-general Antonio Guterres, industry and financial sector leaders, as well as other prominent US personalities.
The Prime Minister's last visit to the US was in September 2019, when he met with then-US president Donald Trump and delivered a speech at the UN General Assembly.
For this trip, Mr Lee will be accompanied by Foreign Affairs Minister Vivian Balakrishnan, Trade and Industry Minister Gan Kim Yong, Communications and Information Minister Josephine Teo, as well as officials from the various ministries.
During his absence, Senior Minister and Coordinating Minister for National Security Teo Chee Hean will be acting Prime Minister.