Safe distancing, visitors at home: 5 things to know about Singapore's updated COVID-19 measures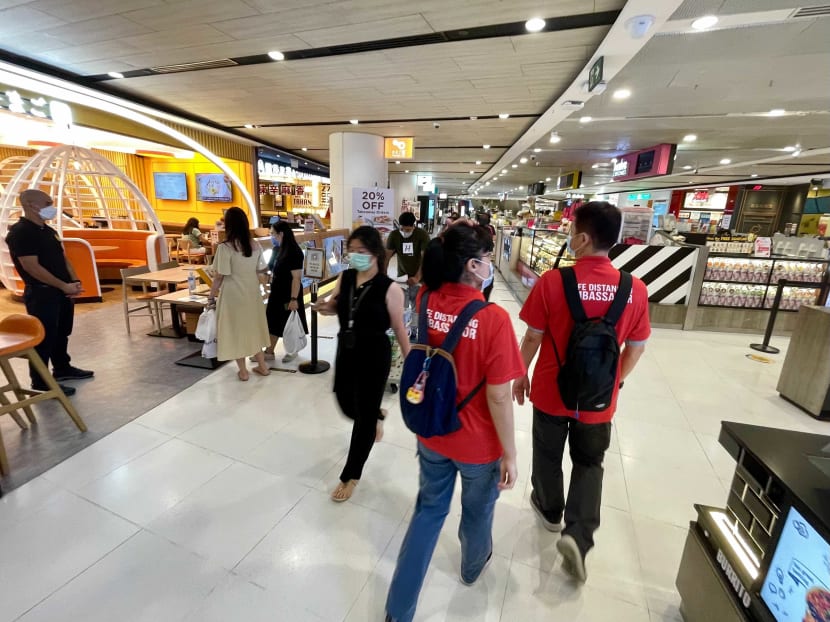 SINGAPORE: Singapore has adjusted its COVID-19 measures as the country continues its transition to living with the coronavirus.
"We will simplify our safe management measures so that they are easier for businesses and people, individuals to understand and comply with," said co-chair of the multi-ministry task force Gan Kim Yong on Wednesday (Feb 16).
"This will also encourage a greater sense of personal responsibility, which will play an increasingly important part in our journey towards COVID resilience."
While Singapore is in the midst of an Omicron wave, its high vaccination and booster jab rates, along with safe management measures, have kept the number of severe cases low, said the Ministry of Health (MOH).
Singapore can further ease measures when the number of cases starts to come down, Mr Gan added.
But for now, here's what you need to know about the key changes to safe management measures. 
1. Safe distancing will no longer be a requirement if masks are worn
From Feb 25, safe distancing is encouraged but will not be required between individuals or groups of people while wearing masks. 
It will still be mandatory in settings where masks are not worn, such as when dining in at F&B outlets. The required distance will be fixed at 1m for all settings. 
With the new rules, practices that "actually do not make a material difference" to the pandemic are no longer forbidden, said Health Minister Ong Ye Kung.  
"For example, so long as people are wearing masks, there is no need to cross out alternate seats in park benches, or the urinals in a men's toilet. Or when people wear their masks and they stand together and take a photo, they don't have to be a metre apart," he added.  
"I think all these little things don't matter, really don't matter anymore, we can do away with them. Our people know that we are in a crisis and we can start to remove these little daily reminders that are not really material anymore." 
2. Group size for social gatherings remains at five, but households can have five visitors at any one time  
The group size for social gatherings remains capped at five people.
But from Feb 25, the maximum number of unique visitors per household will be adjusted from five people per day to five people at any one time. 
When the Omicron wave is over, Singapore can consider "bolder moves" like adjusting the permitted group size to eight, 10 or even more people, said Mr Gan.
From Feb 25, unvaccinated children aged 12 and below do not need to be from the same household to be included in a group entering a place or taking part in activities with vaccination-differentiated measures. 
3. 50% of work-from-home employees allowed back in the office, with no restrictions on cross-deployment 
MOH also announced some updates to workplace safe management requirements, aligning them with those in the community. 
Fifty per cent of employees who can work from home will continue to be allowed back at the office. 
Similar to in-community settings, employees who have their masks on will not have to maintain 1m safe distancing in the workplace. Social gatherings at the workplaces will also be allowed to resume with up to five people in a group. 
There will be no restrictions on cross-deployment of employees across workplaces, although employers may continue to do so for business continuity reasons. 
4. Size limits for events like weddings, religious services and funerals will be lifted 
From Mar 4, specific size limits for events like wedding receptions, religious services, funerals, business events, media conferences and mask-on classes will be lifted. 
Instead of fixed size limits for different types of events, MOH will set event sizes based on the capacity of the venue.
Zoning requirements will also be removed because the "main protection" is through masks and vaccinations, the ministry said. 
However, for large events and settings that pose more infection risks, capacity limits will still be imposed. These include attractions, cruises, MICE and large work-related events, as well as large performing arts venues or sports stadiums. 
For other settings like shopping malls and large standalone stores, the current density limit is at about 50 per cent capacity. The threshold will be set at 1,000 people for now, said MOH in a press release. 
This means that smaller events or settings with 1,000 people or fewer can proceed without any capacity limits, while larger settings or events with more than 1,000 people will be subject to a capacity limit of 50 per cent. 
All mask-off events will also have to comply with the 1m safe distancing requirement.
5. Resuming sports activities
From Feb 25, all sports will be allowed to carry on with up to 30 fully vaccinated people at supervised or operated sports facilities, such as those run by ActiveSG and approved private venues.
Prevailing safe management measures will apply before and after the activity and during rest breaks, the ministry said.
No additional testing requirements will be imposed as long as all participants are fully vaccinated, but participants are encouraged to test themselves in advance. 
"The main driver of COVID-19 transmission is prolonged and close contact by eating together in an enclosed space. Sports on the other hand, while you're playing, involves transient contact between players on the field or on the court," said Mr Ong. 
"Hence, there's been no compelling international evidence showing that sports participation causes more infections. You are more likely to catch the virus dining with friends than playing sports with them."