The Big Read: As border curbs ease, a desperate but cautious tourism industry sees bumpy road to recovery
SINGAPORE: There were cheers and jubilation at The Travel Corporation's (TTC) office just over two weeks ago – a rare sight for tour agencies in the past 18 months as the travel sector has ground to a halt amid border and travel restrictions around the world to stop the spread of the COVID-19 virus.
The reason? The Singapore authorities had just announced that the city-state would be setting up vaccinated travel lanes for fully vaccinated travellers from Germany and Brunei.
Recounting the scene in the office that day, Mr Nicholas Lim, chief executive officer of TTC's Asia office, said that they immediately saw an increase in enquiries after the announcement, which resulted in two bookings to Germany that weekend.
"It was to our surprise as well … (Tour bookings) is something which hasn't happened in a while. We were doing high-fives and all," said Mr Lim.
In response to the new developments, another company, Dynasty Travel, has developed new tour packages to Germany that focus on an in-depth exploration of the European country, as opposed to multi-country tour packages that were popular before the pandemic, said Ms Alicia Seah, its director of marketing communications.
She said that the tour agency has gotten more than 30 enquiries, 60 per cent of which have been converted into bookings.
"What we are seeing is some light at the end of the tunnel," Ms Seah said.
Both tour companies are even opening up their retail offices, after months of them being shut, in anticipation of an uptick in demand.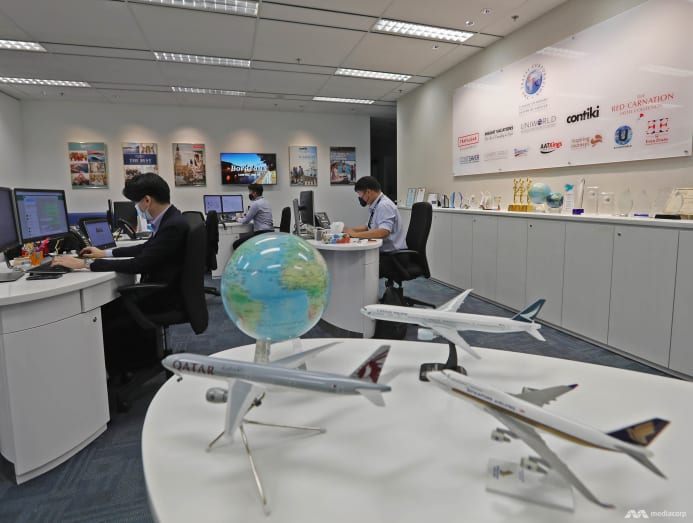 Such optimism, however, is not shared by everyone in the industry, even as they see the easing of the travel restrictions as a good start.
Most tour operators spoken to are unsure about its impact, and many are cautious about prematurely scaling up their operations.
Having learned their lesson from the ill-fated Singapore-Hong Kong air travel bubble, some outbound travel agencies say they prefer to wait and see.
Tour operators which specialise in local tours believe that the number of travellers entering through the vaccinated travel lanes would be too small to make any substantial difference to their business.
Hence, most are choosing to continue what they have been doing for the past nine months – to focus on domestic tours catered to local residents.
Some, in fact, have opted to continue remaining shut for the time being due to the uncertainty, including travel agency Universal Travel Corporation (UTC). 
"(Germany and Brunei) were not popular destinations for Singaporeans before the pandemic. We (will) look first and decide (whether to resume business)," said Mr Khoo Boo Liat, UTC's managing director.
On Aug 19, Singapore announced that fully vaccinated travellers from Germany and Brunei – as well as all travellers from Hong Kong and Macau, regardless of their vaccination status – are no longer required to serve a stay-home notice when they arrive here. The move is part of Singapore's road map to reopen its economy as it adjusts to living with endemic COVID-19.
Singapore will welcome its first fully vaccinated visitors from Germany and Brunei from Sep 8 under the new arrangement.
Travellers from Singapore to Brunei under the reciprocal green lane arrangement are subject to certain restrictions.
For Germany, it already allows travellers from Singapore to enter the country without quarantine – therefore, Singapore's move means that fully vaccinated travellers can travel between both countries without serving any quarantine or stay-home notice. However, they will have to undergo at least four COVID-19 polymerase chain reaction (PCR) tests.
Singapore Airlines (SIA) will be servicing five flights each week that take only fully vaccinated passengers, while German airline Lufthansa will be operating two.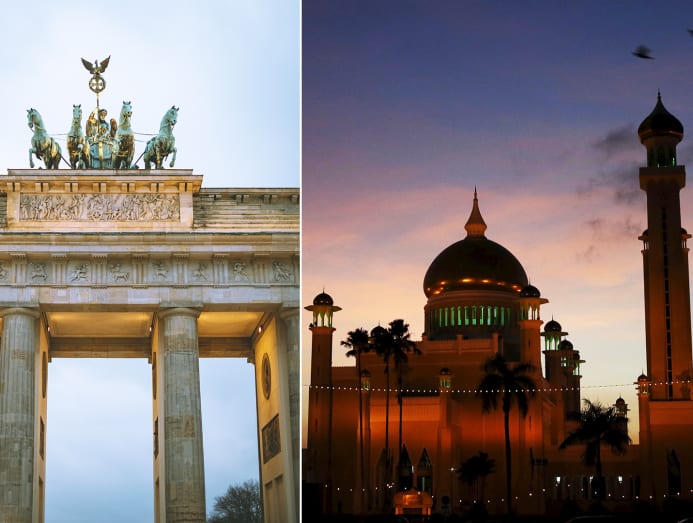 TENTATIVE AND CAUTIOUS
Introducing vaccinated travel lanes with Germany and Brunei is not Singapore's first attempt to ease travel restrictions and breathe some life into the decimated tourism sector.
It had plans with Hong Kong, another finance hub, to set up an air travel bubble, which would have allowed people to travel between the two cities without serving quarantine.
Mr Kliff Ang, director of Asia Travel Group, said that the industry was "quite excited" when plans for the travel bubble were mooted late last year.
The thinking among industry players then was that the scheme with Hong Kong was a test to see if it could be replicated with other countries or regions.
Airfares between the two cities soared after the date of the travel arrangement was announced, reflecting pent-up demand for travel among the local population.
The same trend was repeated when the scheme was relaunched in May this year, after being suspended owing to a surge in coronavirus cases in Hong Kong.
It was halted for a second time after Singapore saw a jump in COVID-19 cases due to the Delta variant, and the scheme was eventually scrapped in August.
"If only you could see the frustrations when the Singapore-Hong Kong air travel bubble was called off twice," said Mr Lim.
Mr Ang said some tour agencies, including his, were disappointed when the scheme was suspended for the first time, and so were more cautious when it was relaunched.
When it was suspended the first time, Mr Ang said his company ended up having more administrative work, including refunding money paid for air tickets and hotels to customers.
The "start-stop" nature of the travel bubble plan with Hong Kong serves as a cautionary tale for Mr Ang, who felt that he should not dive into ramping up operations even with the launch of the travel lanes with Germany and Brunei.
"On one hand, we want to work on (the vaccinated travel lanes). On the other hand, there is concern if this thing doesn't work out as intended," he said. 
Developments around the globe are also not helping, as attempts by other countries to revive travel have not produced the desired results.
Tour operators pointed out that some countries, such as China, have not opened up quarantine-free travel for visitors from Singapore, even though travellers from there can come in here without serving quarantine.
Thailand's resort island of Phuket is trying to boost its tourism scene by waiving quarantine for vaccinated travellers, but Mr Khoo said Singaporeans are still not willing to travel there as airfares are now higher.
In July, New Zealand suspended its air travel bubble scheme with Australia amid rising coronavirus cases.
And although Prime Minister Jacinda Ardern had earlier announced that vaccinated travellers from low-risk countries would be allowed quarantine-free entry into New Zealand from early next year, the country is now battling a surge of Delta variant cases which has sent it into another lockdown.
Dr Kevin Cheong, executive director of Sentosa 4D AdventureLand, said the road to recovery will be very bumpy.
"It will be open, close, open, close. Tighten again. This is the part where many of the businesses are thinking: 'If I were to scale up at a time you tighten, we have a problem,'" he said.
Other local tour operators noted that German tourists typically do not come to Singapore for a holiday. It is more a short stopover for them before they head off to other destinations in the region, such as Phuket or Indonesia's Bali. 
Mr Stanley Foo, owner of Oriental Travel and Tours, said that requiring these travellers to undergo four PCR tests, with three of them upon arriving in Singapore, is too onerous a requirement.
"The total cost is about S$800. So how many Germans would be willing to pay S$800 extra and have their noses poked four times?"
"It doesn't make much of a difference for the tourism industry ... (but) I'm happy that it's a positive step forward," said Mr Foo. 
Nevertheless, Mr Robin Loh, the founder of Let's Go Tour Singapore, noted that while there will be more travellers coming in, it will still be a small fraction of what Singapore saw before the pandemic.
"Maybe a couple of hundred tourists coming in a day. What is that divided by all the tourism products? Virtually nothing, you won't feel a thing," he said.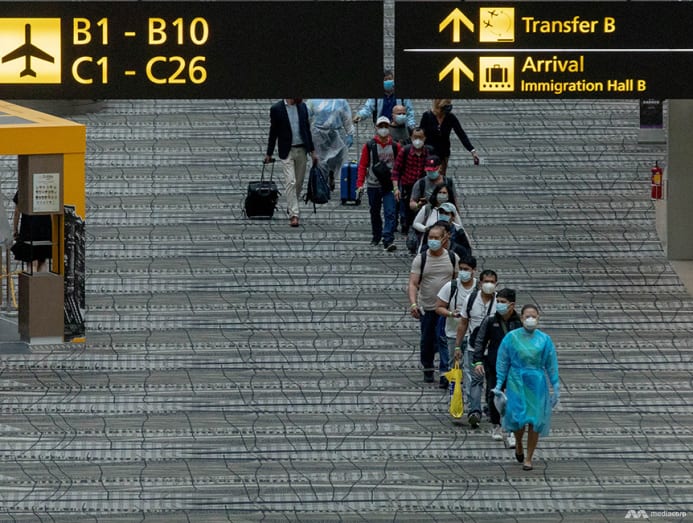 The Civil Aviation Authority of Singapore said on Thursday that a total of 755 travellers from Brunei and Germany have been approved to enter Singapore. Travellers from Germany are expected to arrive on Sep 8, while those from Brunei the day after.
Tour operators described these figures as insignificant.
For the whole of 2019, there were 19.1 million visitor arrivals in Singapore, which translated to about 52,000 visitors per day.
Dr Cheong said the tourism sector will probably not even hit 30 per cent of what it was before the pandemic with this current easing of travel restrictions.
"The problem is how long will this take to reach a meaningful steady state of flow of tourists coming in. I don't see it in the next 12 to 18 months or even two to three years from now," he said.
"Let's be real about it. Don't jump on the bandwagon and scale up overnight. It will kill you faster." 
Transport Minister S Iswaran had said earlier that Singapore is "starting small with two countries" to ensure the people's safety and well-being. "We will not throw caution to the wind," he stressed. 
WAYS AND MEANS TO STAY AFLOAT
Even among tour agencies that are more upbeat, some have said they are only scaling up operations very slowly.
Ms Seah said that Dynasty Travel has started marketing its tours on social media after cutting back on advertising earlier, but will not be looking to replace staff that have left the company at this point yet as recovery may take years.
As for inbound tour operators, most do not expect much change to their status quo – they will thus continue to focus largely on tailoring their tours for local residents for now and would not be ramping up their operations anytime soon.
Their pivot to domestic tours is the result of a campaign by the Singapore Tourism Board (STB), which started at the end of last year, to drive domestic spending to support the tourism sector.
Singaporean citizens were each given S$100 in SingapoRediscover vouchers to spend at hotels, tours and attractions as part of the drive.
While these inbound operators used to conduct tours catered to foreigners, they have since come up with novel products that offer in-depth exploration into Singapore history or culture to attract local residents.
For example, Mr Loh is now conducting tours to kelong, while Mr Foo organises tours to cemeteries.
Mr Foo will be running a new tour covering sites in the Toa Payoh neighbourhood where notorious criminal Adrian Lim, who was later hanged, murdered two children in 1981.
Mr Toh Thiam Wei, the founder of walking tour company Indie Singapore Tours, said he has organised traditional food tours around Chinatown as well as visits showing the "hidden parts" of Tiong Bahru.
Even though Actxplorer focuses on outbound tours, its co-founder Melvyn Mak said that his company has started offering Chinatown tours conducted by former triad members.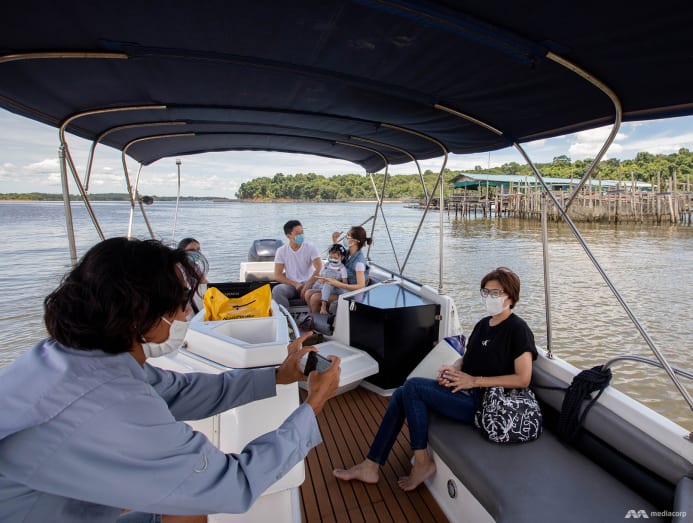 While these changes have helped many tour operators to sustain themselves, they pointed out that demand has dropped since May due to the return of tighter restrictions during Phase 2 (Heightened Alert). And the numbers have not gone back up even though the curbs were subsequently relaxed.
Mr Loh said the number of tours which he ran during Phase 2 (Heightened Alert) dropped by 70 to 80 per cent compared to when Singapore was in Phase 3. While the situation has improved, it is still down by 50 per cent.
These local tours are also not sustainable in the long run.
Mr Samson Tan, chief executive officer at GTMC Travel, said he is organising tours for 10 to 20 local residents a month now, compared to 1,000 tourists before the pandemic.
While these local tours have at least helped "a little bit here and there", his company is still making losses.
Mr Ang from Asia Travel Group said he has decided not to pivot into doing local tours as the market is too small, and that it does not make sense switching to something different temporarily.
Also, tying themselves up with the designated portals where local residents can use their SingapoRediscover vouchers to buy tour packages requires additional costs, he said.
To boost their bottom line, some travel agencies have even started selling food and beverage items.
Since June, CTC Travel has been selling items that tourists typically buy when they go overseas, such as Hokkaido sesame oil, said Mr Chen Bin, its chief executive officer.
Their initial reliance on domestic tours for income was scuppered when Singapore tightened its restrictions, and the company decided to sell such products via online livestreaming. 
The outbound travel agency will also be setting up a small retail space just beside its office for its older regular customers who may not be so familiar with buying these items online.
Mr Chen said he intends to continue with these side businesses even as his company has started blocking departure dates to Germany in the months ahead.
For others, selling "cruise to nowhere" packages and performing ad-hoc services for those few travellers who enter Singapore have also helped them to survive the difficult past year.
It has been more than 18 months since Singapore reported its first COVID-19 case on Jan 23 last year.
According to STB figures, 148 travel agents ceased operations between February 2020 and August this year, and there are currently 1,119 licenced travel agents in Singapore. On average, 120 to 140 businesses cease their travel agent licence voluntarily every year for various reasons.
Mr Kenneth Lim, STB's director of travel agents and tourist guides, said 40 out of the 148 agencies which shuttered in the past 18 months or so cited COVID-19 as the reason for their closure.
"The remainder cited various non-COVID-19 related reasons such as change in business focus and/or retirement of the founder of the travel agency, especially the smaller agencies," he said.
However, the picture on the ground may be worse than what is reflected by STB's statistics.
Some travel agencies said they have generally been hibernating for several months at a time amid the long-drawn pandemic. 
UTC, for instance, has been temporarily shut since May with its staff on no-pay leave. It was closed from April last year until November, when it reopened to run local tours for about six months before shutting again due to Phase 2 (Heightened Alert). Mr Khoo noted the costs which his firm would have incurred if it had remained open.
Mr Chen said that nearly 90 per cent of CTC Travel's employees are also on no-pay leave, with many redeployed to work as safe distancing ambassadors or in hospitals, leaving just the heads of department running a lean operation.
Mr Mike Lee, managing director of Bestlink Travel, said he did not renew the work passes of his foreign workers. As for locals who were asked to go on no-pay leave, the company has tried to introduce part-time jobs for them.
In addition to putting its staff on no-pay-leave, Mr Ang said he also closed his retail office as there was no need to service walk-in customers.
Attractions, too, have adjusted by shortening their opening hours.
Dr Cheong's Sentosa 4D AdventureLand, for example, opens only on weekends and public holidays now.
Universal Studios Singapore is also mostly open four days a week, and Night Safari is open only from Thursdays to Sundays.
The Singapore Flyer has also made the same move, and now only opens between 3pm and 10pm from Thursday to Sunday, as well as on public holidays.
"In response to the Ministry of Health's COVID-19 advisories on international travel and safe management measures, we have reviewed our opening hours to cater to the domestic market and will continue to do so based on demands from both domestic and international markets," said a spokesperson from the Singapore Flyer.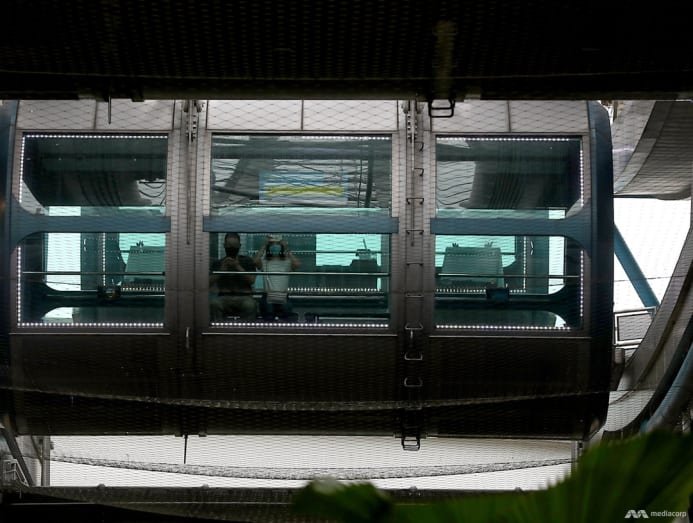 PREPARING FOR EVENTUAL RECOVERY 
Despite the uncertainties, tour operators spoken to are doing all they can to hang in there till the travel market eventually recovers.
International tourism is expected to return to pre-pandemic levels only by 2024, according to a report by global consultancy firm McKinsey & Company.
Mr Mak, for example, is working with a tech company to come up with virtual tours for customers that involve interaction and augmented reality.
He hopes his customers will be willing to pay for such a product, adding that they will be able to get a discount when they go on the actual tour in the future, when borders reopen further.
"We are thinking about how the future will be. We don't want to waste effort during this time when we have downtime. It helps us to rethink how travel experience should be," he said.
Beyond that, tour operators are also making preparations to ensure that they will have the capacity and skills required to meet demand when travel returns.
For Bestlink Travel's Mr Lee, whose company specialises in organising tours for tourists from China, Vietnam and other parts of Indochina, he has been engaging with his overseas counterparts through virtual roadshows to see how he can change his tour offerings.
For one, the pandemic would necessitate tour groups to be in much smaller sizes than before, and hence more intimate experiences would have to be incorporated. Safety protocols would also be the topmost concern among customers.
Specific to the Chinese market, Mr Lee said he is coming up with tour packages that millennial Chinese would find attractive, though he declined to go into specifics.
"We are ready. As long as the borders open, the governments of the two countries are okay, we can do our business. A lot of Chinese tourists are prepared to travel overseas," he said.
After more than one year of not leading travel groups, it's easy for tour guides to "become rusty", said Mr Foo from Oriental Travel and Tours.
He tries to keep them "warm" by getting some tour guides to conduct local tours.
Ensuring that the travel industry retains the right staff with the necessary skills – despite the ongoing significant challenges – is important not just for tour operators but the airlines as well.
An SIA spokesperson said in response to queries that the airline ensures its pilots remain current through simulator training sessions and e-learning resources during this period.
Listen to aviation observers dissect the future facing national flag carriers after the pandemic and the role of Singapore Airlines on CNA's Heart of the Matter published in September 2020:
An "evidence-based training simulator programme" was also implemented last year to ensure all pilots meet SIA's required competency levels, regardless of flight hours, and they must undergo the required proficiency checks before returning to operational flying.
Its cabin crew are also required to complete and pass online operational and fleet recency training and tests to ensure their qualifications remain current. They are also scheduled to attend ground training courses and must pass all required safety drills, said the spokesperson.
A Jetstar spokesperson said it has updated its evidence-based training methods to bring its crew back to active duty.
"Our crew are provided with regular opportunities to keep their skills warm through duty flights, classroom and simulator events to help retain critical skills and shorten the reactivation programme," added the spokesperson.
But for director of Asia Travel Group's Mr Ang, he finds it hard to plan for his future manpower needs as it is unclear what the COVID-19 guidelines would be at the point when travel demand returns.
In addition, small-sized tour groups consisting of just one family unit may be the new norm, instead of big tour buses.
"(The situation) is fluid. Whenever there is change, the whole thing has to be revised. I think everybody wants to know whether we can go back the old way," he said.
Another uncertainty is that tourism workers who have left the industry during COVID-19 may no longer want to return to the sector.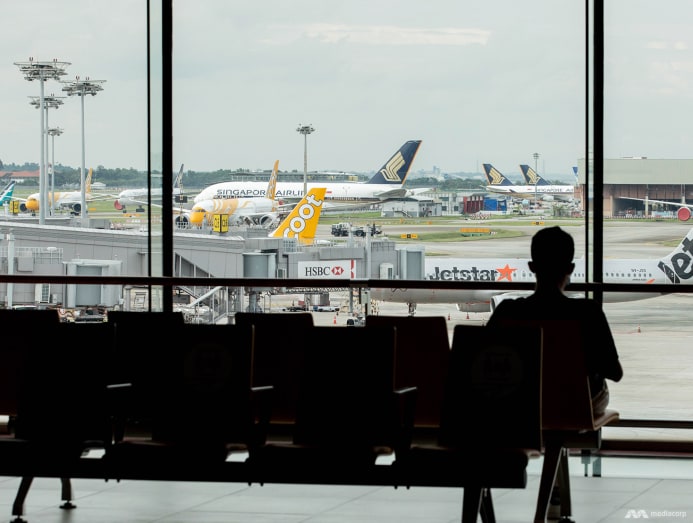 "In two to three years, where are we going to get our workforce from? That to me is a big problem," said Dr Cheong.
STB's Mr Lim said that tourism businesses have been pivoting their manpower and business operations to meet local demand throughout the pandemic, and this will ensure they are well-placed to support the sector's recovery when mass international travel returns.
"At the same time, many of these new SingapoRediscover Voucher offerings can also be easily adapted for international audiences when travel resumes," he added.
STB has also worked with government agencies to help tourism businesses prepare for future demand.
This includes equipping them with new capabilities and guiding them to explore various business models, as well as launching an innovation lab to come up with new products.
For example, STB said it has partnered with the National Arts Council to fund tour operators and arts practitioners collaborating on a new format of performing arts tours.
While most tour operators are realistic enough to know that introducing special travel lanes for a handful of countries is not a real game changer, Actxplorer's Mr Mak said the slight reopening of borders is a signal of the Government's intention, and will get people to start travelling.
With an eye on the big picture, he added: "We cannot not do anything ... Airlines will be enabled. A number of travel agencies are booking tours to Germany. I think it's encouraging."
For more news like this, visit todayonline.com.