Those who opt for Sinovac, other vaccines under WHO emergency list to be considered fully vaccinated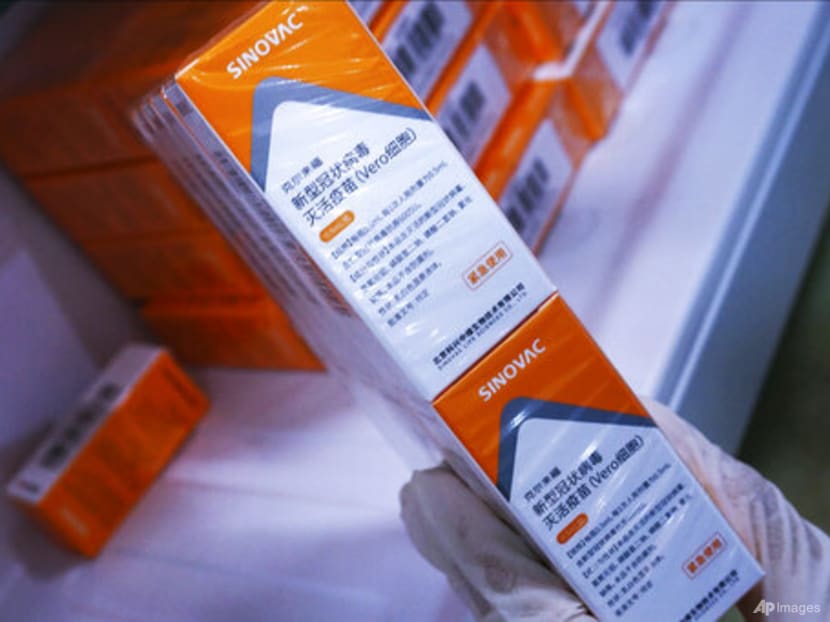 SINGAPORE: People who opt for Sinovac and other COVID-19 vaccines under the World Health Organization's (WHO) emergency use list will be considered as fully vaccinated from next Tuesday (Aug 10), the Ministry of Health (MOH) said on Friday.
This means that those who have taken both doses of the Sinovac, Sinopharm and AstraZeneca vaccines – and two weeks have passed after their second jab – will be eligible for vaccination-differentiated safe management measures such as dining-in at F&B outlets in bigger groups and travel concessions.
This comes as Singapore takes a more "inclusive" approach in recognising vaccines approved under WHO's emergency use list, the ministry said. 
This will be the first time that those who receive non-mRNA vaccines will qualify for such measures, which currently extend only to those who are vaccinated with Pfizer-BioNTech and Moderna under the national inoculation programme.
Speaking at a multi-ministerial task force press conference, Health Minister Ong Ye Kung said: "What is important now is the difference between those who are vaccinated and not vaccinated and less so between different vaccines."
He noted that the WHO is a "widely accepted" reference organisation.
"It sets a 50 per cent vaccine effectiveness threshold for listing in the emergency use list. So there is some assurance of a minimum and verified standard," he said.
As of Aug 5, 78 per cent of Singapore's population have received at least one dose of a COVID-19 vaccine under the national programme. Two-thirds have received two doses.
By National Day on Aug 9, around 70 per cent of the population would have completed both doses. 
This makes Singapore one of the most highly vaccinated countries in the world, and puts the country in a "strong position" to start its transition to a "COVID-19 resilient nation", said Mr Ong.
FASTER DISCHARGE FOR FULLY VACCINATED PATIENTS
Following a review of medical management protocols, fully vaccinated COVID-19 patients have been discharged 10 days after the start of isolation – if their swab test result is negative or they have "very low" viral loads.
Evidence shows that those who are vaccinated can recover within 10 days of the illness' onset, the health ministry said.
Those who do not meet the criteria will continue to be discharged after 14 days of isolation without any further testing, with an additional seven days' leave of absence.
"This approach gives us assurance that cases will not pose transmission risks to their family and community upon discharge," MOH said.
Over the last 28 days, among the 80 local cases infected with COVID-19 who have been seriously ill, only eight were fully vaccinated.
VACCINATION FOR SENIORS
MOH said it "remains concerned" that unvaccinated seniors may suffer severe illness if infected.
Currently, 76 per cent of those aged 70 and above have completed two doses and 82 per cent have received at least one dose. 
"There are still about 80,000 in this group that have yet to be vaccinated. As this group is at higher risk of being infected and being seriously ill if infected, we will continue efforts to help them get their vaccinations," MOH said.
Mr Ong said that seniors who are not vaccinated fall into two groups: Those who are contra-indicated and those who are immobile.
He said that most people with contra-indications can now be vaccinated, with new evidence from "millions of vaccinations" globally and advice from Singapore's COVID-19 expert committee on vaccination. Healthcare institutions are bringing forward regular medical appointments for these seniors so doctors can review their conditions and advise them on whether they can take the vaccine.
For those who are immobile, MOH will beef up resources as demand for home vaccination increases, Mr Ong said.
"The demand is very sizeable and growing, and the waiting time is now about eight weeks," he said, adding that more manpower is needed to cut down the time.
He urged more volunteers to come forward to join the home vaccination teams, which require a doctor and a nurse.
MOH cautioned that even with high vaccination coverage, Singapore may still have vaccine breakthroughs and a large number of daily COVID-19 cases within the community.
"Nevertheless, with the majority of our population protected through vaccination, we should be able to keep hospitalisation and ICU cases low. We will continue to monitor the situation, especially the incidence of severe illness from COVID-19, as we continue with our reopening plans," the ministry said.