Threats such as Ukraine conflict put peace and prosperity 'everywhere at risk': PM Lee, President Biden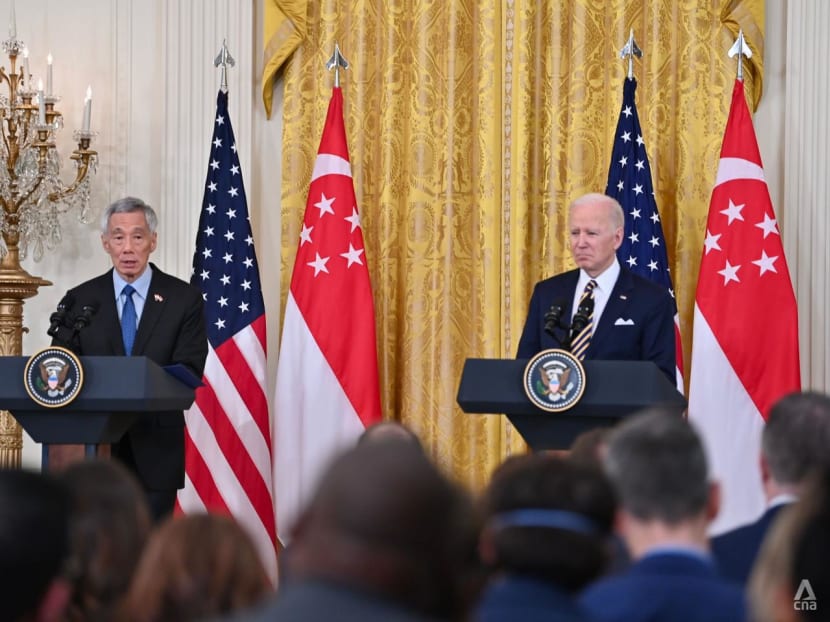 WASHINGTON: Singapore and the United States said on Tuesday (Mar 29) that threats to the United Nations Charter and rules-based international order anywhere, including Russia's invasion of Ukraine, "place peace and prosperity everywhere at risk".
This includes the Indo-Pacific region, which already faces many complex challenges, said a joint statement from Prime Minister Lee Hsien Loong and US President Joe Biden following their meeting at the White House earlier in the day.
"Taken together, the opportunities and challenges of the 21st century demand deeper cooperation between us," both leaders said in the statement.
Mr Lee is in the US for a seven-day working visit, his first under the Biden administration. 
The two leaders sat down for a meeting at the Oval Office on Tuesday to discuss various issues such as the Ukraine situation, America's engagement in Asia-Pacific and new areas of bilateral cooperation, before issuing a joint statement.
IMPLICATIONS FOR ASIA
The leaders also had a joint press conference, during which Mr Lee explained why Singapore took the strong stance it did.
He said that Singapore is a staunch supporter of international law and the UN Charter, which prohibits acts of aggression against a sovereign state. This is why the country had "strongly condemned" the unprovoked attack by Russia on Ukraine.
"The sovereignty, political independence and territorial integrity of all countries, big and small, must be respected. The unprovoked military invasion of a sovereign country under any pretext is unacceptable," he added.
Singapore's actions to impose sanctions and export controls on Russia are hence based on principles that are fundamental to its survival and existence as an independent sovereign nation, he said.
Mr Lee noted that the war in Ukraine has implications for the Asia-Pacific region.
"There are potential flashpoints and contentious issues in our region too, which if not managed well, could escalate to open conflict. Countries with interests in the regions need to pursue all efforts to settle disagreements through peaceful means, so that we can avoid reaching the point of no return," he said.
Therefore, it is important to keep open channels of dialogue between countries, including at the highest level. Doing so will help to manage developments so as to avoid conflict and prevent misreading of each other's intentions, said Mr Lee. 
Mr Biden, in opening remarks delivered before Mr Lee, said actions from various parts of the world show that "Putin's war is not acceptable in nations in every region in the world".
He described it as an attack on "principles that underpin peace and security and prosperity everywhere, including the Indo-Pacific".
"Today, Singapore and the United States are united in sending the message to all nations - regardless of their size or population, they are equal in their rights on the global stage. They have a right to sovereignty and territorial integrity and to determine their own future free from violence and intimidation."
The meeting between the two leaders follows news of Russian forces scaling down its military operations around the Ukrainian capital Kyiv.
Asked by a reporter if this can be seen as the war possibly coming to an end, Mr Biden replied: "We'll see. I don't read anything into it until I see what their actions are. We'll see if they follow through on what they're suggesting."
In the meantime, the US is going to keep strong with sanctions and provide Ukraine with military capacity to defend themselves, while keeping a "close eye" on developments.
REGIONAL ENGAGEMENT
Beyond Ukraine, the leaders also spoke on the security challenges in other parts of the world.
Both leaders expressed "deep concerns" about the situation in Myanmar and the challenges it poses to regional stability. 
On that, Singapore and the United States agree that the military regime must urgently implement the ASEAN Five-Point Consensus and return Burma to its path to democratic transition, said Mr Biden during the press conference.
They also urged North Korea to "refrain from further provocations" and return to negotiations over its weapons programs.
Mr Biden said that he was looking forward to hosting the leaders of the Association of Southeast Asian Nations (ASEAN) in Washington for a special summit later in the year. An ASEAN summit planned for this week was postponed because of scheduling issues.
Mr Lee welcomed the announcement and described it as "a strong affirmation of American commitment to Southeast Asia and to ASEAN centrality".
Turning to the importance of the US growing both its strategic and economic stakes in the Asia-Pacific, the Prime Minister said it is "important to advance a positive economic agenda that is open, inclusive, updated, and flexible".
He therefore welcomes America's plans for an Indo-Pacific Economic Framework, which will strengthen the US's engagement in the evolving regional economic architecture.
Mr Lee had previously advocated the benefits for the US to develop a bipartisan consensus on US-Asian relations. Asked by CNA's Dawn Tan for an evaluation of that under the new administration, Mr Lee said there is consensus on "a very broad level".
"That they want to engage China, that they are trying to develop a stable, predictable relationship with China, and at the same time, engaging other countries in the region, not just on strategic and security issues, but also on economic cooperation, trade and other investment and environmental sustainability links," he said.
"So at a very broad level, I think the consensus is there. At the level of specific policies, each administration launches new initiatives. 
"I am quite convinced, having seen several administrations, that this one is completely focused on achieving something lasting in Asia, and we in Singapore (will) do our best to help to make sure that their proposal work and will take root and will continue to grow for many years to come," he added.
BILATERAL TIES
Both leaders also reaffirmed the "robust, enduring and multi-faceted" partnership between both countries and welcomed new areas of cooperation.
The latter includes Singapore's signing of the Artemis Accords, the renewal and expansion of an agreement on infrastructure development, and the establishment of the United States-Singapore Cyber Dialogue.
"Today's challenges all demand closer cooperation between us. For many decades the United States and Singapore have worked together to overcome the challenges of the day, and we will continue to do so, with determination and resolve," the joint statement said.