SINGAPORE: Six airlines have been designated to provide vaccinated travel lane (VTL) flights between Singapore and Malaysia, said the Civil Aviation Authority of Singapore (CAAS) on Thursday (Nov 18). 
The airlines are AirAsia, Jetstar Asia, Malaysia Airlines, Malindo Air, Scoot and Singapore Airlines (SIA). 
The VTL between Changi Airport and Kuala Lumpur International Airport (KLIA), which will launch on Nov 29, was announced earlier this month. 
There will be six daily designated VTL services between Changi Airport and KLIA.
Applications for the Vaccinated Travel Pass (VTP) for travellers from Malaysia will open on Nov 22 at 10am. 
"Singapore and Malaysia enjoy strong economic links and warm people-to-people ties," said CAAS in the media release. 
"The joint VTL is an important step in reopening the borders between two close neighbours, facilitate business and allow many families to reunite." 
Before the pandemic, Malaysia was amongst the top three markets for annual passenger arrivals at Changi Airport, said CAAS. 
The Singapore-Kuala Lumpur link was also the busiest international air route in the world, with about 40 flights daily and an average of 7,000 arrivals per day at Changi Airport, said CAAS.
Singapore has announced plans for VTLs with 21 countries to date.
Under the quarantine-free travel scheme, fully vaccinated travellers from VTL countries may enter Singapore without quarantine and just need to undergo COVID-19 testing.
Children aged 12 and below who are not vaccinated will be allowed to travel under the scheme into Singapore if they are accompanied by another traveller who meets all VTL requirements.
The conditions for entry into Singapore under the VTL for Malaysia are the same as those for existing VTLs.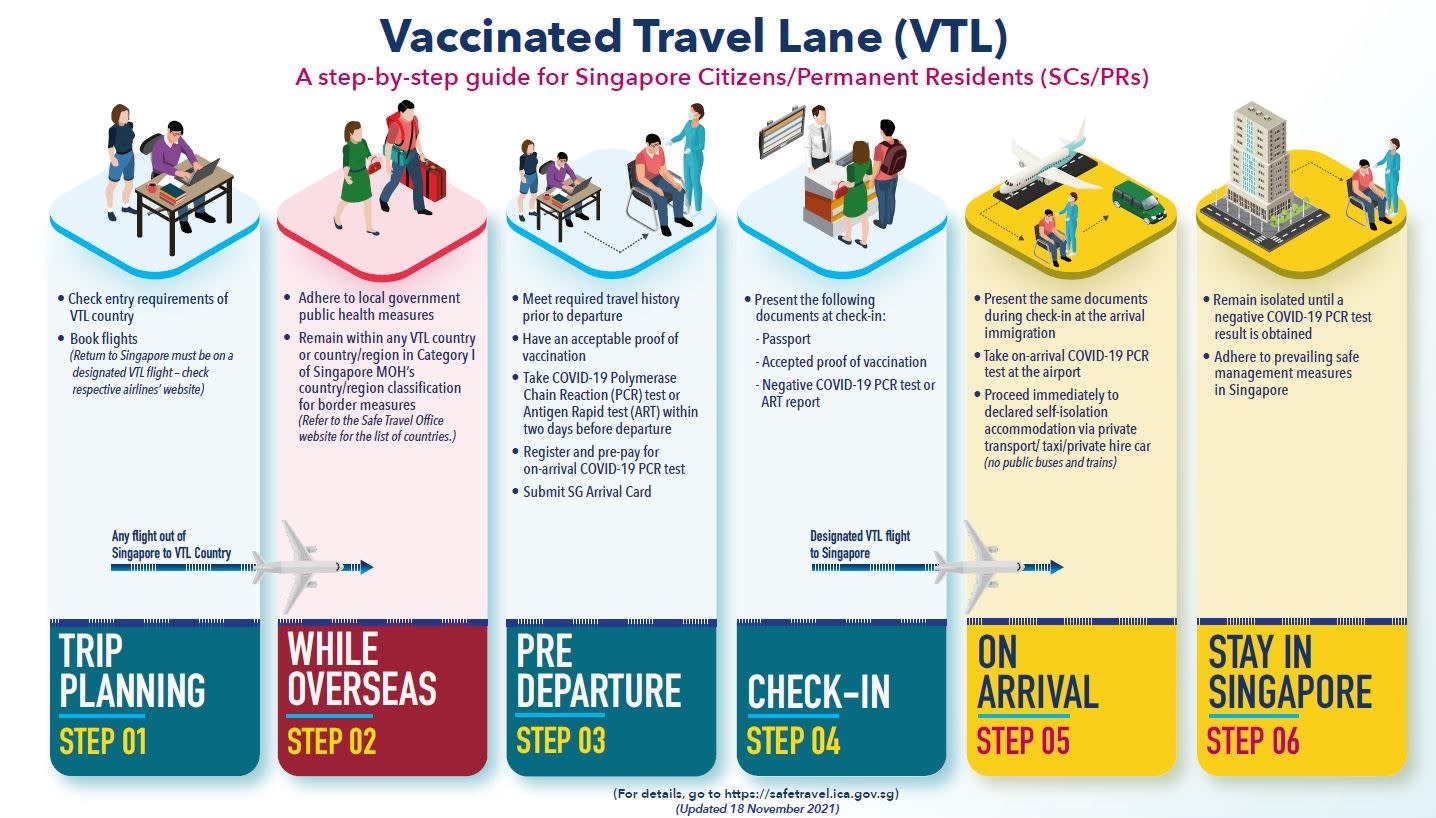 Under the VTL scheme, travellers must have remained in one or more of the VTL countries in the last 14 days before departure to Singapore.
They must take two COVID-19 tests.
The pre-departure test, which must be a polymerase chain reaction (PCR) test or a professionally-administered antigen rapid test (ART), within two days before departing for Singapore and obtain a negative test result.
They will also have to take an on-arrival PCR test at Changi Airport and self-isolate until their test result is confirmed to be negative.
Travellers who test negative on-arrival at KLIA may use their result to fulfil the pre-departure test requirement before returning to Singapore if it was taken within two days from departing Singapore. 
"This will be particularly useful for VTL travellers who are intending to make day trips between Singapore and Malaysia," said CAAS. 
Children aged two and below in the calendar year are not required to undergo these tests.
More details on the VTL requirements into Singapore can be found at ICA's website or Malaysia's immigration website.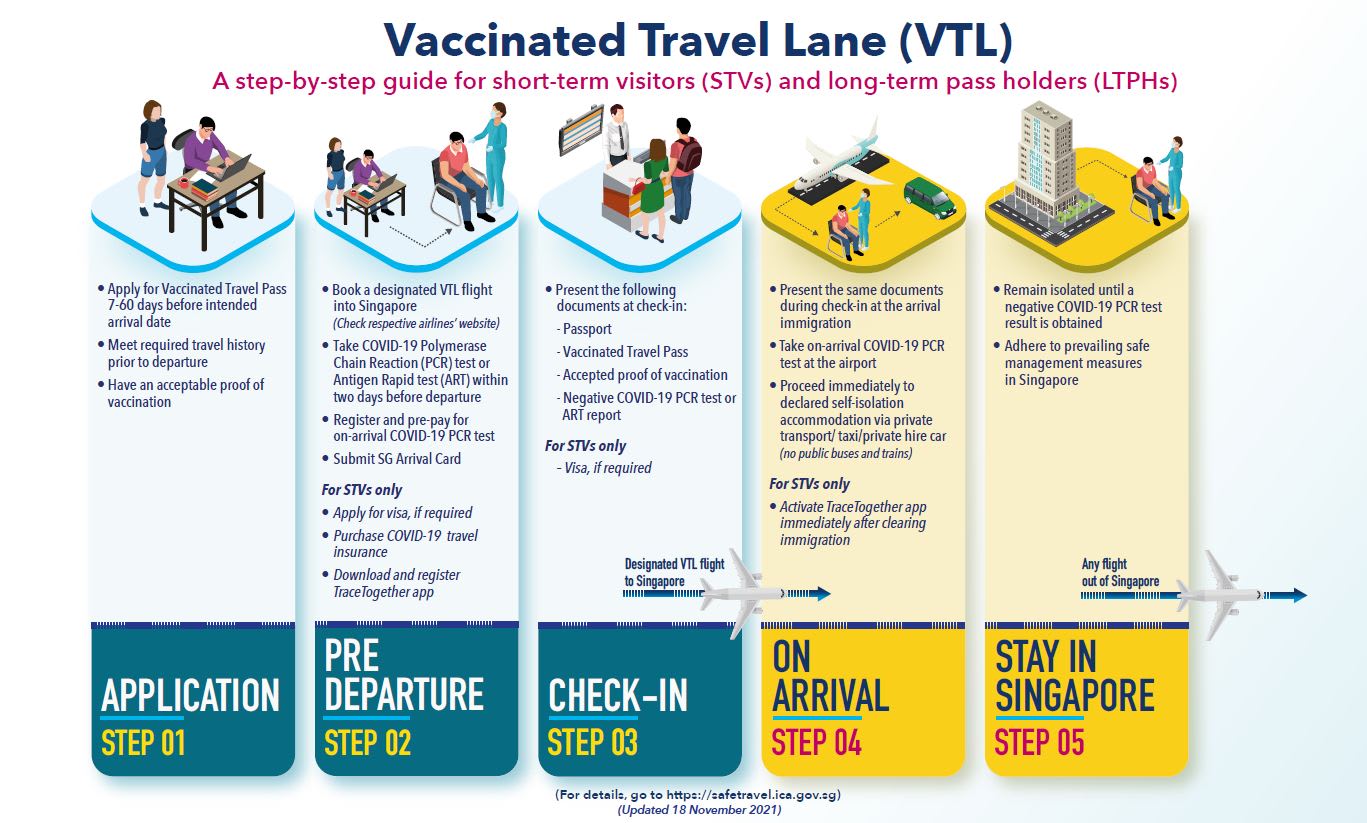 FLIGHT SCHEDULES 
In a separate media release, SIA said it will operate 10 weekly return VTL flights between Singapore and Kuala Lumpur.
The flights will be open for booking from 10am on Friday and will be indicated as VTL flights on its website progressively. 
"SIA customers with existing bookings on direct flights from Singapore to Kuala Lumpur and Kuala Lumpur to Singapore from Nov 29 onwards, and who booked directly with us, will be proactively re-booked onto new VTL flights subject to availability." 
Customers who do not meet the VTL requirements may request to be re-booked for a non-VTL flight, it added.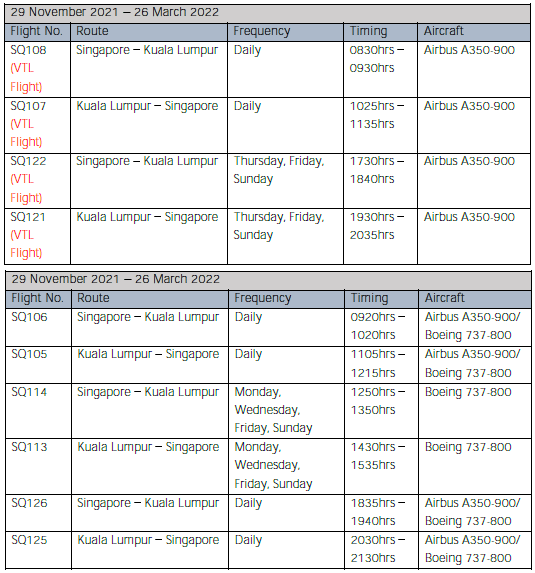 Low-cost carrier Scoot said it will operate four times weekly between Singapore and Kuala Lumpur with its designated flights TR472 and TR473. 
Additionally, the airline plans to resume flights to Langkawi from Dec 3. This is "part of the island's air travel bubble arrangement, providing quarantine-free travel to foreign visitors, subject to each country's requirements", said Scoot. 
Jetstar Asia said it will operate daily flights between Kuala Lumpur and Singapore from Nov 29. Customers who book flights on the airline's website before Dec 31 for travel before Jun 30, 2023, will also be given one "fee free" date change.
Malaysia Airlines (MAS) said that it will deploy its Airbus A330 aircraft and operate daily return flights between Kuala Lumpur and Singapore from Nov 29 to Dec 31. 
The airline added that it will gradually increase to 35 weekly flights between January and March 2022. 
Editor's note: This article has been updated after CAAS amended its press release to remove the reference to the six airlines operating one daily service each.