Thailand starts operating massive floating solar panel project as pressure mounts on climate action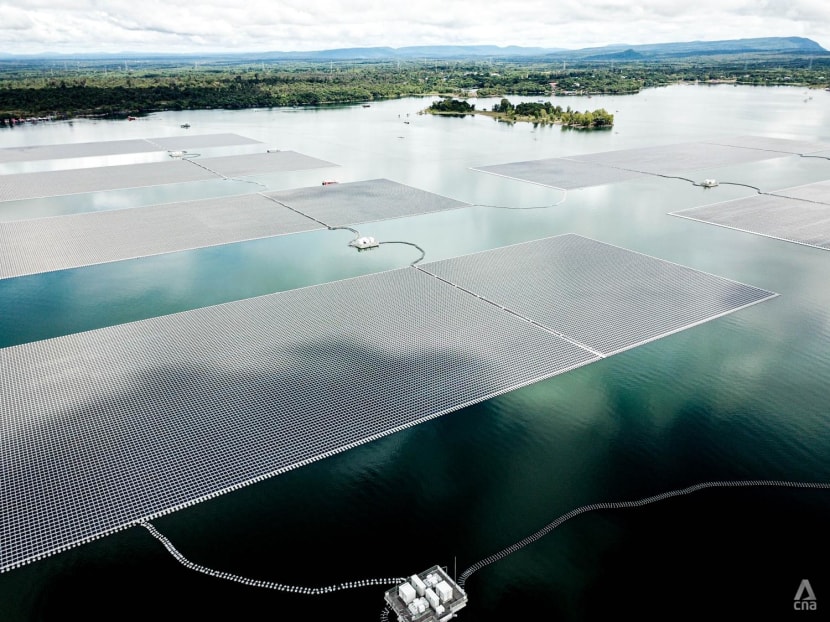 BANGKOK: From the shoreline, the newest piece of Thailand's renewable energy future is just a shimmer in the distance. The pure scale of this ambitious project is difficult to appreciate from afar.

Forty years ago, the face of this land was shaped by the construction of the Sirindhorn Dam, a then-controversial project designed to provide hydropower and irrigation water to the area. Once again, enterprise is harnessing nature here.
The reservoir is now home to the world's largest hybrid solar-hydropower project. Installed on the surface of the water are 144,000 separate solar panels, the equivalent of 100 football fields. 
The 45 megawatts of peak power the project can produce complements the existing dam operations, which can generate an additional 36MW, and provide electricity across three provinces in eastern Thailand. 
The solar panels can make electricity throughout the day while the sun shines, and the hydropower dam can operate at night. Both share the same existing grid transmission lines and transformers.

It is the first of what could be many similar floating solar panel projects rolled out across Thailand, as the country takes early steps to decarbonise its energy sector.

The emerging technology is showing promise and generating interest throughout Southeast Asia. In Singapore, a similar solar panel scheme is operational on Tengeh Reservoir, while plans are underway to rollout similar projects in Malaysia, Indonesia, Vietnam and the Philippines.
This project in Ubon Ratchathani province helps with one of the biggest issues associated with solar power infrastructure development, the scarcity and cost of land.
The surface of the dam is normally unused, except for small-scale local fishing, which can continue even after the installation of the panels.
"Overall, floating PV (photovoltaics) is cheaper compared to a solar farm. We save the land costs and we save the land for Thailand," said Prasertsak Cherngchawano, a deputy governor of Power Plant Development and Renewable Energy at the Electricity Generating Authority of Thailand (EGAT), the state body in charge of the project.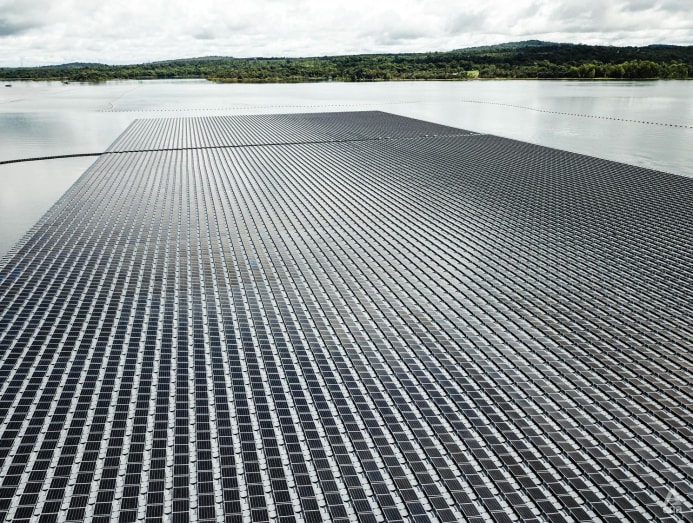 Prasertsak confirmed plans for another smaller floating solar project in northern Thailand. Following that, he said he expected that the next national power plan would include an expedited strategy to roll out more renewable projects and reduce the environmental burden and economic uncertainty of fossil fuels.
Despite modest increases in renewables capacity, fossil fuels still dominate Thailand's energy production and overall carbon emissions.
The energy sector is the greatest cause of domestic CO2 emissions, contributing about three quarters of the country's total.
Thailand has for decades relied on natural gas for energy. Coal plants make up about 20 per cent of energy generation, yet their carbon footprint is huge.
Prasertsak said that EGAT plans to shut down its lignite coal plants in northern Thailand in the near future, once capacity from renewables can replace it.

But energy expert Suphakij Nuntavorakarn said Thailand's enormous oversupply of electricity, which has been exacerbated by the COVID-19 pandemic, means that heavily polluting power plants need to be phased out as soon as possible, and new fossil fuel infrastructure prevented from being built.
"In the next three to five years we should only allow renewables, because we have this power overcapacity," said the analyst from the Healthy Public Policy Foundation.

"And because of the climate crisis, we need to develop renewable energy to its full potential. 
"A coal phase out is highly feasible and will make a lot of benefits that will compensate for the cost that will be needed to terminate contracts. We should also stop the expansion of new gas power plant projects and LNG infrastructure terminals," he said.

In order for Thailand to tackle climate change and lower its carbon emissions, he said that emissions should never return to their pre-COVID-19 levels. 
Right now though, Thailand's level of ambition leading into global climate change talks at COP26 in Glasgow appears to be lagging behind other countries. 
NO TARGETS FOR 2050
Prime Minister Prayut Chan-o-cha recently confirmed his attendance at COP26 and is expected to confirm the country's pledge to reach carbon neutrality by 2065, a minor change as compared to the previous goal of between 2065 and 2070.
It falls short of what the UK government, the host of the conference, in particular has been pushing for in terms of non-binding pledges. 
Scientists have warned that the world needs to limit warming to 1.5 degrees Celsius above pre-industrial levels, or face devastating consequences. To do so, carbon neutrality across the globe needs to be reached by around 2050.

Thailand's goal puts it 15 years behind many countries. Regional neighbours like Malaysia and Laos, for example, have recently adopted 2050 targets.
"This is a really critical time in history. This is an important COP. We're specifically calling on all countries to offer net zero commitments by the middle of the century, ideally by 2050," said Mark Gooding, the British ambassador to Thailand, during a media event in Bangkok this month.

"We also need to accelerate the transition to renewables, so we'd like countries to announce an end to new coal power stations in particular." 
Thailand is also among the countries that have failed to upgrade its climate targets for this decade as part of its Nationally Determined Contributions (NDC), a mechanism that forms part of the Paris Agreement to ensure countries ramp up action over time.

The existing Thailand NDC, submitted last year, only aims to reduce domestic emissions by 20 per cent compared to business-as-usual by 2030. In 2016, Thailand had already pledged to cut the same amount of emissions.
The current pledge is grossly inadequate, according to Suphakij.

"It's not a real reduction. Our climate change target and energy plan do not actually reduce emissions. It only reduces the increase," he said. "We have made some progress, but it's too slow and not ambitious enough. Thailand is playing safe. If for some reason they implement a better climate policy, they'll tell the world and update it later."
TAKING CLIMATE CHANGE SERIOUSLY
During a keynote speech in October, Prayut said that Thailand understands the seriousness of climate change and would intensify its efforts to address the problem, especially through reducing greenhouse gases.

The impact forecast that will affect Thailand is concerning. Bangkok faces the likelihood of more regular, serious coastal inundation and flooding, at the same time as the city slowly sinks.

The agricultural sector also faces major losses, with the annual monsoon expected to be less predictable and rainfall more intense.
Prayut said Thailand must swiftly enhance its knowledge and capacity to create new innovations and technologies to tackle the challenge ahead. It will seek further support from richer countries to provide financing and expertise in this area, a negotiating topic that will be crucial for many nations at COP26.

He confirmed that the government was in the process of finalising its Long-Term Low Greenhouse Gas Emission Development Strategy, wherein national emissions would peak by 2030. It is also drafting the Climate Change Act, the country's first comprehensive piece of legislation covering all aspects of climate issues, said the prime minister.

Developing a circular economy and low carbon society will be priority national policy areas, as will reducing risks from disasters and climate change, he said.
Actions to address adaptation to climate change will be a major discussion topic in Glasgow, and while Thailand is not required to submit a formal strategy to COP26, it should communicate a plan about local impacts, challenges and areas where it needs help. 
"At COP26, it is time for Thailand to ratchet up its commitment to adaptation by ensuring that its adaptation plans are locally led and reflect the needs and priorities of vulnerable groups, communities and places," said Albert Salamanca, a senior research fellow at the Stockholm Environment Institute.
"Failing to do so will risk a repeat of the impacts and suffering encountered during the 2011 megaflooding."
He added: "In essence, Thailand's target and commitment should not only be restricted with reducing greenhouse emissions but, more importantly, ensuring that the global goal of adaptation is achieved for its vulnerable groups."
Becoming a hub for the production of electric vehicles is also on the national agenda, with an additional aim of having 15 million of them on the road in Thailand by 2035.

This is an area where Thailand could seize its leadership role in the region and help make a positive shift in infrastructure, pollution levels, health and competitiveness, according to Andrew Beirne, the UK's permanent representative to the United Nations Economic and Social Commission for Asia and the Pacific (UNESCAP).
As about the 20th largest emitter of greenhouse gases in the world and the second largest economy in the Association of Southeast Asian nations (ASEAN), he said Thailand has an important role to play in the coming days at COP26 and in the crucial years ahead.
"We see Thailand very much as a leader in Southeast Asia. Having Thailand involved and engaged and doing more ambitious things at COP26 and climate negotiations is really important," Beirne said.
"It could be that Thailand brings it forward and of course we'd be encouraging that for 2050."