Life lessons from athletes on overcoming COVID-19 uncertainty
Three sportspeople – endurance athlete Cheryl Tay, national boxer Leona Hui and mixed martial arts fighter Stephen Langdown – share their top tips on keeping fit and staying positive in times of adversity.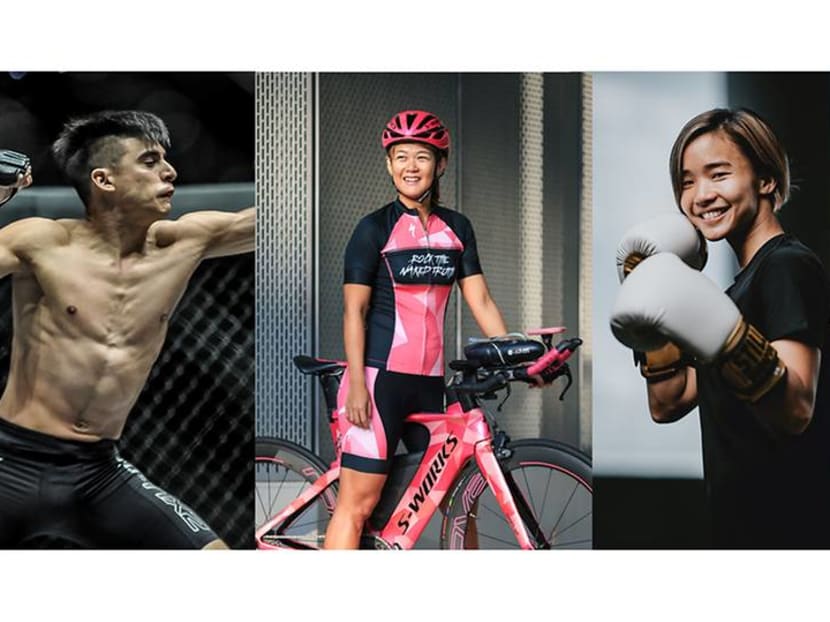 The gyms and the sports facilities are open. The once-deserted beaches and pools have come alive.
But even as Singapore emerges from its coronavirus containment measures in the last few months, the post-COVID-19 world remains an uncertain one for athletes and sports enthusiasts who have put their regular training routines on hold in the last few months.
CNA Luxury spoke to three local sportspeople who share how they overcame the isolation blues and the important lessons they learnt amid a time of uncertainty.
CHERYL TAY, 33
If the pandemic has not upended life as we know it, endurance athlete and fitness influencer Cheryl Tay, 33, would have covered some 500km by sea, bike and foot in various endurance races this year.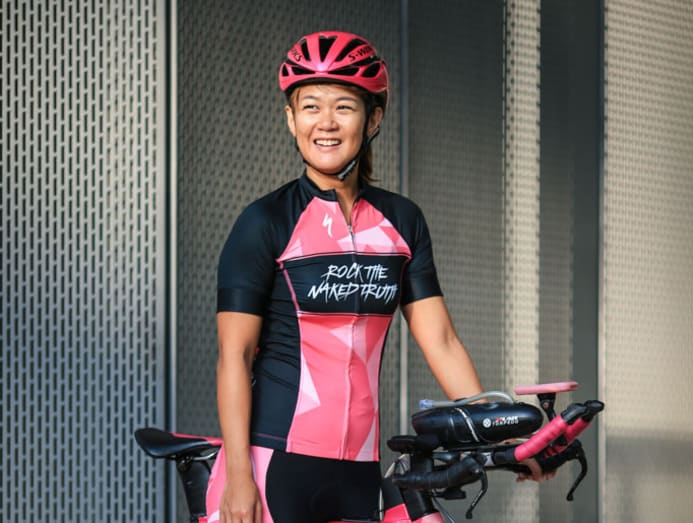 But the threat of COVID-19 has led to mass cancellations and postponements of major long-distance races around the world such as the 2020 Challenge Roth in Germany, Berlin Marathon and Ironman 70.3 World Championship in Taupo, New Zealand, which Tay had been gearing up for.
"There were all these exciting international races lined up, but then 'boom', now all of them can't be done," she said.
Tay, who considers herself a "lifestyle athlete" as she juggles full-time work while training for races, started participating in triathlons four years ago – around the time she founded Rock The Naked Truth, a body positivity movement that encourages people to be comfortable in their own skin.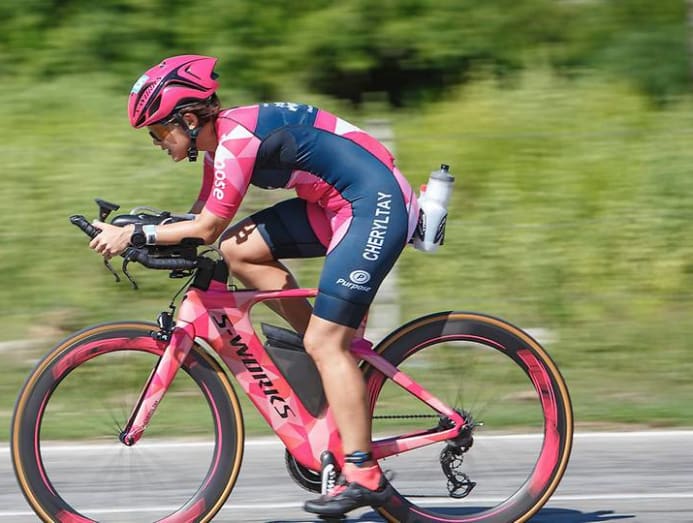 Tay used to think that triathlons were "insane" but soon discovered her passion for the sport, completing 12 half Ironman races and one full Ironman race in three years.
"Who would want to go run a full marathon after 180km of cycling? I thought it was madness. But the more I did triathlons, the more I discovered how interesting the mind actually is," she said.
"When you see how the body is constantly being challenged, you will realise that a lot of it is all in the mind. If you tell yourself you can't do it, half the battle is gone."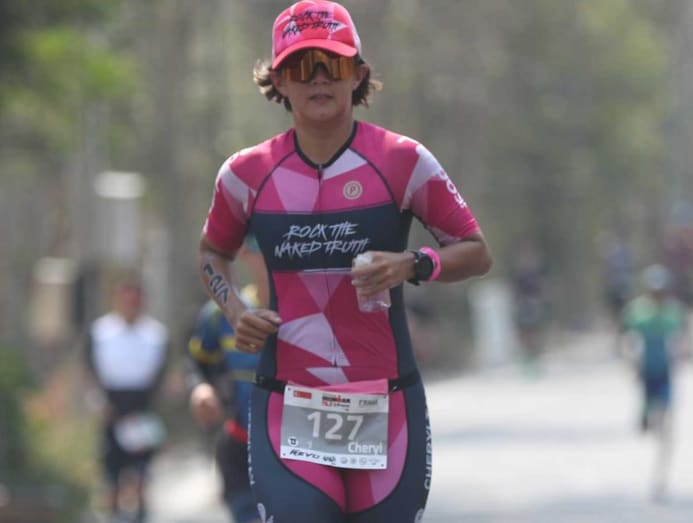 Having struggled with eating disorders for a decade, Tay said she found her self-confidence through sports and fitness. She currently also runs a running club ROCKrunners and a tri-enthusiast club ROCKtri.
"When I discovered my confidence through fitness, I started to see what my body was capable of instead of worrying how I wanted it to look like," she said.
"The more I did triathlons, the more I discovered how interesting the mind actually is… If you tell yourself you can't do it, half the battle is gone."– Cheryl Tay
HOW TO KEEP GOING WHEN MOTIVATION IS FLAGGING
Despite her love for fitness, Tay found herself struggling to continue with a structured training plan during the early weeks of the circuit breaker period.
Not knowing when the next race would come around made it even harder to remain motivated. It did not help that her regular training is usually done outdoors or with a group of friends.
"When you are doing it as a hobby, your motivation is very different from that of a national athlete. As a lifestyle athlete, I need the constant races to keep myself motivated, otherwise why would I wake up at 4am or 5am to train?" said Tay, who has a full-time job in digital marketing and as an editor of Run Singapore.
When she found her motivation flagging, Tay fell back on the thing that has kept her going in the last four years of training – discipline.
In the past weeks, Tay used an indoor bike trainer and a multiplayer online cycling and physical training programme that enables users to interact, train and compete virtually. When the pools and beaches were closed, she substituted swimming practice with resistant band workouts.
"I've been doing this triathlon routine for about four years. I realised that I still like working out, so I'm back with my usual training," she said.
While she is in no hurry to get back to the races, Tay said she misses them. She thinks it will likely take some time, or until a COVID-19 vaccine is available, before the large-scale races resume as some of them may involve tens of thousands of people.
In the meantime, self-discipline and her passion for the sport will sustain her till the next race.
LEONA HUI, 33
While stuck at home in the last few months with no sparring partner and proper training equipment, national boxer Leona Hui returned to the basics of the sport to keep herself going: Sheer force of discipline and the ability to adapt to ever-changing situations.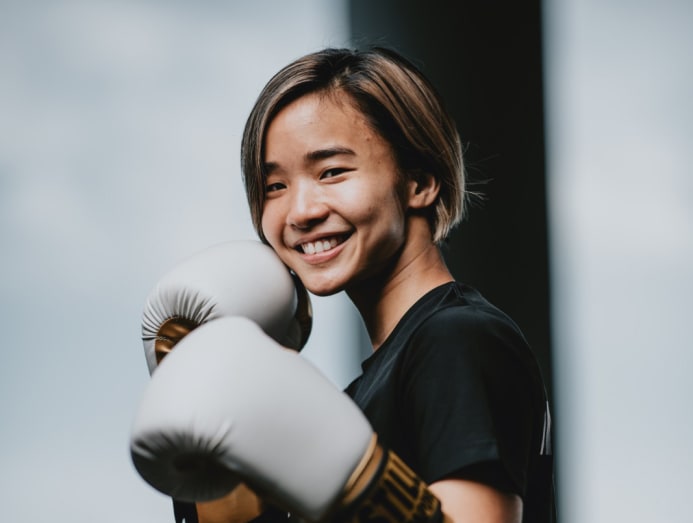 By creatively incorporating common household items like laundry bottles, chairs and tins of canned food into her workouts, the 33-year-old athlete continued to stay in shape even as the world of competitive sports came to a complete standstill because of the coronavirus.
Pre-pandemic, Hui, who was part of Singapore's first women's boxing team to compete in the 2015 SEA Games, would train two- to three times a week with her team mates at Bedok Sports Hall. She also does her own boxing and conditioning training, and meets some of her team mates for morning weekly runs.
During her time in isolation, Hui roped in friends for daily virtual workout sessions and practised shadow boxing, an exercise commonly used in the training for combat sports.
"We thought it would help us hold one another accountable to a certain extent, and to remain motivated. Surprisingly, it worked and that really helped keep us active," said Hui, who has a day job running This is Anagram, an events company she co-founded.
Hui chanced upon boxing a decade ago while working at an event held in conjunction with the 2010 Youth Olympics. At the time, it was a little-known sport, especially for women, she said.
"There was a try-out at the event. I put on the gloves and tried it out for fun. Somehow, I fell in love with it and took it from there," Hui said, adding that she was one of the few women in her boxing class back then.
One of the things Hui especially loves about the sport is the sense of adrenaline and raw strength that comes from facing an opponent in the ring.
"It comes from knowing that you can only depend on yourself. No matter how hard you've trained, how good you think you are, you are left to confront your opponent on your own," she said.
Now that the sports facilities have reopened, Hui is looking forward to regular sparring sessions. "I can't wait to hit someone and for someone to hit me," she said with a laugh.
POSITIVE LESSONS LEARNT FROM A PANDEMIC
Hui said that one of the positives that have emerged from COVID-19 is a heightened awareness of personal hygiene among Singaporeans.
"People tend to have the mentality that it's okay to go to work, school or the gym when they are sick. Right now, I believe people will be more mindful of staying home or putting on a mask when we are unwell," she said.
The unpredictability in the last few months has also given combat sports athletes like herself an important lesson in adaptability.
"I think we are now better equipped to deal with such a situation should it ever happen again (touch wood!)," she said.
"There are so many things that we can do even in isolation, like shadow boxing, working on drills and footwork. Zoom workouts have also opened up a whole new world of possibilities for fitness. Even boxing coaches have taken lessons online."
Looking forward, Hui and her team mates on the national boxing team hope to be able to help boxing grow as a sport for women in Singapore. They are organising all-women sparring sessions for girls and women who have an interest in boxing and want to learn more, as well as those who have taken up boxing but do not have enough sparring opportunities in their gym, Hui said.
"Boxing has opened up a lot of opportunities for me. I hope to be able to help inspire the next group of girls to come on board and love this sport too," she said.
"Boxing has opened up a lot of opportunities for me. I hope to be able to help inspire the next group of girls to come on board and love this sport too." – Leona Hui
STEPHEN LANGDOWN, 27
While some people rushed to get their retail fix or meet up with friends for a meal, the first thing mixed martial arts fighter Stephen Langdown did when the restrictions lifted was to be reunited with some of his favourite gym equipment.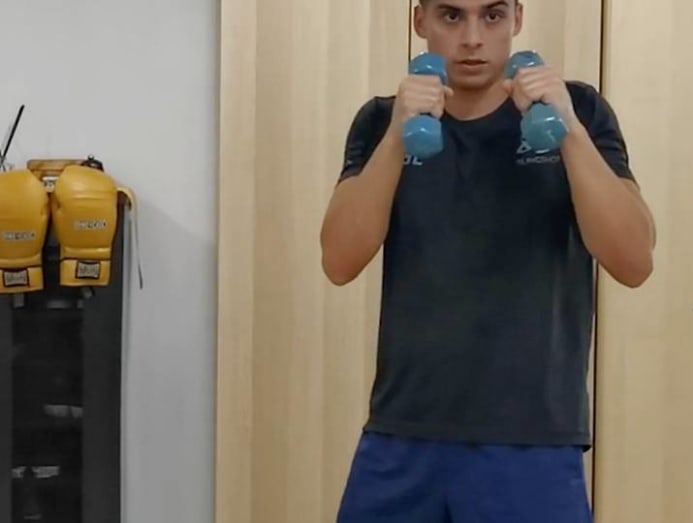 Barbells and weight plates, he said, were some of the things he especially missed during his time away from his training studio, Slingshot Lab.
"I even missed the flooring at the studio," he said with a laugh. "At home, I had to worry about not making too much noise. I've could not do too much jumping because it'd affect my neighbours downstairs."
Pre-COVID-19, the 27-year-old former fighter for One Championship usually spent half the day training and coaching at his studio, which he co-founded with John Wilkinson. Wilkinson is a football analyst on TV and former professional footballer.
The studio at Lorong Telok, which offers cross discipline fitness training focusing on football, combat as well as strength and conditioning, is now open after being closed for more than two months.
Langdown, whose father is English and mother is Singaporean Indian, was the youngest Singaporean to fight for One Championship in 2013. At the time, he was only 20 and fresh out of National Service.
As an athlete, coach and business owner, Langdown was hit hard by the restrictions in the last few months. But he was not surprised to hear that gyms and sports facilities had to remain closed after the circuit breaker measures were lifted in the first phase as sports equipment are high-touch surfaces.
Now that sports and fitness facilities have reopened, Langdown said gym life will look quite different from the pre-coronavirus days, with enhanced physical safe distancing and safety rules.
"Physical safe distancing on the floor will be the future of gyms. For example, we will space out our training sessions and do one-on-one sessions at the moment. Equipment will not be shared between clients and they will be disinfected after each session," he said.
"We can't control the virus, but we can control how we train." – Stephen Langdown
MAKING THE BEST OUT OF A LESS-THAN-IDEAL SITUATION
An important lesson Langdown has learnt during this period of uncertainty is to have multiple backup plans and make the best out of a less-than-ideal situation.
He said, "This whole situation has highlighted how important it is for people to be able to pivot quickly, whether for their workout routine or streams of revenue."
Like many trainers, Langdown turned to virtual coaching sessions when his studio was closed. At home, he continued with his own training routine by incorporating exercises that are important in mixed martial arts training, such as weighted shadow boxing, burpees and Turkish get-ups.
Using weights while shadow boxing was also the closest thing he could get to the intense workout of hitting pads, without having a punching bag or coach to hold the pads. Doing burpees replicated the ever-changing pace of fighting, from grappling to striking, while the Turkish get-up worked the shoulders, core endurance, coordination and balance.
"We can't control the virus, but we can control how we train," he said.
The downtime gave Langdown the chance to pay more attention to certain aspects of fitness that he previously did not, such as mobility and flexibility. "I've even done a few follow-along yoga classes, something which I've never done in my life," he said.
Scheduling fixed workout timings also helped him remain upbeat and motivated. He recommends this for everyone, athlete or not, even when life returns to normal.
"If you set a time to work out every day for example, at 8.30 am, that helps frame your mindset for exercise versus just sitting around and telling yourself 'maybe I'll do it a bit later, after lunch or after dinner'. When you let it drag on, it might never happen," he said.