Baselworld 2019: Rolex unveils 'Batman' GMT-Master II with improved power reserve
Reference 126710BLNR now comes with a new engine (calibre 3285), an extended power reserve (70 hours), and a dressy Jubilee bracelet.
Trust Rolex to keep its fans guessing, and consequently, the demand for its watches sky-high. In Dec 2018, word on the street – and by word on the street, we mean the chatter on web forums and social media – was that the popular "Batman" GMT-Master II (Ref. 116710BLNR) would be discontinued.
This, of course, sent watch nerds into a frenzy. Were the rumours true? Should they scramble to get their hands on any available stock, if they had been holding out?
But lo and behold: At Baselworld 2019, which kicks off in the Swiss city today, Rolex lifted the curtains on a new-and-improved "Batman", Ref. 126710BLNR. The superhero moniker, of course, refers to the blue-and-black colourway of the Cerachrom bezel insert. This high-tech ceramic is patented by the company.
The new "Batman" is a follow-up to 2018's "Pepsi" GMT-Master II (Ref. 126710BlRO), which housed the new-generation calibre 3285 – a powerful engine with a 70-hour power reserve. Now, the new "Batman" follows suit. That's an extension of about 20 hours on the battery life, compared to calibre 3186 in the old "Batman".
It means you can remove your watch on a Friday evening, leave it on the dresser over the weekend, pick it up on Monday morning and still find it keeping good time. Handy, no?
Another significant change, or upgrade, if you will, is the introduction of a Jubilee bracelet on the watch. The five-link Jubilee is typically found only on dressier Datejust models; sportier models in Rolex's Professional collection are usually fitted with three-link Oyster bracelets (as well as Oysterflex rubber straps).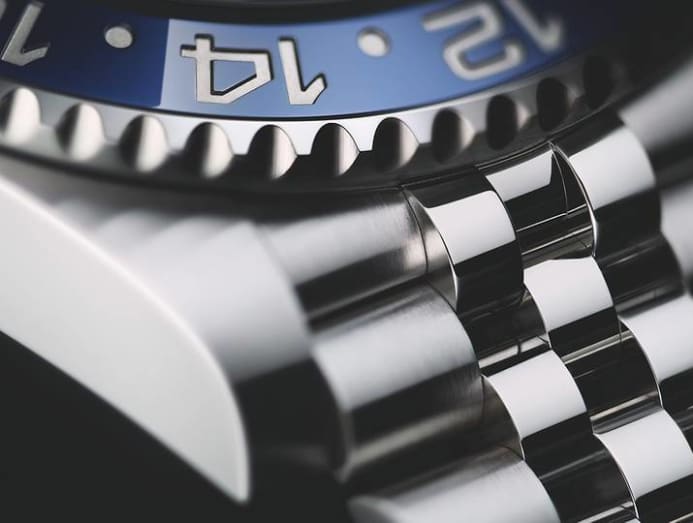 But last year's "Pepsi" broke form; it was kitted out with a Jubilee. As is 2019's "Batman". And if demand for the "Pepsi" is any indication (anecdotal evidence suggests a waiting list of several years), then it's highly likely that the "Batman" will be equally coveted. If you don't want to sit it out, there's always the secondary market, although be prepared to fork out a premium.