CapitaLand donates S$9 million to COVID-19 relief in Singapore, India, China
The group's latest contribution to India addresses nationwide healthcare needs amid an ongoing COVID-19 crisis in the country.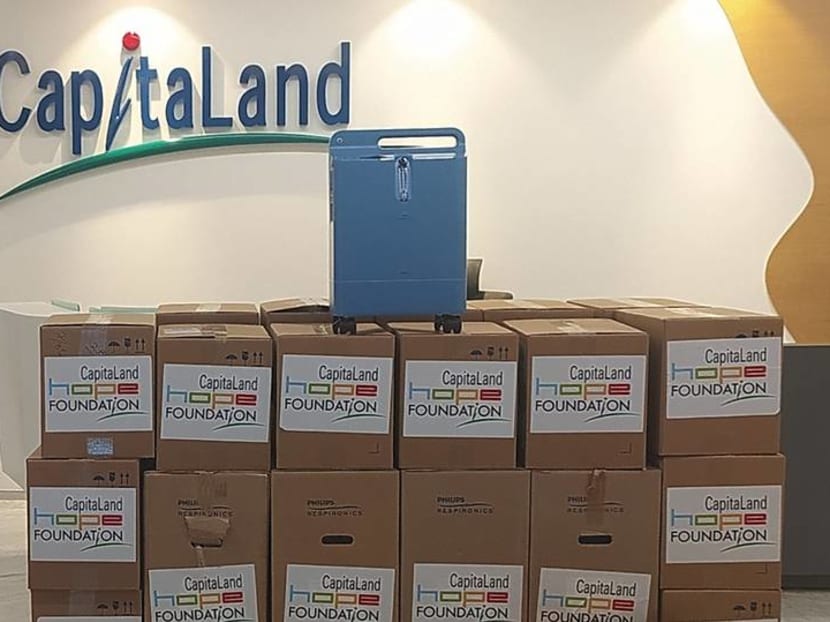 CapitaLand and its philanthropic arm CapitaLand Hope Foundation (CHF) have pledged almost S$9 million to date since the onset of the COVID-19 pandemic, in support of communities in its operating markets of Singapore, China and India.
This includes about S$3.2 million donated to relief efforts in India. In its latest round of aid committed this month for India, the group's donation will be used to procure more than 1,200 emergency medical supplies such as intensive care unit (ICU) beds, oxygen concentrators, pulse oximeters, ventilators, personal protection equipment (PPE) and surgical face masks.
It will also be used to set up a COVID-19 Care Centre at CapitaLand's International Tech Park Bangalore, which will provide medical support for the group's employees, tenants, and the neighbouring Bangalore Whitefield community who are asymptomatic or have mild symptoms.
It will be operated by private and government hospitals and equipped with 28 beds and medical supplies such as oxygen concentrators and cylinders.
CapitaLand and its wholly-owned lodging business unit, The Ascott Limited, will also provide oxgen concentrators to the COVID-19 facility at King Institute of Preventive Medicine and Research in Chennai.
In a press release, Jonathan Yap, president of CapitaLand Financial, said that it is important for the group to "stand in solidarity with India during this difficult time". "We are doing everything we can to take care of our employees in India and stepping up our help to address critical needs across the nation."
The group's COVID-19 relief efforts in India include dispatching more than 100,000 face masks, hand sanitisers, high-flow nasal cannula ventilators, oximeters, PPE and thermal scanners to frontline workers in Bangalore, Chennai and Pune.
More recently, in March 2021, CapitaLand donated N95 masks and PPE to Sri Shankara Cancer Foundation in Bangalore, as well as distributed rations and safety care kits to the elderly and homeless at a shelter run by The Earth Saviours Foundation in Gurgaon. 
In April 2021, CapitaLand conducted two vaccination drives in International Tech Park Bangalore and International Tech Park Chennai, Taramani for its support staff, employees and their family members.

Vinamra Srivastava, chief executive officer of Business Parks, CapitaLand India, said: "India is going through a trying time right now. We have been working closely with  governments where we have presence, to identify the needs of local hospitals and ensure that emergency medical supplies are procured and delivered as soon as possible.
"Through CHF, our efforts on the ground have been significantly boosted. We are also teaming up with our customers, partners, suppliers and service providers to enhance our support as the situation evolves."

"India is going through a trying time right now. Through CapitaLand Hope Foundation, our efforts on the ground have been significantly boosted." – Vinamra Srivastava