Why is marula oil considered the multi-tasking miracle-worker for flawless skin?
Known for its moisturising and anti-ageing benefits, marula oil continues to prove itself to be an all-star ingredient for youthful, radiant skin.
Marula oil created quite a stir when it first entered the beauty scene a few years ago, posing stiff competition for other popular oils in the industry such as argan and coconut. And it hasn't lost its lustre since. Beauty brands continue to harness the oil's moisturising and anti-ageing powers in their skincare products, proving that it's not just a flash in the pan.
Extracted from the nuts and kernels of the Marula tree found in Africa where it was used for centuries as a cure-all for skin, this antioxidant-rich oil is a multi-tasking wonder.
Explained Tiffany Masterson, Founder of cult favourite Drunk Elephant which features the oil in several products in its range, "Marula oil contains a comprehensive mix of fatty acids – omegas 3, 6 and 9 – making it an intensely nourishing ingredient for skin. Its concentration of oleic acid makes marula oil an excellent penetration-enhancer for other actives, while its mix of phenolic flavonoid compounds gives it powerful antioxidant defence against damaging environmental free radicals."
Marula oil is ideal for moisturising as it is an emollient which fills the gaps on the surface of the skin to make it smoother and softer, while sealing in the moisture by creating a thin layer on the skin. Armed with both oleic and linoleic fatty acids, the oil works effectively to nourish the skin.
Masterson explained, "Of the unsaturated fatty acids, research has demonstrated that oleic acid is the most effective penetration enhancer, allowing other ingredients an easier time to penetrate by making the lipid surface of skin more permeable and the active ingredient more soluble." The lightweight oil absorbs quickly and does not leave a greasy film on the skin's surface.
Also boasting vitamins C and E, this multifaceted ingredient works to neutralise free radicals from pollution and sun exposure. It helps to improve the skin's resistance to external aggressors and works to strengthen the skin's protective barrier over time.
How exactly does the oil help to keep ageing at bay? Marula oil has the ability to inhibit the enzymes that break down both collagen and elastin. It is chock-full of antioxidants too, along with amino acids, to keep skin supple and youthful.
Masterson said, "Raw marula oil is high in antioxidant polyphenols – what makes green tea, for example, such a powerful antioxidant for skin – and fatty acids, both of which help the skin barrier repair itself and defend against stressors such as free radicals and irritants."
Drunk Elephant's Virgin Marula Luxury Facial Oil helps to reduce fine lines, wrinkles, redness and blotchiness while improving skin elasticity. The brand obtains the oil via a proprietary raw, cold-press extraction and filtration process resulting in the purest and most concentrated form of the oil, thus preserving the polyphenol antioxidant and fatty acid compounds.
Also featuring marula oil in its formulation is the Erno Laszlo Phormula 3-9 Repair Cream which is a re-energising cream that nourishes and revitalises skin that has been exposed to environmental stressors while making it more youthful. And there's also Lancer Skincare's Intensive Night Treatment that works to hydrate the skin while smoothening and enhancing its radiance.
But does marula oil work for all skin types? Masterson stated, "It's great for all skin and all skin conditions – that's one of the reasons I chose it for my line." She advises tailoring it to suit your skin's needs by using more of the product in a colder and drier environment and less in a warmer, humid one.
How should you incorporate it into a beauty regimen that features other moisturising ingredients such as hyaluronic acid?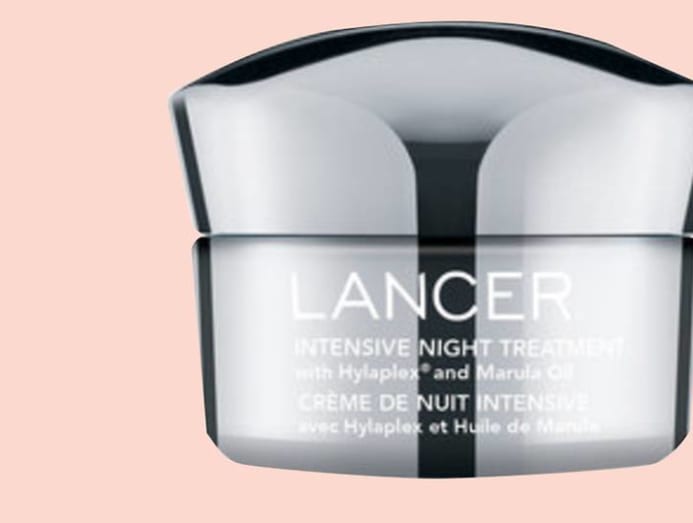 Masterson stated, "While they do very different things for skin, you can get the most out of hyaluronic acid, as well as other water-boosting and protecting ingredients, by using them in the same routine as moisturising oils like marula." 
She added that the best way to keep skin healthy is to use a combination of both water-boosting ingredients with moisturising oils, ceramides and amino acids while avoiding things that can rob your skin of moisture and hydration.
To top it off, the benefits of marula oil also extend to the hair as its rich shield of antioxidant and essential minerals protect the hair against the harsh effects of UV rays from the sun or the heat of your styling tools.
To calm frayed ends or tame frizz, you can treat your hair with Paul Mitchell Marula Oil Rare Oil Intensive Hair Masque which is a non-greasy hair treatment formulated with cold-pressed marula oil for smoother and shinier hair.