This Singapore biotech start-up is making milk without animals or humans
Can milk be made in a lab, and can it be more environmentally friendly? The founders behind TurtleTree Labs envision a world where milk and dairy products can be derived without harming the planet.
It's the year 2020. Self-driving cars are being tested, flying taxis may soon become a reality, and meat substitutes can be derived from plants. Technology has come such a long way, it's almost like we're living in a real life sci-fi movie.
In Singapore, one start-up is making milk in a lab, without the need for cows, humans or any mammal, for that matter. TurtleTree Labs touts itself as the world's first biotech company to use cell-based methods to make lab-grown milk, while retaining the same taste and composition as milk derived from natural means.
While the technology may be  difficult for many grasp, it's an innovation that has won the company several awards. 
In July this year, the start-up was crowned the grand winner of The Liveability Challenge 2020, an annual search for solutions to some of the biggest problems faced by Southeast Asian cities. The company was awarded a grant of S$1 million by Temasek Foundation to develop its product in Singapore, and eventually scale up its solution in Asia and beyond.
More recently, TurtleTree Labs took home the top prize for the prestigious Entrepreneurship World Cup 2020, walking away with a cash prize of US$500,000. The global competition, which attracted 175,000 participants from 200 countries, aims to uncover the next generation of entrepreneurs.
TurtleTree's journey all began with cheese, the start-up's CEO revealed. "I had a hobby of making cheese in the past. And to make good cheese, you need [high-quality] raw milk. I [travelled] all around Asia, but I soon realised that there were problems with cattle farming [in the region]. There were hormones and antibiotics being pumped into the cows, and as a result, the milk suffered," shared Singaporean Lin Fengru.
Back then, Lin was working at Google. It was there that she met TurtleTree's Chief Strategist, California native Max Rye, who was formerly the CEO of a tech company in Silicon Valley. Rye had come to Google for a sharing session on transformative technologies, including companies making meat and seafood from cells.
"After the talk, I went to him and asked if there were similar methods we could use to make milk. Back then, there was no other company doing it, so we decided to do some research into this area. We pulled in some scientists friends and last year, we managed to make some breakthroughs. We filed our patents, and now we have a team of over 20 full-time scientists and engineers."
CLEAN MILK FOR GENERATIONS
Simplifying the science behind the creation of milk in a lab, Lin explained, "We're able to isolate cells directly from freshly expressed milk. Many people might not know this, but when a mother expresses milk, within the first few hours, there are still live cells within that milk. We're able to isolate these cells and grow them into a large number. Subsequently, we put these cells into an environment that is similar to what is in a cow udder or human breast. The cells will then convert in this lactation media, and the end result is fluid milk."
The overall vision of the company, Rye shared, is to provide food in the form of milk and dairy products to the world, without having to damage the planet.
"Today, cattle farming accounts for 37 per cent of global methane emissions. We also know it requires land, and a lot of other resources, to raise cattle," Rye said. "How do we continue to feed people without the carbon impact? In the long term, we want to be able to provide the world with food in a sustainable way. And here in Singapore, food security is a big issue, so how do we address that?"
"If you look at dairy, it's the largest food segment in the world, worth US$700 billion (S$944 billion) dollars. This way, TurtleTree can really make a massive impact," Lin added.
While the company started off by creating cow's milk, it is also exploring making breast milk and looking at the many valuable biologically active components that are present inside it.
"The potential applications of our technology are wide-ranging. We can potentially create milk from almost any mammal. Right from the beginning, we had a huge interest from all the big infant formula milk companies," said Rye.
Formula milk might not be able to match the composition of breastmilk, but many women have trouble breastfeeding. TurtleTree's lab-grown breast milk is hoping to achieve similar composition to human breast milk, the company said.
Applying their science to create human breast milk will allow the company to take aim at a multibillion-dollar industry currently valued at US$45 billion. TurtleTree Labs hopes to strategically collaborate with different organisations and institutes to penetrate this market, potentially building revenue from an early stage.
"We are able to use that as an opportunity to build a very strong business early on, as we set up our long-term goal to transform how the world accesses dairy," said Rye.
"How do we continue to feed people without the carbon impact? In the long term, we want to be able to provide the world with food in a sustainable way." – Max Rye

DRIVING FOR CHANGE
To help the company accelerate, TurtleTree Labs has received support from several agencies, including the Singapore Food Agency (SFA), Agency for Science, Technology, and Research (A*STAR), and Enterprise Singapore. "These agencies have become almost an extension of our R&D in a way," Rye said.
The decision to be based in Singapore has proven to be the right move. "We probably wouldn't get as much support if we were in a different city, or a different country. The government agencies are really behind us because of Singapore's goal to produce 30 per cent of its own nutritional needs by 2030, so we're just very fortunate to be here," Lin added.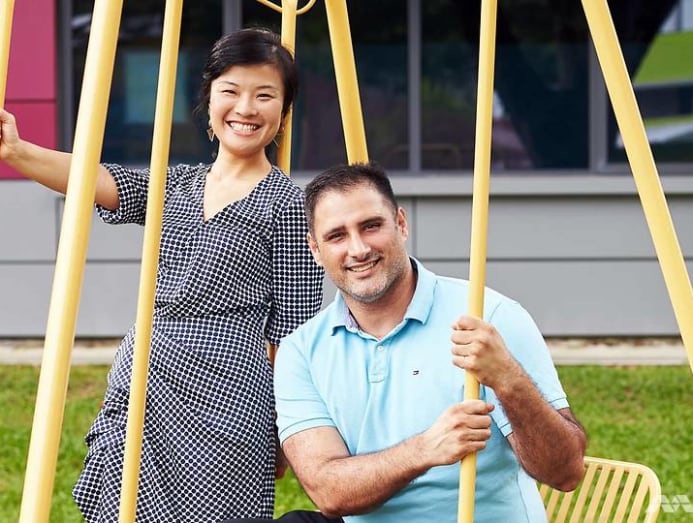 As intriguing as the technology sounds, both founders are acutely aware that consumer acceptance is one of the hurdles they will run into. "Because the technology is so novel, consumer acceptance, regulatory issues, these are challenges we're going to face," Rye acknowledged.
While skeptics may exist, Lin and Rye believe that it's the younger generation who would resonate with the company's goal. "We are very fortunate because young people these days are driving for change. They really want to make the right decisions when it comes to choosing the food that they consume," Lin said.
"It's not just the acceptance of new technologies like this. We're at a time when it has become expected for corporations and big companies to create solutions that don't destroy the planet. This is what the young folks are pushing for. They want to have a better world to live in. If we can build a solution that is aligned with what they're looking for, there's a big win there for both sides," Rye enthused.
As part of the company's corporate social responsibility (CSR) efforts, TurtleTree is also collaborating with the Smithsonian Institute on a project to create milk for endangered animals in captivity, such as elephants and snow leopards.
In particular, snow leopards in captivity tend to attack their young. Thus, the mother needs to be separated from her cubs. There are also orphaned baby elephants that do not survive in captivity, as the milk they receive is not as nutrient-dense as milk derived from the mother elephant.  
"When we first announced that we were going to make cow's milk, we had all these press reports go out. All of a sudden, there was interest from areas we never expected. The Smithsonian Institute reached out to us to ask if our technology could help these animals in captivity. And for us, it's very inspiring. With our technology, we can help the most vulnerable baby mammals on this planet," said Rye.
"We are very fortunate because young people these days are driving for change. They really want to make the right decisions when it comes to choosing the food that they consume." – Lin Fengru
MAKING A MEANINGFUL IMPACT
While Lin and Rye have always been involved in the tech world during their careers, they now feel like they're making an actual impact on the world.
"Even though I've been an executive for so many years, I always questioned if I was doing anything to help this planet. I whined about it, I complained about it. But yet, I wasn't a part of the solution. So now that I have this opportunity, I can directly use my leadership skills to make an impact," Rye mused.
Looking towards what the future holds for TurtleTree Labs in the next five to ten years, Lin said, "We imagine most of the dairy products out there to have the TurtleTree logo on the cover, showing that this milk was sourced through TurtleTree methods or technology."
The company's logo resembles both the cross section of a tree, as well as a thumbprint. Explaining the rationale behind both the logo and company name, Lin said, "Turtles and trees are symbols of longevity, and we believe in the longevity of the animals and planet."
TurtleTree also hopes to play a bigger role in solving the issue of food security in Singapore, shared Rye. "In a place like Singapore, if you have your own dairy and your own milk, that's going to be a huge change. You will be a lot less reliant on the global supply chain, and during this pandemic, we've seen that this is actually very fragile. We would love to be a part of the Singapore food story."
"In a place like Singapore, if you have your own dairy and your own milk, that's going to be a huge change... We would love to be a part of the Singapore food story." – Max Rye