How a Singaporean couple turned their home into a Takashi Murakami art gallery
Bryan Lee and Sharon Cheong have been collecting artworks and merch by the contemporary artist for the past 15 years as souvenirs of their annual trips to Japan. So when the pandemic hit and borders closed, they decided to renovate their home and turn it into a gallery for their large collection.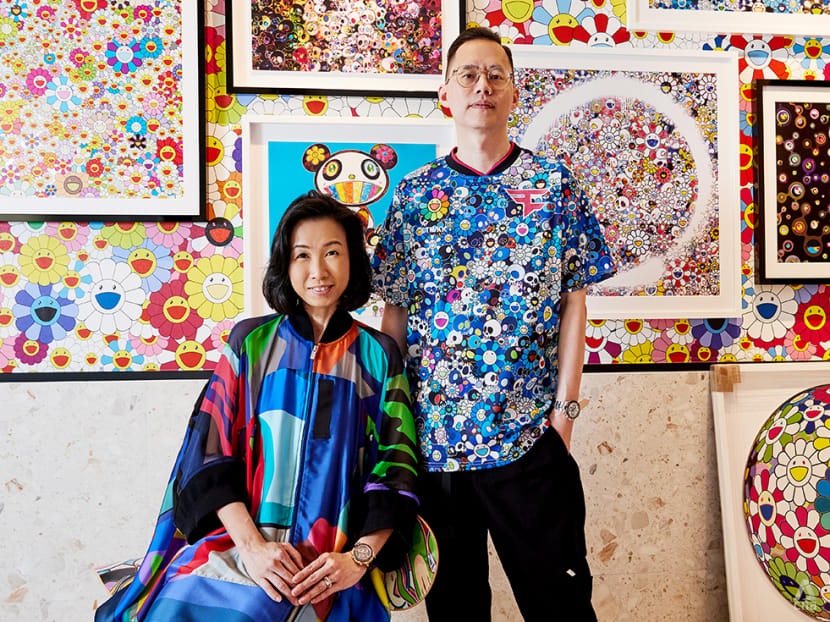 It was a handbag that started it all. On a trip to Japan more than 15 years ago, Bryan Lee and his wife popped into a Louis Vuitton boutique to check out a collaboration with pop artist Takashi Murakami.
The moment his wife, Sharon Cheong, saw the Takashi Murakami Pink Cherry Blossom Canvas Papillon Bag, she knew she had to have it. "She just fell in love with it. It was the first designer bag that she bought without any hesitation whatsoever," said Lee.
The bag sparked an enduring love for the Japanese artist, which has, over the years, led them to amass an impressive collection of some 30 pieces of original silkscreen prints by the artist and a wide array of assorted Murakami-branded merchandise ranging from soft toys to clothing and shoes.
"We are attracted to his portrayal of Japanese culture but in an unconventional way. With his silkscreen prints, when you look at them from different angles, you can see the depth of print and the multiple layers of colours that he uses," Lee said, who works in finance. "His portrayal of happiness and sadness in his work at the same time is also reflective of his interpretations of what is happening in the world."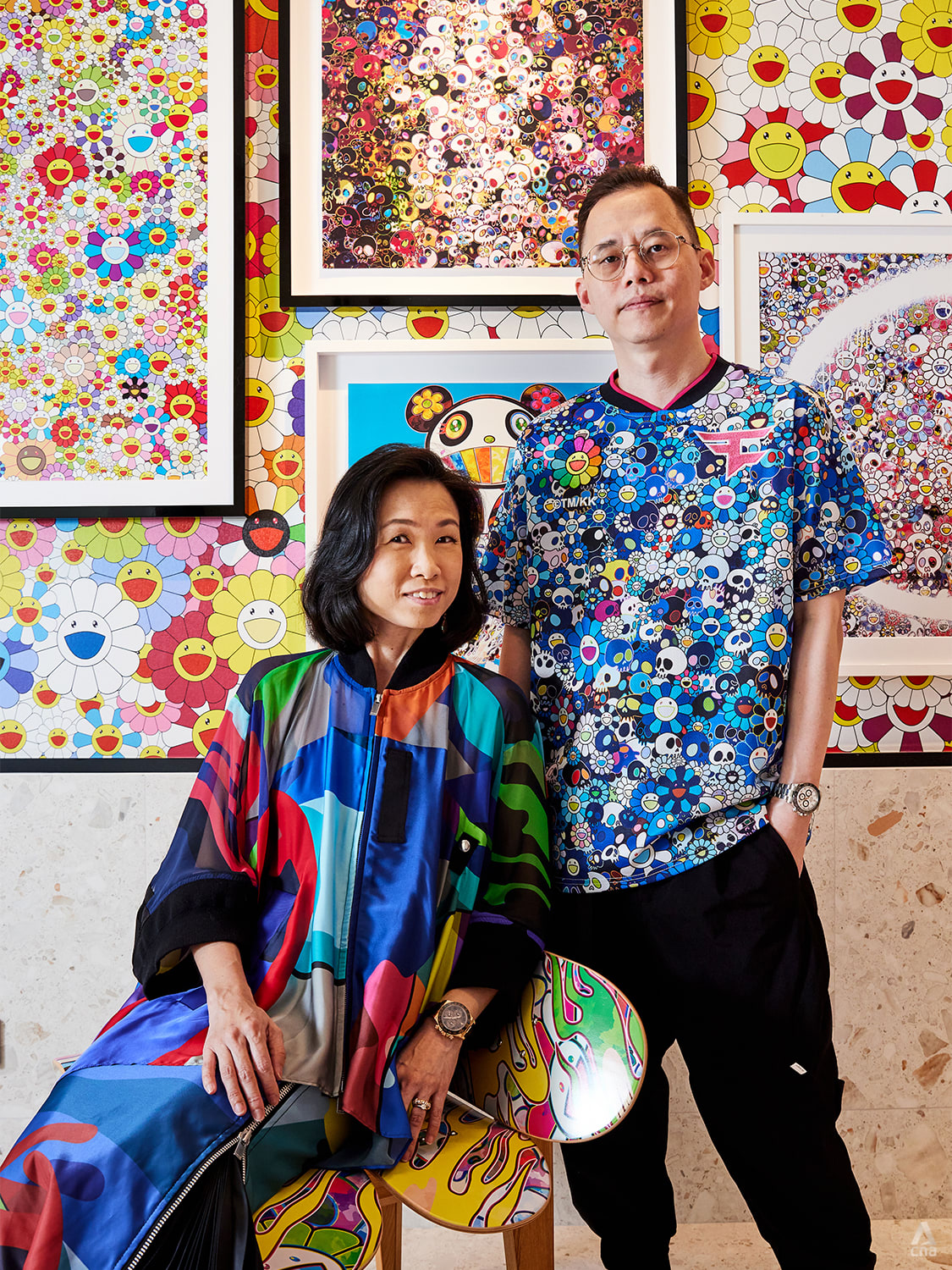 For example, Murakami's 500 Arhats series was created in the aftermath of the 2011 earthquake and tsunami in Japan and depicts a message of hope despite the sense of despair amid the destruction, Lee explained.
With an ever-growing collection, the duo decided last year to renovate their condominium unit they had been living in for the past decade so that they could build in sufficient display space for their pieces.
"We wanted to showcase our collection rather than keep everything packed away in boxes or in the storeroom," said Lee.
More than maximising space, their brief to their interior designer was to create a space that would evoke the experience of being in a Murakami art exhibition. "We were very specific that we wanted to create a museum-style showcase, exactly like what he would do for his art exhibitions," Lee explained.
Taking centre stage is an expansive gallery wall in the Lee's living room, which features a custom wallpaper of the artist's iconic cartoon flowers. About eight framed Murakami artworks hang on the wall, their bright cheery colours and intricate details combining to create an eye popping, almost psychedelic effect.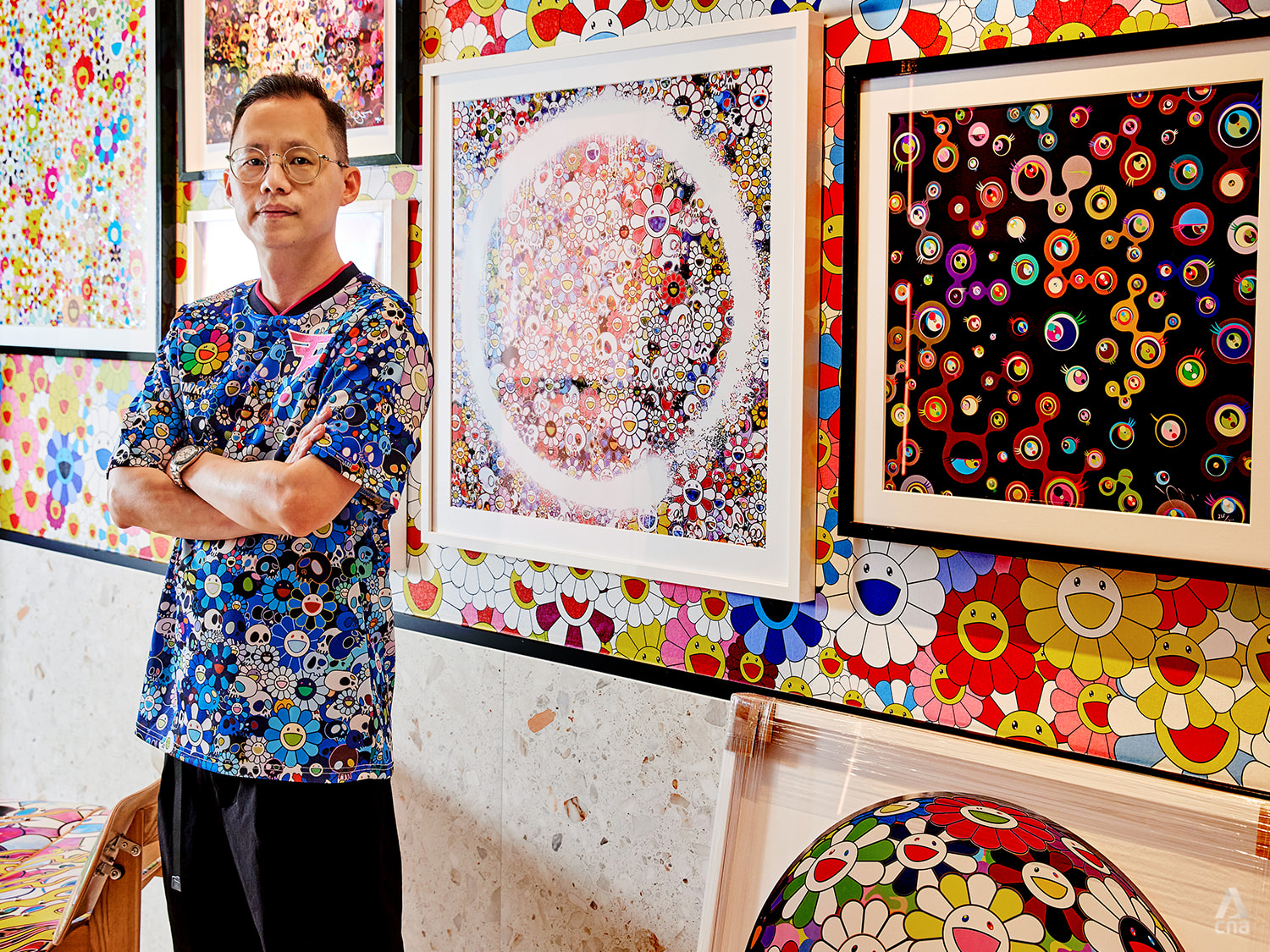 Complementing the eye-catching gallery wall are full length glass display cabinets for the duo to showcase their various collectibles and figurines such as Takashi Murakami stuffed toys, his wife's collection of Snow White figurines and his toy models of 80s and 90s anime characters. Of course, not everything is meant to be kept in glass cases – a collection of plush Murakami flower cushions adorn the sofa in a continuation of this iconic motif.
In the bedroom, which features a Japanese inspired platform bed, one of Lee's favourite Murakami works, The Golden Age: Korin – Kansei, hangs above the headboard. But it is positioned off to the right, instead of being centred above the bed. This is to make room for one more picture in the future, he quipped.
Besides art and collectibles, Lee also collects sneakers and his enviable collection, which includes Nike Air Jordans and Dior Oblique high tops, are displayed in a custom built shoe rack with pastel toned dividers – a nod to, you guessed it, Murakami.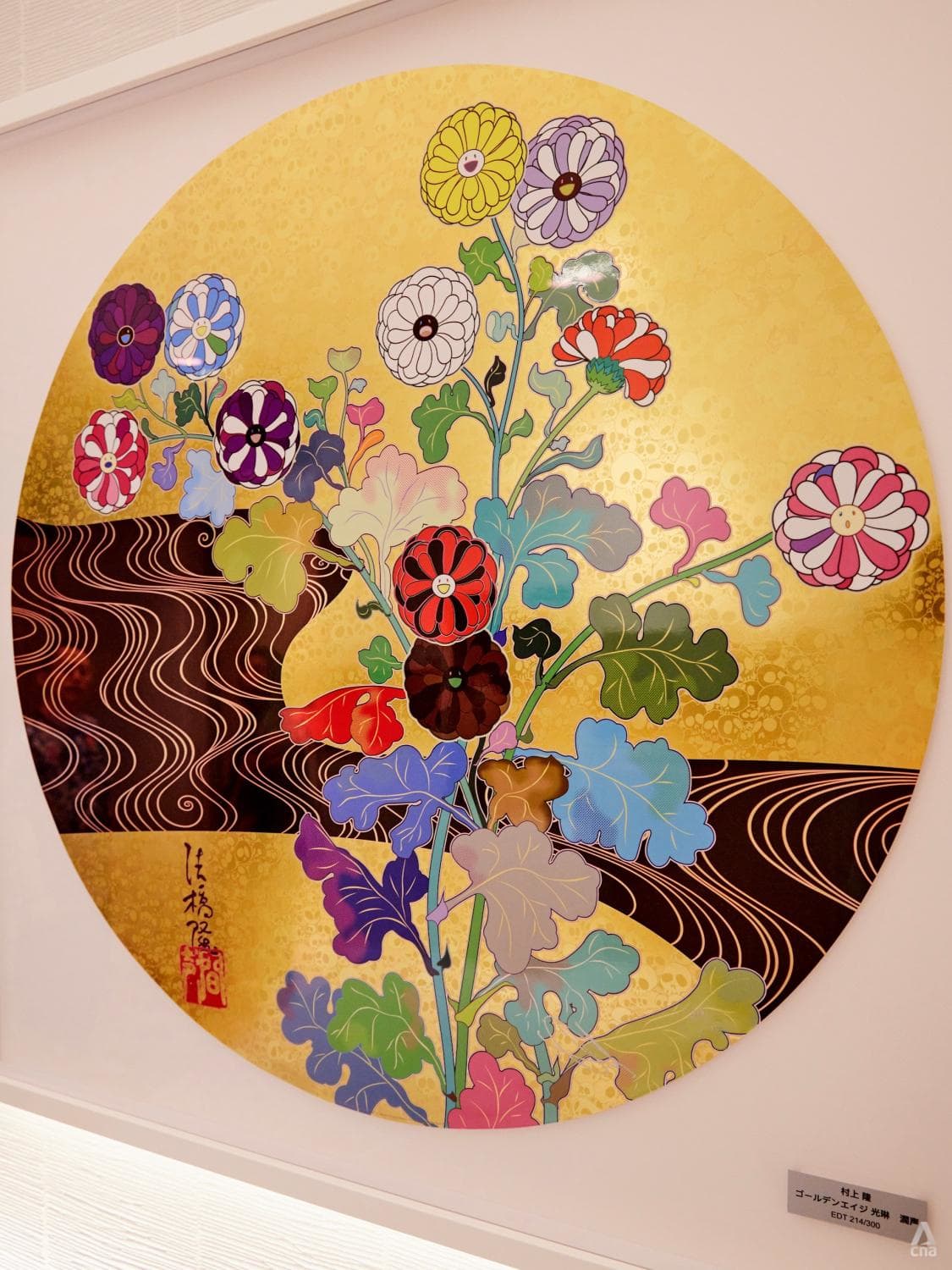 Taking pride of place on the display are a pair of Nike "Air Dior" sneakers, which he mulled over for months before finally deciding to bite the bullet. But his prized possession is a pair of 2011 Nike Airmag "Back To The Future" shoes, which he said he bought for about S$3,000 at a Japanese auction. "As a child of the 70s, this was what I grew up on," he explained.
Their Murakami pieces also hold sentimental value as many of them were purchased during their trips to Japan over the years, directly from the artist's studio at Nakano Broadway mall, said Lee. This has given them the opportunity to grow their collection at reasonable prices without having to pay commissions to middlemen or art galleries, he observed.
For example, most of the prints in their collection cost between S$700 and S$3,000. In comparison, buyers on the secondary market may have to pay up to S$70,000 for a single piece. They were also lucky that they started building their collection early before Murakami's popularity soared, he said.
"I understand that the demand for his stuff really boomed in recent years when he started doing more street wear and shoe designs and collaborated with Virgil Abloh from Louis Vuittion. His launches get snapped up very quickly now," said Lee. "But even though that makes it so much tougher to get new things these days, it is good to see that the love for Murakami's art is being shared in everything from street culture to high fashion."
He estimated that they have spent between S$50,000 to S$100,000 on their Murakami collection over the years, although some pieces are likely to be worth up to ten times their original value these days.
But they currently do not have any plans to make a quick buck by selling their pieces, even though they still have about eight to ten more prints carefully kept away in their storeroom. "I did not collect the stuff for the purpose of reselling it later on. For me and my wife, we really love his work and our main purpose is to display and share his work. We do not have any intention to make money off this," he said.
As sizeable as their art collection is, there is one thing still missing – a photograph with the artist himself. About six years ago, during a trip to Tokyo they did get close to achieving this holy grail when they chanced on the artist with his team at his cafe-bar (it closed during the pandemic) at Nakano Broadway.
"Murakami was there having a discussion with his staff and it was a dilemma whether to approach him or not. But we eventually decided not to," said Lee. "We still regret it."
Naturally, they are carefully monitoring the situation in Japan and intend to return once restrictions are eased. "So many things have changed and some of our favourite spots are no longer around unfortunately," he said. "But it would be so nice to just go back and discover new things as Japan is ever-evolving.