Meet the Indonesian designer dressing celebrities such as Taylor Swift, Khloe Kardashian and A-Mei
After starting her own label at just 18 years old, bridal and couture designer Monica Ivena has built an impressive clientele having dressed some of the most famous names in Asia and Hollywood.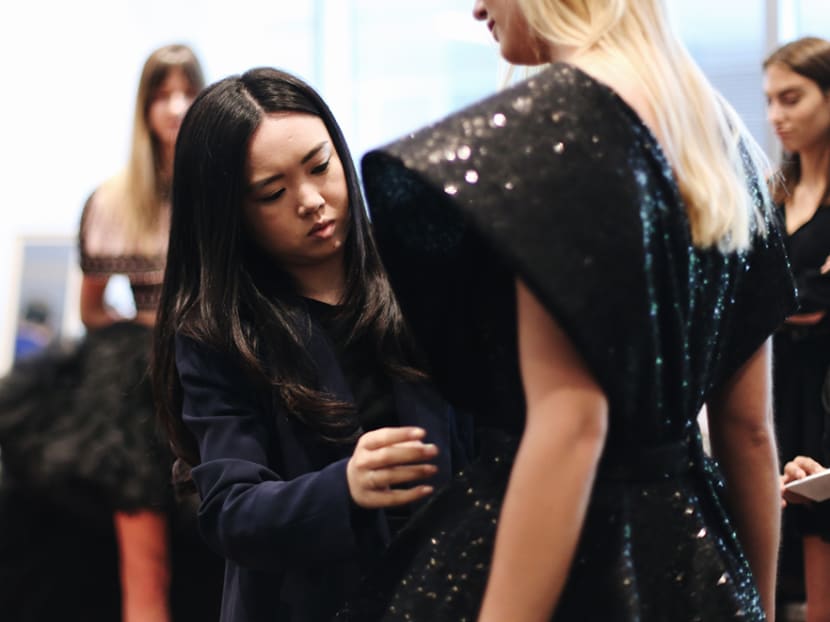 During the annual Kardashian family Christmas party in 2018, reality star Khloe Kardashian dazzled in a sequinned silver and white crop top, paired with a dreamy, tulle layered skirt. She dressed her daughter True, then an infant, in an identical matching outfit.
For one of the scenes in her 2019 music ME!, singer Taylor Swift wore a pink, ruffled tulle skirt. In 2017, Taiwanese superstar A-Mei wore a royal blue cape dress made from 50 metres of shimmery satin crepe for her music video Talk About It.
And in October 2022, singer Nicole Scherzinger took to the stage for a performance with Andrea Bocelli at London's 02 arena wearing a sparkling silver studded cape gown.
These stunning outfits are all the creations of Indonesian couture designer, Monica Ivena. The 30-year-old had an early start in the fashion industry. She created her own eponymous label at just 18 years old, right after graduating from the LPTB Susan Budihardjo Fashion School in Jakarta. Prior to that, she studied fashion merchandising at Raffles Design Institute in Singapore.
Her journey began when she was just five years old. "I've always liked drawing, especially clothes," she shared. In elementary school, Monica also enjoyed hand stitching clothes for her dolls. "That was when I realised that it was not just a hobby, it was a dream," she quipped.
Fast forward to today, Monica is now making a name for herself as one of Indonesia's most sought-after bridal and couture designers. She describes her designs as "feminine, whimsical, with intricate beadings". She enjoys working with materials such as Chantilly lace, shantung silk and tulle. Her creations are often intricately hand-beaded with luxurious crystals and stones.
Monica's clientele hails from Indonesia, Singapore, China, Hong Kong, the Middle East and more. In Singapore, for example, socialite and online personality Jamie Chua is known to don Monica's gowns for special occasions. 
Monica draws inspiration for her designs from her travels around the world. One of her favourite designers is Maison Margiela's creative director John Galliano, who formerly helmed fashion houses Givenchy and Dior. "His designs are whimsical but with a feminine touch. I love how his creations always have drama, even in a simple dress."
The first gown Monica ever created was a dress for her mother. "I made it right after I graduated," Monica recalled. "She was so happy because I stitched it myself. Everything was made from scratch, and she witnessed me working on it in my bedroom."
Her first official bridal and evening dress collection – titled L'Heritier - was launched in April 2015. In May 2016, she debuted a whimsical evening and cocktail collection called Wonderland.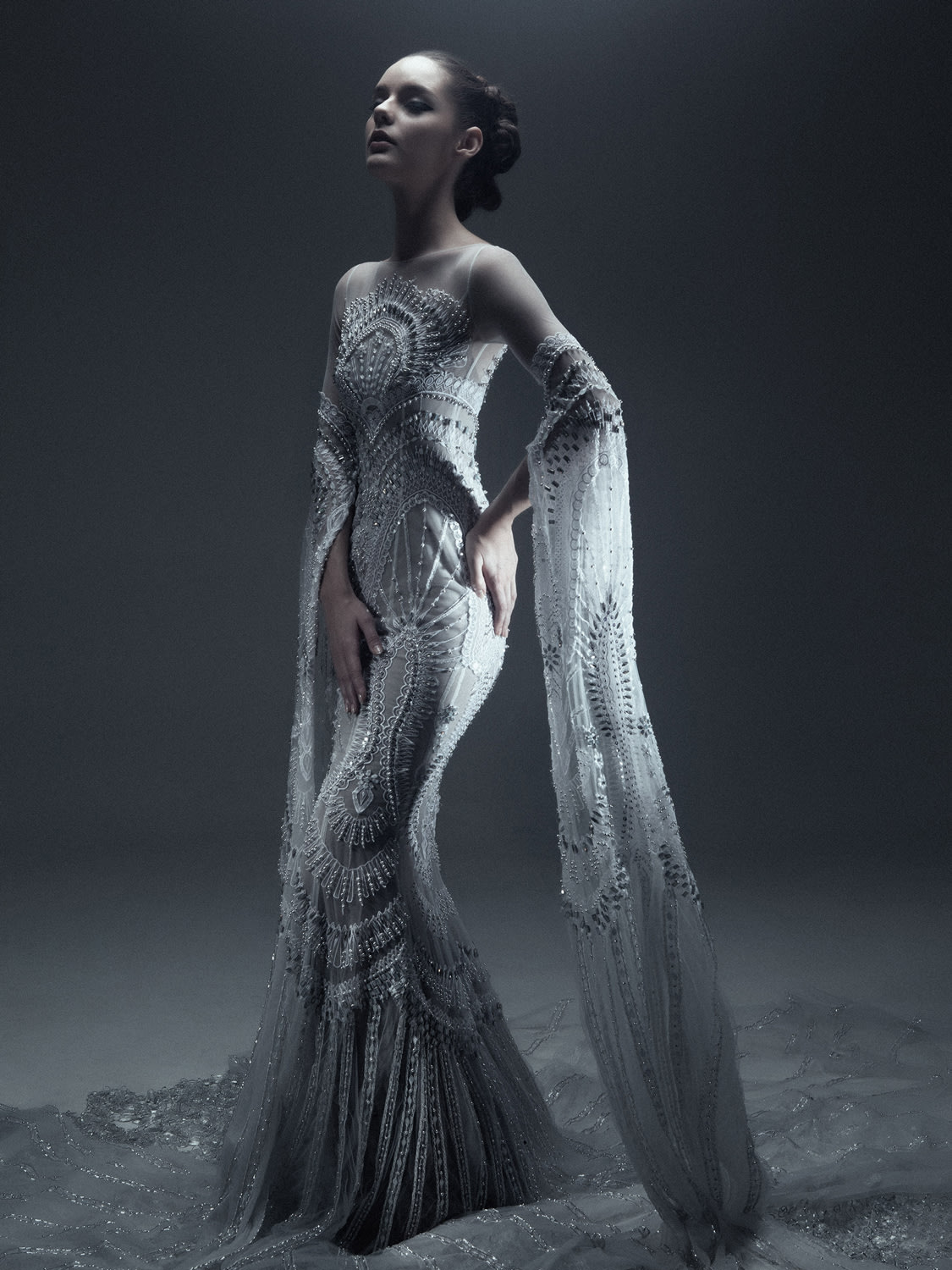 In 2017, she began pushing her brand onto the global stage after working with The Clique, a brand consulting and management firm based in Hong Kong. The company works with Indonesian fashion talents to market their ware internationally. Besides Monica, some other designers the company collaborates with include couture jewellery designer Rinaldy Yunardi, wedding dress and cheongsam maker Adrian Gan, and evening dress designer Didi Budiardjo.
Through The Clique, Monica has had the opportunity to dress an impressive roster of international celebrities. The first celebrity to don one of Monica's designs was Korean actress, Clara Lee, who made a splash with a custom-made white fringe gown at the 2017 Weibo Movie Awards Ceremony in Shanghai.
"When we first started working with Monica to bring her designs to the international market, we started in Asia," said Faye Liu, founder of The Clique. "In the beginning, Monica's designs were catered more towards Asian women. Slowly afterwards, we began expanding into Hollywood."
Other Asian celebrities who have worn Monica's designs include Hong Kong singer Sammi Cheng, Tawainese singer Jolin Tsai and Indonesian singer Bunga Citra Lestari. In Hollywood, stars such as Tracee Ellis Ross, Christine Chiu, Sydney Sweeney and Chloe Bailey have worn her designs on the red carpet and on magazine covers.
"It's really a dream come true because I never knew that celebrities would love my creations. I feel very honoured," Monica said.
Oftentimes, when coming up with a sketch for a celebrity, there is no guarantee that the celebrity would end up wearing the design.
In the case of Khloe Kardashian's Christmas 2018 outfit, the whole process, from pitching to sketching, creating and then finally shipping the dress to the US, took seven days. "We were very lucky because there are so many people who want to dress her," said Monica. "It was very special because it was also her daughter's first Christmas. We were not the only ones who submitted a sketch, but we managed to capture the vision that she wanted."
Monica also designs custom bridal gowns for brides-to-be. The entire process can take up to six months, she revealed. "It is fun to work with brides because of the chemistry that we build. Along the way, while I'm making a dress, I usually get to know my brides better so I can understand their characters. This helps me to come up with a design."
The challenge when creating a bridal gown is ensuring that the final product is a true reflection of a bride's personality and style, while also incorporating her own Monica Ivena signature, Monica said. "That's why creating a couture collection and a bridal gown is very different. When I create a new collection, it's a reflection of myself and I can create whatever I want. But when I make a bridal dress, it has to be a true reflection of the client," she said. "No matter what, getting married is a once-in-a-lifetime moment for my brides," she added.
Monica also makes it a point to incorporate female empowerment messages into her collections. Her 2022 collection, for example, was named Resilience, dedicated to women who have risen above adversity and have shown inner strength, fearlessness and wisdom.
Besides her travel, she also takes inspiration from working alongside fellow women. "Faye (founder of The Clique) and I are both mothers, but we're still working very hard to realise our dreams. The message we want to put across is that when women empower each other, we can grow our businesses to become even bigger," said the mum of a 10-year-old son.
Her next goal is to open Monica Ivena retail stores all around the world, starting first with a flagship in her home country of Indonesia. "I want the brand to be known globally and to see my collections being sold worldwide. That's my ultimate dream," she shared.
"I'm very blessed that my work is my passion, so I never feel tired of it," she added. "The difficult part about being in the fashion industry is the limited time that we have to work on our collections and projects, but this only makes me want to challenge myself more."
From dressing some of the world's biggest names to putting Indonesian fashion design on the world map, there's certainly more to come for the young designer. After all, she's only just getting started.