Collin's founder on how cooking with grandma inspired him to start an F&B empire
Collin Ho's love for food stemmed from helping his grandmother out in the kitchen as a young boy. Today, he's the founder of popular Western food chain, Collin's. He details his culinary journey and shares what's next for the homegrown brand.
During his childhood days, Collin Ho recalls watching intently as the adults in the family busied themselves in the kitchen, cooking up a storm during festive occasions. Enthralled, he would offer his help along the way.
"During the dumpling festival, my grandmother would make bak zhang (rice dumplings) for the family. I would always peer over her shoulder and watch what she was doing. It was only many years later did she guide me to wrap my own bak zhang," the 45-year-old reminisced. "It wasn't in a perfect shape, but the satisfaction of eating food I had prepared on my own made me happy."
Indeed, it was his grandmother who first got him excited about the prospect of cooking for others. "Whenever my grandmother cooked her signature dish, sesame ginger soya chicken, I would definitely have more than one serving. She had a wide smile every time the family wiped the dish clean. It always left her satisfied and this was when I understood what 'feeding the family well' meant," said Ho.
It was only natural, then, for Ho to pursue a career in F&B after completing his studies. He got his start in the industry as a kitchen assistant in a Japanese restaurant. "That was my first experience in F&B and it turned out to be pretty enjoyable, although it was both physically and mentally tiring," said Ho. "I remember, my chef once threw a big yellowfin tuna at me. The tuna was about 100kg and it was my first time encountering such a huge fish," he added with a laugh. "But during my time at the restaurant, I also mastered the art of descaling tuna, salmon and mackerel."
When Ho enlisted into National Service (NS), he served as an army cook. There, he cooked all sorts of local dishes for the soldiers and officers, from laksa and nasi goreng to chicken rice and mee rebus. "Sometimes we cooked for special events too, and the officers would give me a thumbs up whenever they enjoyed the food. That's how my interest in food grew," shared Ho.
What came next for Ho in the years after NS was a series of stints at various hotels and restaurants. After accumulating 20 years of culinary experience, Ho decided to "take a leap of faith" and open up his very own Western coffeeshop stall. Chancing upon his first location was a moment of serendipity.
"One day, I was driving past a coffeeshop in Geylang to visit a clinic and I saw a stall for rent. I always wanted to strike out on my own. Eventually, I wanted to be my own boss. So that's how I quit my job and opened the stall," said Ho, who was working as an executive chef at the time.
At his stall, Ho sold dishes such as steaks, grilled chicken chop and lamb chops, all at an affordable price. "Whatever I learned during my time working at hotels, I applied to the stall. How to make a traditional black pepper sauce, how to marinate the chicken, how to cut the steak, everything was the same," said Ho.
Although the hours were long with Ho handling all the cooking and cleaning, what kept him going was the positive response from customers. Several other outlets were opened, and it wasn't long before he was hungry for more.
"I wanted more people to see our brand and try our food. With the soaring popularity of the first outlet, I chose to expand rapidly to increase brand awareness. With the support of our parent company SF Group, we expanded beyond coffee shops to open full-service restaurants."
PREMIUM FOOD, POCKET-FRIENDLY PRICES
The first Collin's restaurant opened its doors in 2015 at King George's Avenue. Ho recalls feeling surprised at the long queue that formed outside on opening day. "I think it was because of our product offering and the fact that we were a new brand. But even after we opened a second and third restaurant, we still drew a queue."
At present, there are now 12 Collin's restaurants islandwide, located in various heartland shopping malls. The brand also has 11 Common Grill by Collin's coffeeshop stalls.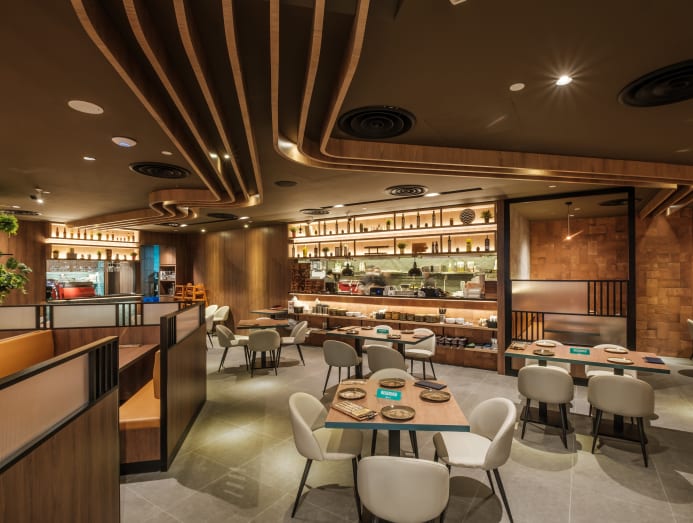 On a weekday afternoon, I met with Ho at the Collin's restaurant in Northpoint City. Despite the off-peak timing, I notice a considerable crowd in the restaurant, testament to the popularity of the brand.
With Ho is SF Group's chief development officer, Jonathan Lim. Aside from being the founder of the Collin's chain, Ho is also the CEO of SF Group. On the sidelines of this interview, Lim jokes that he refers to Ho as Batman, and himself as his sidekick. He's not Robin though, he clarified. Instead, he's more like Alfred, Batman's loyal and tireless butler.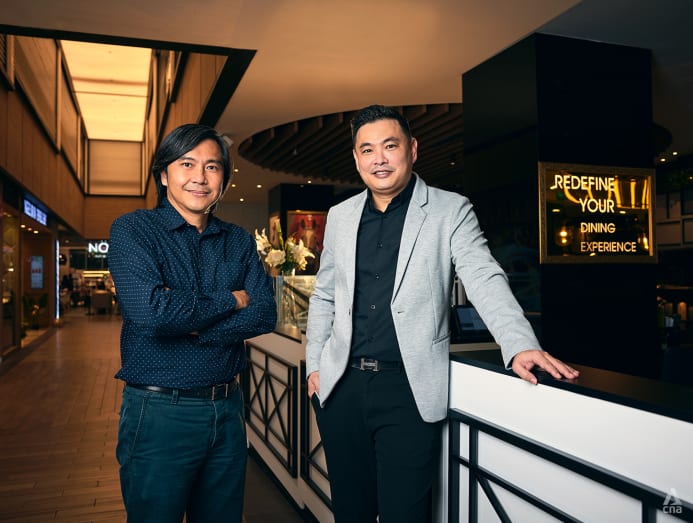 With regards to the Collin's philosophy, Lim shares that the brand hopes to "democratise great food to as many people as possible". "It is really to make premium food accessible to all. Basically what you get in five-star hotels, we're trying to bring it to a greater proportion of the public," Lim said.
Some of Collin's well-loved dishes include its signature grilled chicken chop, roasted barbecue pork ribs, tomahawk steak and premium mixed grill. Collin's restaurants also serve a wide array of pastas and pizzas. The team of chefs, including Ho, have undergone training in Italy and Spain.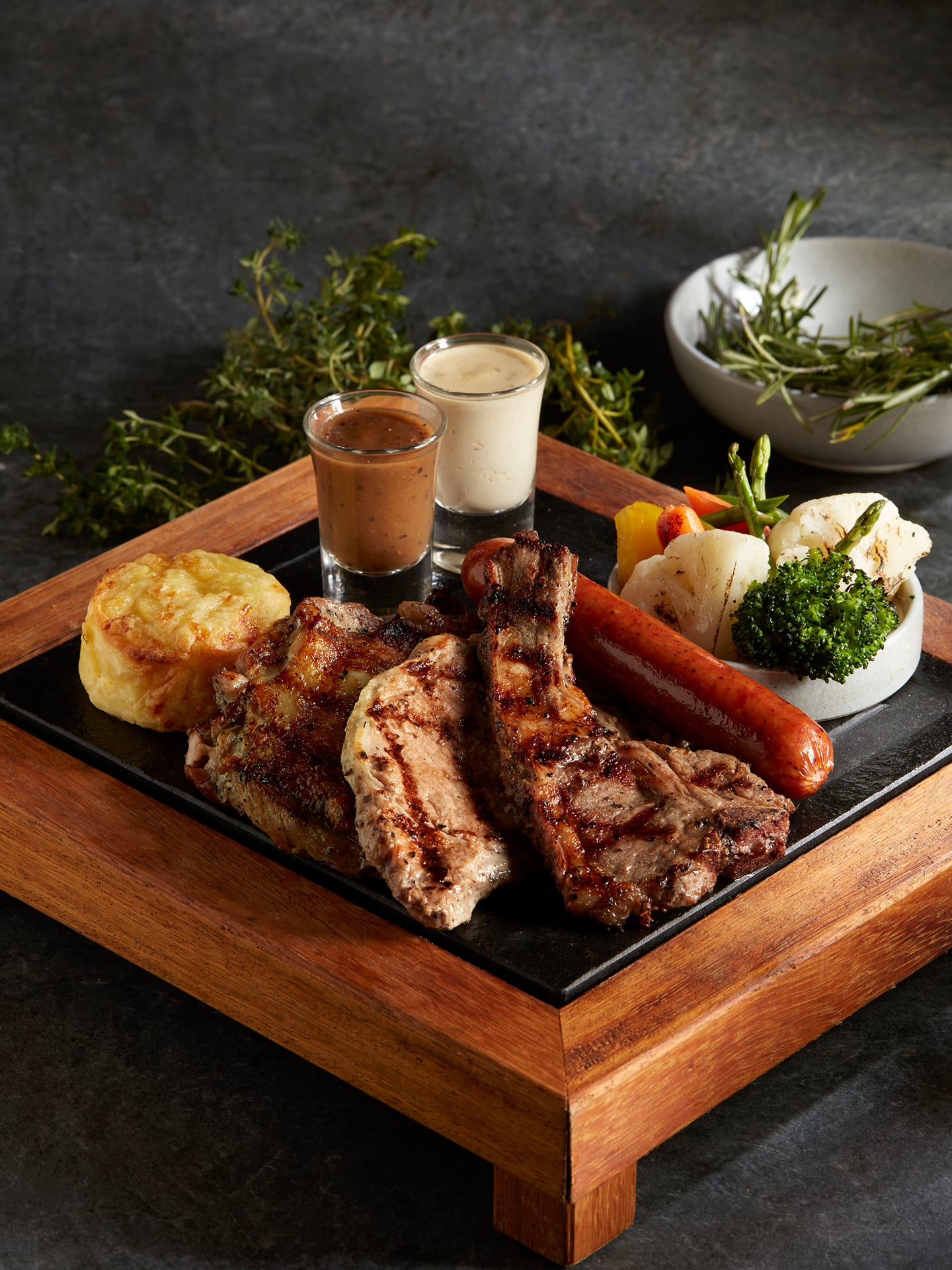 In 2019, the brand also opened Elfuego, the first halal concept under the Collin's umbrella, located at Jewel Changi Airport. A year later, Elfuego won the award for Best Halal Restaurant at the Halal Awards 2020.
"We created Elfuego to really recognise that we have a substantial Muslim community in Singapore, who don't have adequate choices when it comes to better quality Western food," said Lim, adding that the brand is also the company's way of tapping into the growing halal food market.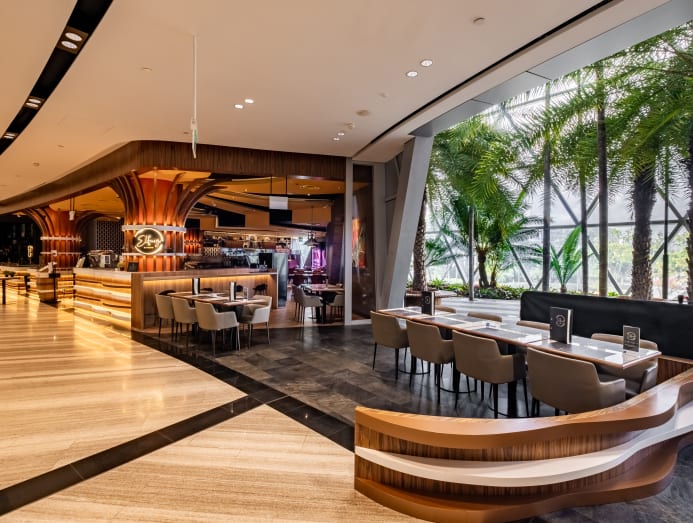 Aside from Western fare, Ho has also gone on to expand the variety of cuisine offerings under SF Group's umbrella. Brands include Saveur Thai, which serves halal Thai cuisine, Daily Green, which serves vegetarian food, Shi Zhi Wei, which serves a variety of seafood and claypot dishes, Teik Kee, which serves traditional chicken rice, and Clan 7, a modern Chinese restaurant with a celebrity following.
"We are lucky that in Singapore, we get to experience all sorts of international cuisines. We recognise that Singaporeans really like to explore different things all the time and so, we want to make our offering as wide as possible," shared Lim.
GROWTH PURSUITS
Having been in the restaurant trade for only six years, Ho qualifies this as a "short period of time". But there are ambitious plans on the horizon for the Collin's chain.
Next year, the group has plans to expand Collin's physical footprint. The company is in the midst of securing a number of new locations for 2022. After its success at Jewel, there are also plans to open another Elfuego restaurant.
Meanwhile, this December, Collin's is relocating its central kitchen into a space that is "ten times bigger" than its current facility. The larger, 13,000 sq ft central kitchen will allow the brand to branch out into retail and catering. "We can go into manufacturing our own ready-to-eat soup and sauces. While the catering business is still down at the moment, we can still create premium bento boxes and deliver them to customers," Ho elaborated.
The company is also in the process of building a Collin's mobile app that will be ready in the first quarter of 2022. The app will allow the brand to better engage its loyal customers. Aside from allowing diners to place orders and earn loyalty points, members can also play games on the app and earn rewards such as free meals. There will also be a queue management system so that diners do not have to wait in line.
"Before the pandemic, we really liked the long queues at our restaurants because when people see a queue forming, they get the impression that the food here is good," Ho laughed, adding that safe distancing protocols now require a better queue management system.
Once the COVID-19 pandemic settles, the company will look into expanding overseas. The brand expanded into China in 2019 with an outlet at Ascott Raffles City Chongqing, a landmark integrated development located in the popular Yuzhong District in Chaotianmen, with the Yangtze and Jialing rivers as its backdrop.
While there were also openings in Cambodia and Indonesia, due to the pandemic, "we have suspended these outlets for a short while", shared Lim. "Once the situation gets better controlled in these markets, we can then meaningfully continue our overseas expansion."
DRIVEN BY PASSION
These days, Ho admits that he no longer spends as much time in the kitchen as he used to. As the CEO of an F&B company with several brands under its portfolio, his workdays are now filled with meetings, R&D sessions and food tastings.
On his days off, however, he still enjoys whipping up meals for the family. "I cook the same dishes my grandma taught me when I was younger, such as her sesame ginger soya chicken and curry chicken."
How does grandma, now 92 years old, feel about his success as a chef and food entrepreneur? "She's happy. She's proud of my accomplishments," Ho said with a smile.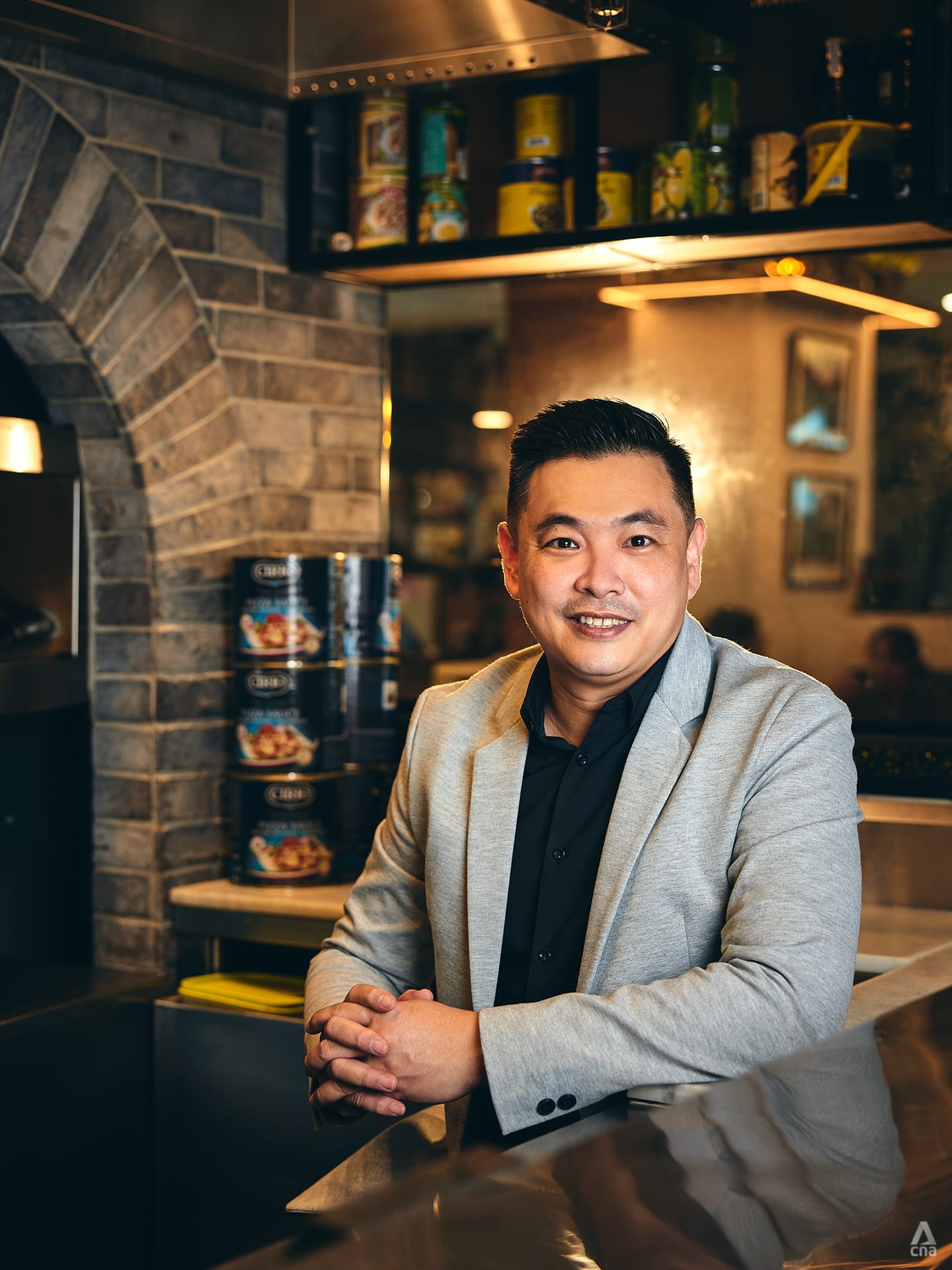 Certainly, from helming a one-man stall in Geylang to leading an entire F&B empire, Ho has come a long way since his hawker days. He admits that it was "much easier" running a small coffeeshop stall.
"Back then, you buy the ingredients, marinate the dish, cook, serve. Now, Collin's is a big business. It's totally different, but I love what I'm doing," he mused. "I'm learning something new every day, and we've even had the opportunity to expand our local brand overseas. That is something that we are proud of and once the economy recovers, we will continue to venture out.
"Food is my passion, and I want to do it right. Hard work will pay off," he stated.
"Food is my passion, and I want to do it right. Hard work will pay off." – Collin Ho