The Tenderfresh fried chicken story: From hawker stall to F&B empire
Forty-two years ago, the first Tenderfresh outlet opened as a hawker stall selling fried chicken. Founder Jimmy Soh and chief operating officer Kelvin Chua chronicle the company's evolution, and tell us what's in store for its future.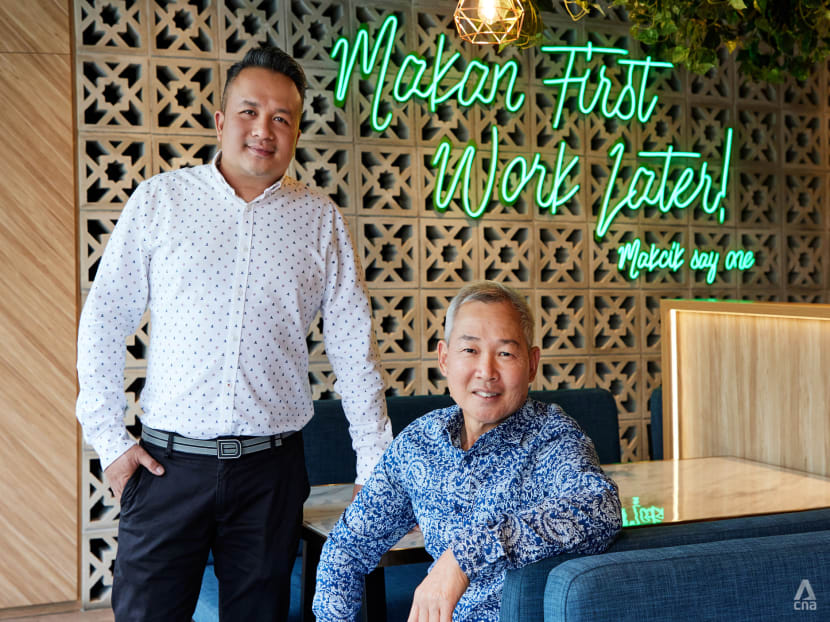 Stepping into the cheekily named Tenderbest Makcik Market restaurant in Bedok Point, it's a little hard to imagine that the Tenderfresh brand, Singapore's very own fried chicken chain, began 42 years ago as just a hawker stall.
This particular outlet opened two years ago, marking the brand's 40th anniversary. It's a stylish restaurant with trendy interiors, boasting floor-to-ceiling windows, neon signage, wood accents and faux plants. The restaurant is a shining example of how the homegrown Singaporean hawker brand has evolved over the years, emerging to become a culinary empire.
I am here to meet with founder Jimmy Soh, who opened the first Tenderfresh stall in Whitley Road Hawker Centre in 1979. With him is the company's chief operating officer, Kelvin Chua, who joined the company in 2013.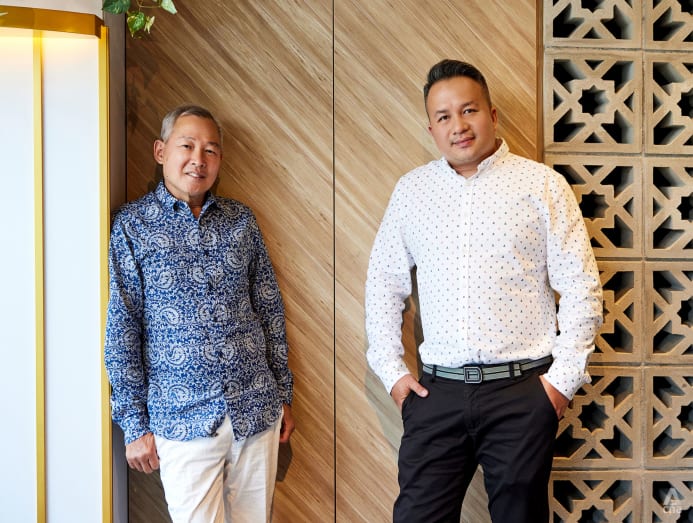 Soh's affinity for chicken began in his childhood days. "I was born in a kampung in Lim Chua Kang. My parents were poultry farmers, so there was a lot of running around with the chickens," the now 63-year-old recalled.  
After national service, Soh took up his first job as a salesman for a poultry company. There, he was one of the company's top salesmen – "I knew a lot about chickens," said Soh – but the factory eventually closed down.
"A friend of mine had several hawker stalls at Whitley Road and he invited me to take up one of his stalls to sell fried chicken," Soh shared. "Every day, we had no business. We earned only about S$50 to S$100 a day."
To capture the attention of diners, Soh took photographs of his food and displayed them on his signboard. "That was one thing I did right. At the time, nobody displayed food photographs at their hawker stalls," said Soh.
Gradually, the stall gained popularity, so much so that Soh and his wife decided to open a second outlet in Jurong. The early days of Tenderfresh were gruelling.
"We opened the Whitley stall till 2am or 3am. It was very long hours and after cleaning up, I still had to send all our staff back home, then go [to the market] to buy ingredients. By the time I reached home, it was 6am. That's when my wife, who was running the Jurong outlet, would wake up. We hardly saw each other. When I got home, she would be sleeping. And when she got home, I would be sleeping," said Soh. "That's why we only have one daughter," he added with a laugh.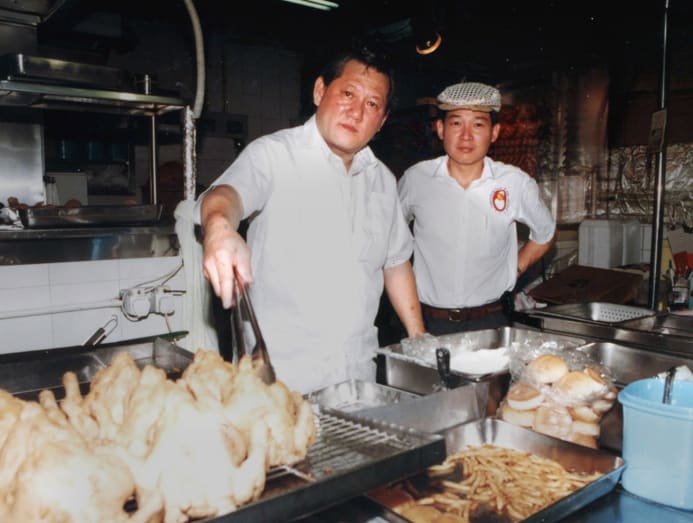 Through the years, Soh began opening more and more Tenderfresh stalls in various coffeeshops in Singapore. At the time, Tenderfresh was still mainly known for its fried spring chicken. Along the way, barbecue chicken was added onto the menu. "It was just two simple chicken products," said Soh.
Chua, a chef by training, joined the company in 2013 to lead its R&D team. Prior to joining Tenderfresh, Chua had his own restaurant, which closed that same year.
Soh had plans to scale the Tenderfresh brand, expanding beyond coffeeshops to open his own restaurants, and Chua was in charge of coming up with new food items. "When I first joined the company, I took some time to analyse the business. If we wanted to be bigger, we needed more diversity in the menu. I told Jimmy that to have a restaurant, you need more products. It's like going from a minimart to a supermarket," said Chua.
Tenderfresh's flagship restaurant – Tenderfresh Classic – opened in 2014 on Cheong Chin Nam Road. Alongside Tenderfresh's famous chicken products, the menu featured items such as fish and chips, fusion pastas, steaks and more.
"Initially, I was worried about opening up a restaurant because I had failed once before. But we tried anyway, and it turned out to be successful. That's when people started recognising the Tenderfresh brand. We proved that a coffeeshop brand can also be elevated into a restaurant," said Chua.
Since then, the company has opened up a slew of restaurant concepts over the years, including Tenderbest Makcik Market in Bedok, Tenderbest Makcik Tuckshop in Jalan Kayu, Woodlands and Punggol, and Hawkerman in Seletar.
The Tenderfresh empire today also consists of food kiosk concepts Torigo, Amigo, Golden Rooster, Pasta & Broiler and more, located in coffeeshops throughout Singapore. At present, the company has 21 brands and 84 outlets. It also has three retail and catering arms and operates a 25,000 sq ft halal-certified central kitchen that caters to more than 140 brands apart from house brands.
Tenderfresh may have started out as a hawker stall selling fried chicken, but today, "We are not defined by just fried chicken. We want to keep introducing new products and experiences for our diners," said Chua.
"We proved that a coffeeshop brand can also be elevated into a restaurant." – Kelvin Chua
THE VOLUME GAME
Indeed, as I flip through the Tenderbest Makcik Market menu, I spot an array of unique dishes such as smoked duck lemak chilli padi pasta, mala chicken prata, "makcik style" zi char, fried chicken ice cream and more. It's a diverse menu with a dizzying array of cuisines, from Western to Chinese, Malay and Indian.
"At Tenderfresh, it's about our innovation and creativity. Because of our strong R&D team and central kitchen, we are able to develop new products. But we don't go too wild, we are still realistic," the company's senior manager of strategic planning, Aric Tan, tells me.
With such a big variety of brands and outlets, some may call Tenderfresh's diversification strategy bold, but it has worked well for the company thus far. For all its food concepts, Tenderfresh keeps its pricing affordable. "Our profit margin is not very big, that's why we rely on volume," explained Soh.
Take for example the company's latest opening. In early September, the company opened a third Tenderbest Makcik Tuckshop in Punggol East, which serves a brunch menu on weekends and public holidays. Dishes include Big Brekkie, French Toast, Croque Madame, Egg Omelette and more. Prices do not cross the S$20 mark.
Just as important as the food at all Tenderfresh restaurants is the dining experience. This particular outlet also features a drive-thru service for those who order in advance, bicycle parking lots for cyclists, and a musollah (prayer room) for Muslim guests.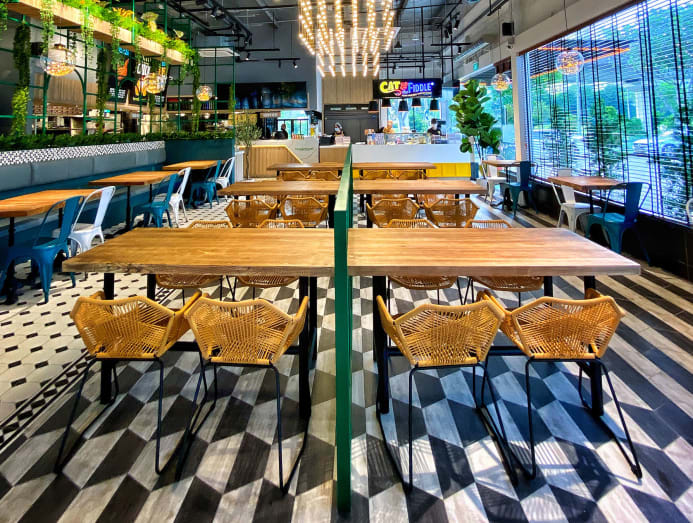 Muslim diners are in fact a key market for Tenderfresh. With the exception of the Golden Rooster, Ichick and Hokkaido food kiosks, all brands and outlets under Tenderfresh are halal-certified. The Tenderbest brand, in particular, is well-known among the Muslim community in Singapore.
Soh shares that since the first outlet at Whitley Road, he had plans to make Tenderfresh halal. "I noticed that the chicken we imported already had the halal certificate. Even the ingredients that we used were halal. If I made Tenderfresh halal, everyone could eat our food, and we would have a bigger group of customers," Soh explained.
FOCUSING ON THE HALAL MARKET
In December 2020, Tenderfresh opened its first all-halal kopitiam, Kedai Kopi, in Clementi. In July this year, Kedai Kopi opened its second outlet in Haig Road.
Kedai Kopi is a boutique coffeeshop concept, offering a diverse array of Muslim-friendly dining options in a stylish setting. It is a collaboration between Tenderfresh and traditional coffeeshop operator, Kimly Group. The latter acquired a 75 per cent stake in Tenderfresh earlier this year, a move that would allow the company to tap into Tenderfresh's presence in the halal market and expand its offerings in this growing food industry.
"In Singapore, a lot of F&B brands have recently converted to halal. These include national brands as well as overseas chains. If you don't convert, business goes down. Brands are starting to see this now, but we already saw this 10 to 15 years ago," Chua commented.
Chua shares that more Kedai Kopis will be launched in the future. "Next year, we are aiming to open one or two more," he revealed. 
On the cards as well is an expansion of the Tenderfresh brand out of Singapore. Potential markets include Malaysia, Indonesia, Thailand and South Africa. "We want to be a multi-brand, multi-food company. We want to do different kinds of products, and not only in Singapore," said Chua.
"We are not defined by just fried chicken. We want to keep introducing new products and experiences for our diners." – Kelvin Chua
PASSING THE BATON
Now into his 60s, Soh shares that he is slowly taking a stepping back from the business and letting Chua take over the reins.
"At my age, I'm very tired. I need to have somebody take over," Soh admitted. "I'm comfortable with how Kelvin and the team has performed, and I will let him lead the next stage of Tenderfresh."
Although he is semi-retired, the recent rejuvenation of the brand has been too exciting for Soh to retire fully. He still wants to contribute his experience and knowledge as much as possible.
Taking a step back from the business, however, has allowed Soh to spend more time on his hobbies, which include golfing and gardening. In fact, diners who have visited Tenderfresh's restaurants will notice the lush greenery that characterise each outlet.
With the exception of restaurants located in malls, the plants in Tenderfresh's outlets are real. It is Soh who plans the landscaping.
"With every new outlet that we open, we give Jimmy a job. He's our chief gardening officer… no actually, we had a better name for it, horticulturist!" quipped Chua, drawing laughter from Soh.
"The ICU for the plants is at his house. If the plants are dying, we get our logistics team to send them to his house so he can revive them. A few months later, they bring it back," Chua laughed.
I ask Soh if he ever envisioned that Tenderfresh would grow as big as it is today. How does he feel about how far the company has come?
"It is very different now," Soh answered, as he recalled all the challenges the company has faced through the decades.
"I think he's paiseh to say that he's happy with the brand's achievements," Chua cut in, using the Singlish term for "shy". Soh smiled and relented. "I'm very happy, of course, I'm very proud. I never imagined the brand would grow so big. I never thought we would end up building an empire."
And with bigger plans on the horizon, perhaps this is only the beginning for Tenderfresh. "We are proud of the brand, we are made in Singapore, and we will make it good," Chua assured.