An entrepreneur who collects and restores classic Porsche sports cars in the Philippines
It was love at first sight when Jay Aldeguer, founder of Islands Group, chanced upon his first vintage Porsche sports car. Read on to find out how he built his collection, and which one was once owned by a prince.
Businessman and entrepreneur Jay Aldeguer recalls vividly the exact moment he fell in love with sports cars. The year was 1997 and Aldeguer was 27 years old. "I spotted a Mazda Miata in a dealership showroom and out of curiosity, took it for a test drive with the top down. I couldn't wipe the grin off my face and decided to take it home," said the 52-year-old.
Aldeguer's newfound affinity for cars came as a surprise to him because growing up, "I was more fascinated with boats and planes and for some reason, was never attracted to automobiles", he said. That same year, BMW launched the Z3, a two-seater open top sports car. He visited the showroom and closed the deal on the same day.
But it was only when he laid eyes on a vintage Porsche that his collecting journey became more serious. Aldeguer was visiting a friend's warehouse of imported cars. There, he spotted the "familiar cowl of a Porsche". "I came closer and it was love at first sight. It was a 1974 911 Targa in white. I really couldn't understand the lure at first because here was an old car, all dusty and unkempt with musty interiors that smelt like a mixture of old leather and burnt oil. Yet, I was captivated quite differently from the brand new, shiny sports car I had just bought a few months prior," he shared.
On Christmas Eve, he took the Targa home to show his family. "Understandably, my father was disappointed with my decision to buy a third car in one year.  Not wanting to disappoint, I dutifully sent back the car to the warehouse and had the most sombre holiday season," he recalled.
After several sleepless nights, unable to get the car out of his mind, he went back to the warehouse again. "I brought the car home that New Year's Eve and never looked back," said Aldeguer. "It was then that I realised that while it was a dream to own other iconic cars such as the Mercedes-Benz 190 SL, a Jaguar E Type, and an Alfa Duetto, I was drawn to sports cars from Zuffenhausen (where Porsche's two-door sports cars are produced)."
The newly minted Porsche enthusiast eventually sold off his Miata and BMW Z3. He bought his second vintage Porsche a couple of years later, a 1991 Carrera 2.  "And as the saying goes, the rest is history," he quipped.
A STORIED COLLECTION
Hailing from Cebu, Philippines, Aldeguer began his entrepreneurship journey at a young age. At just 22 years old, he founded Islands Souvenirs in 1992 selling souvenir T-shirts in the Philippines. Aldeguer drew inspiration from his backpacking journeys around Europe, where he collected T-shirts as souvenirs to bring back home. While travelling back in his home country, Aldeguer noticed that the souvenirs in popular destinations such as Baguio and Boracay were bulky and impractical, consisting mostly of handicrafts and woodworks that weren't attractive to younger travellers.
Inspiration struck, and using funds sourced from a small business he ran in college selling T-shirts along with a loan from his parents, he set up Islands Souvenirs. The business, which sold colourful, attractive T-shirts showcasing the Philippines as a fun, tropical destination, started in a small bamboo cart in a shopping mall in Cebu. Eventually, the company expanded into several stores throughout shopping malls in the Philippines and overseas. At the time, it broke the mould of small, cottage industry type souvenir retailers. The Islands Group is now a full-fledged tourism business with subsidiaries in tours, hospitality, media and design.  
At present, Aldeguer has "a little over a dozen vintage Porsches, which I am somewhat embarrassed about", he admitted. "We justify this by saying that each car gives us a different experience. While we often say this in jest, there definitely is truth to it. Each car has its own character and driving feel so I find myself spending more seat time in some cars than I do with others."
One of Aldeguer's favourite cars is his 1968 911S Soft Window Targa, which he shared is the most comfortable to drive in the summer heat. Aside from being an 'S' variation – which stands for 'Sport' and comes with a more powerful engine – it also boasts a soft window. "This was the closest thing to a convertible for the earliest 911S when safety regulations were rigid in the US. Porsche Classic Magazine dubbed the 1968 911S Targa as one of the rarest models out there with less than 200 made worldwide," he explained.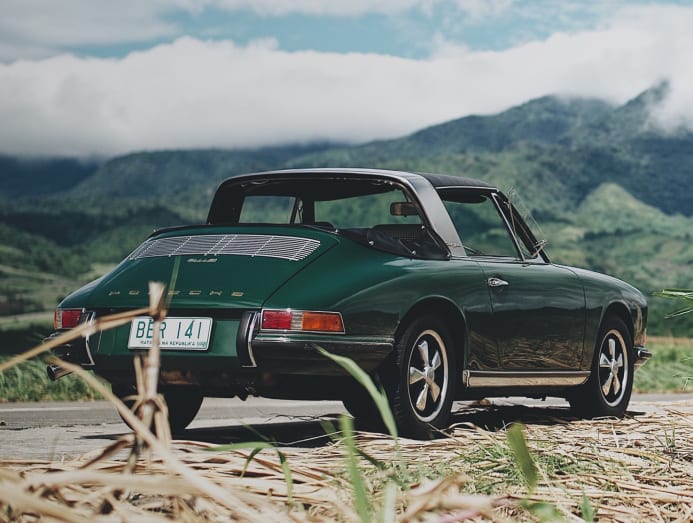 He is also particularly fond of his 1966 911 Normale. Through years of research, Aldeguer discovered that the car was specially built for the Prince of Bahrain. "I was able to get hold of the original build sheet called the Kardex, which revealed that it was pulled out of the assembly line to be fitted with special options and shipped to Bahrain," he said.
For one, the car was ordered with a special paint colour not offered by Porsche at the time. It also came with a limited slip differential. "Aside from its rich history and interesting provenance of the car, it really is enjoyable to drive. These first edition 911s were the purest and most raw."
A THRILLING JOURNEY
Aldeguer stores his collection of cars in his home. For 18 years, his prized possessions were housed in a makeshift garage, which eventually had to be torn down to make way for a family compound. He has since built a new home with a "bigger and better planned" integrated garage.
For Aldeguer, the journey to acquiring his vintage sports cars is a thrilling endeavour. Most of his cars were discovered in the Philippines. "The Philippines was economically thriving in the 60s and 70s and while American muscle cars dominated the sports car scene, many exotic European cars found its way to the islands and a handful of them were Porsches," he offered.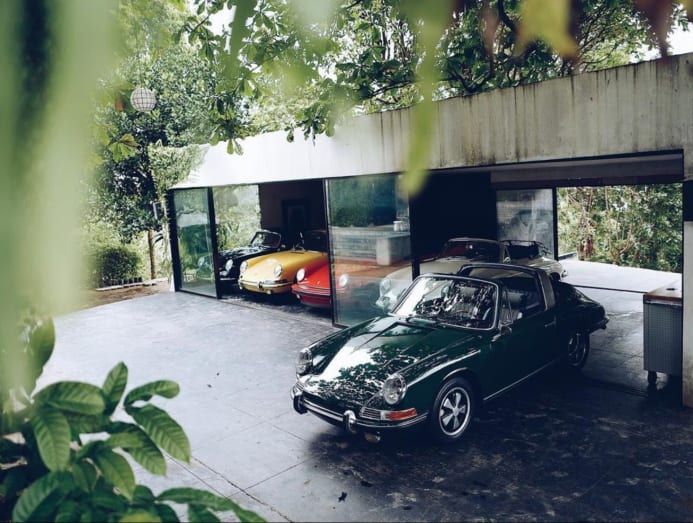 He admits that the process of searching for cars was difficult in the beginning. Back in the 1990s, the Internet was still in its infancy stage, which made research difficult. "Many of these 'old' Porsches were tucked in old garages and most weren't running. The few times I would stumble upon these cars, many of the owners were reluctant to open their garages to a young boy knocking on their doors out of the blue," Aldeguer recounted.  
One time, Aldeguer discovered a highly coveted pre-1973 early 911S, but the owner would only sell him the car if he bought a package of three cars that included an SUV and a Karmann Ghia. "I could hardly afford the Porsche, let alone a package of three cars. I ended up writing the owner a bunch of 'love letters' and after a year of courtship, he relented and sold me his car."
Eventually, word got around that Aldeguer was interested in vintage cars and that he restored them well. "All of a sudden I would be getting phone calls from collectors and owners offering me their Porsches. This was when I was able to pick the best available classics in the country when no one else was interested."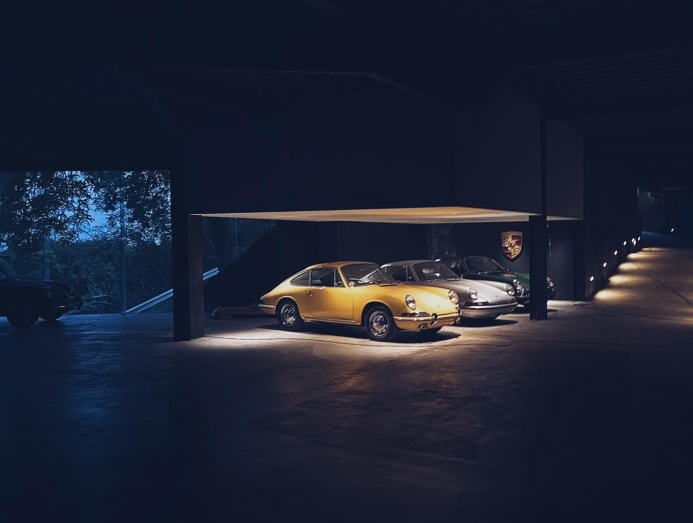 But restoring the cars was also a challenging task at the start of his collecting journey. "We had to buy books and catalogues to figure out how to go about a proper restoration and which parts to buy," he shared. Till today, Aldeguer uses only original Porsche parts for his cars. "One of the major challenges we face is when you're searching for hard-to-find parts. It is not uncommon to wait three to four years before you find a specific part that is no longer being produced or just not available in the market."
Today, with the Internet, eBay and many Porsche forums providing guidance for putting these cars together, restoration is now much easier, said Aldeguer. He has since built a team that restores and maintains his cars in good running condition.
"The whole process of searching for these special cars and meticulously bringing them back to life is a long and tedious journey, that's why we become more attached to these cars because in a way, they become your creation and in some cases an extension of yourself," he said.
Does he ever resell any of his cars after restoring them? "I've been called the 'black hole' a few times before because I didn't sell any of my cars. But as you grow and improve your line-up, its inevitable to let go of one, or in some cases two cars, to get a more desirable model. I've had to make this painful decision a couple of times."
A CONNECTION BETWEEN MAN AND MACHINE
As one of Cebu's most prominent car collectors, Aldeguer is a founding member of the Performance and Classic Enthusiasts (PACE) club, a strictly by-invitation-only car club for exotic sports car enthusiasts. The group organises Tour de Cebu, a classic car rally held in the outskirts of the central region in the Philippines where vintage sports cars from the year 1972 and older race against time and precision. Instead of racing to the finish line, participants are required to reach checkpoints at a pre-defined time.
The rally, which stretches across 1,000km, is inspired by the renowned Mille Miglia rally in Italy. At least 40 cars take part yearly, drawing international participants from countries such as Spain and Singapore. 
After a hiatus due to the pandemic, Tour de Cebu returned this year. The rally is a family affair for Aldeguer, whose son and daughter also take part.
"Seeing an assembly of beautiful vintage sports cars in a grid is always a spectacle. And being able to witness a Ferrari Dino, a Jaguar E-type, a Porsche 356 racing in a deserted mountainside is a sight to behold," Aldeguer said.
He also describes the experience of driving a vintage car freely in a controlled environment as "incomparable". "Driving a vintage car is more engaging and definitely more visceral. There is a different connection between man and machine in a vintage classic than when you're in a modern car that pretty much does everything for you. It's not only enjoyable to drive, it's also quite challenging wrestling with a car that has no power steering, no air conditioning and uses drum brakes. Just getting a 50-year-old car to finish 1,000 km is quite a feat."
Commenting on the classic car collector community in Asia, Aldeguer believes that it has always been "vibrant and rich in history". "While relatively small to our counterparts in Europe and the US, places like Japan and Hong Kong have long been entrenched in this scene while Thailand and Singapore are fast catching up. We have been inspired by regional events such as Japan's Nippon rally and Thailand's Das Treffen. It is these kinds of initiatives that help nurture enthusiasts to further our passions."
And for those thinking of embarking on their own classic car journey, Aldeguer had this to share: "Try to find the most compatible car for you. Look for something that is aligned with your personality and objectives. Do your research."
Not forgetting, see and drive as many cars as you can. "There is a car or marquee out there for everyone," he believes.