After 10 years, what's next for Fat Cow, the pioneering Japanese steakhouse?
Surviving a decade, as anyone in Singapore's fickle F&B scene knows, is no small feat. A tight team and constantly turning their focus back to the beef is the secret to this restaurant's sustained success.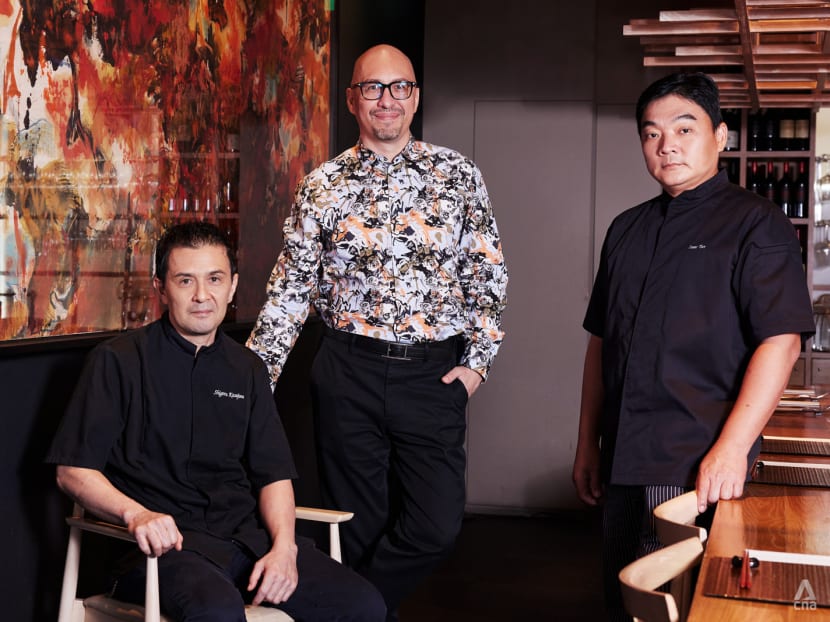 With premium wagyu as commonplace as sea urchin and caviar these days, it's hard to imagine that it's been only a decade since Singapore's first clutch of restaurants specialising in wagyu began making their way into the scene. Chief among them was Fat Cow, established by a group of friends in 2011, serving a few types of premium wagyu which diners could order as shabu shabu, sukiyaki or grilled.
In the 10 years that's followed, Fat Cow changed hands several times and was eventually acquired by Far East Organization's lifestyle arm Refinery Concepts. Earlier this year, Far East Organization and Commonwealth Capital formed Commonwealth Concepts under which Fat Cow and other F&B brands such as Kinki Restaurant + Bar, Kraftwich by Swissbake and Pastamania were absorbed.
Surviving a decade, as anyone in Singapore's fickle F&B scene knows, is no small feat. And it bears documenting the trajectory of one of the first restaurants to bring us wagyu in all its marbled splendour and sometimes dizzying prices.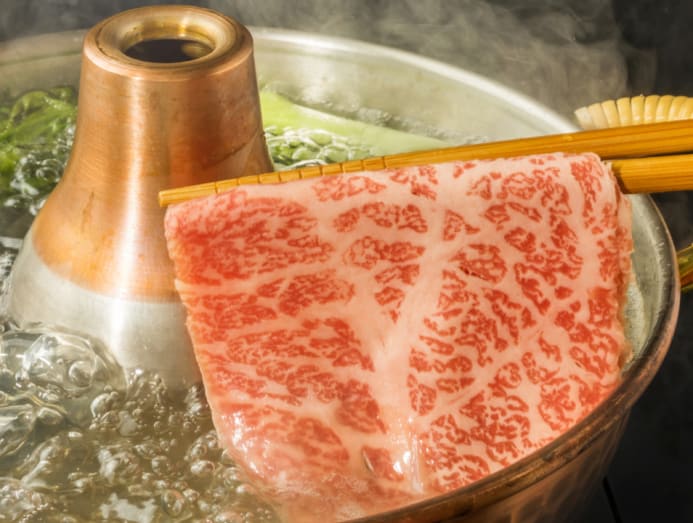 UP, UP AND AWAY
"Truth be told," said Commonwealth Concept's chief operating officer (COO) Brian Stampe, "While Fat Cow's prices were much higher in its early days, they weren't making much money. The restaurant used to serve flights of fancy, with chefs buying whatever ingredients they wanted and serving them to friends and regular customers as sort of a loose form of omakase."
Stampe has held various leadership positions in Far East Hospitality since 2014 and gleaned much of the restaurant's history from Commonwealth Concept's group head of Culinary and Product Innovations Isaac Tan.
Tan, who started out in 2008 as head chef of sister restaurant Bedrock Bar & Grill, confirms that operation costs at Fat Cow were indeed stratospheric back in the day. "Even with sales of S$150,000 per month, we still weren't making enough to cover our costs," he confirmed.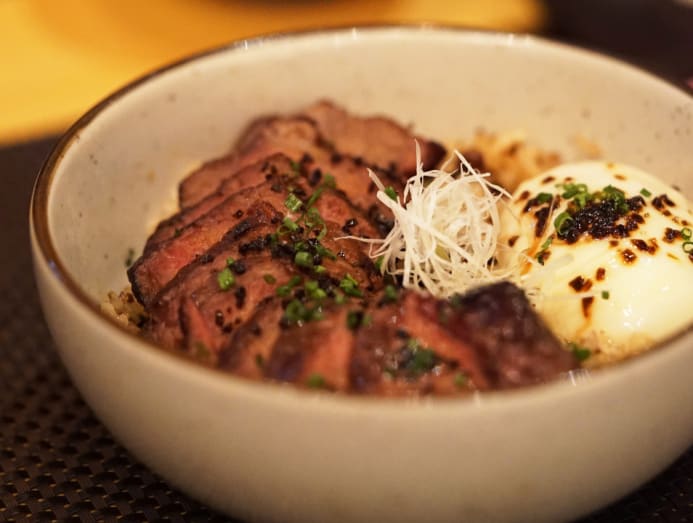 In 2015, Tan and then assistant general manager Kevin Khoo was tasked to look into how its operations could be streamlined and improved in order to turn a profit.
"The important thing was to change the mindset on the proper use of ingredients," Tan explained. "Ingredients are abundant, but we have to use them from a business point of view, not a personal one."
The exercise yielded tighter operations and a more concentrated menu, which eventually gave rise to Fat Cow's now popular wagyu donburi (rice bowls) and its impressive portfolio of prized Japanese beef.
RAISING THE BAR
In 2017, the team proposed what turned out to be a seminal idea. "They suggested tearing down the bar," said Stampe. In its place was built an eight-seat counter where they began serving Fat Cow's first iterations of an "omakase chef's table".
"We brought chef Shigeru Kasajima on board (to do this). He's not a traditional Japanese chef – he trained as French chef for 14 years before going into Japanese cuisine – but we hired him because we didn't want a purist who would not be amenable to change. We came up with loads of interesting versions of omakase with him. One of the things we had on the menu was classic surf and turf: Raw beef with tuna and uni. That started here."
As Kasajima grew into his role, his omakase began to reflect Fat Cow's true focus. "Our strength is in beef. We easily have the widest spread of wagyu in a restaurant, whereas most of the new places really focus on just two or three," added Stampe. "And so we started a beef omakase in late 2018; we were one of the first to do that."
To be sure, Fat Cow was a pioneering restaurant in many ways. It was birthed long before the city was concerned with Michelin stars and 50 Best rankings, yet made a concerted effort to carve its own niche and dining experience that drew a moneyed crowd. It is only in the past five years that its greatest challenges have emerged.
A BRAVE NEW WORLD
"The landscape has changed so quickly in the last five years as opposed to the last 15 years," said Stampe. "The challenge is: How do we evolve? It's a struggle, for sure. We will keep true to being a Japanese-inspired steakhouse focusing on quality Japanese meats, but we cannot assume that someone else is not going to (start something similar and) knock us off our perch. Now it's about how we can create and offer new experiences."
In some ways, the pandemic has helped with that. While the past two years have been painful for the restaurant industry, it has driven Fat Cow to devise other revenue streams and forge a new niche. During the Circuit Breaker last April, Stampe initiated the idea of serving dry-aged Nagasaki wagyu donburi for takeaway.
"The team was reluctant. They thought it would be too expensive because when you dry-age beef, you lose a lot of volume since you have to trim a lot of it off. But I said, 'then we charge more'. Because people couldn't travel and were willing to pay for good food.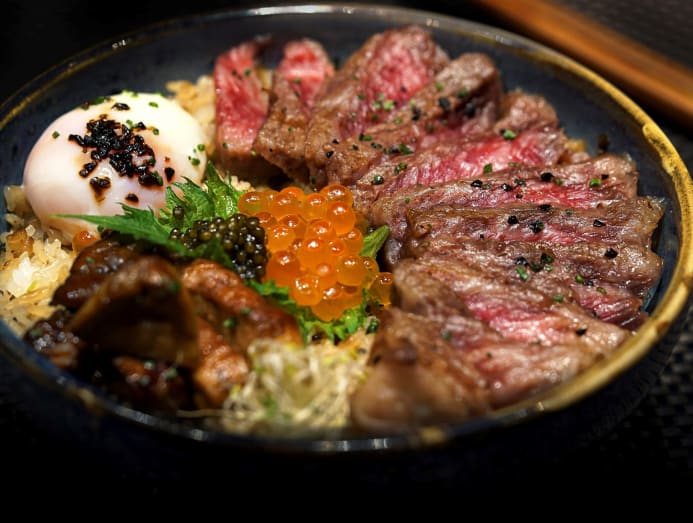 "So we rolled out the premium dry-aged Nagasaki wagyu donburi in April and people went for it."
Delivery has since become an important part of Fat Cow's business, with the restaurant hiving off a section just to manage the load. "When things improved after the lockdown, we discussed if we should go back to regular dining and cater to more seats. But we decided that the delivery portion was still important especially since we now have a new segment of people who order from us. That's really how we've maintained and continued to do well at Fat Cow throughout this period."
In-house diners remain the restaurant's top priority, though. "When we have guests in the restaurant, they come first. If we have to, we shut off the delivery option. People who come to Fat Cow are regulars. They come for lunch or to celebrate someone's birthday. We don't want to spoil the quality of that experience," he said.
SMALL STEPS TOWARDS THE FUTURE
Stampe and his team are still weighing their next steps and have ruled out opening another Fat Cow branch, at least in Singapore. "If I do open another outlet, I would probably do it in another major Asian city rather than in Singapore. I think maintaining the consistency between one outlet to another here would be hard to manage. But if we want to grow in the next decade, that has to be on the cards.
"I'm not sure how we can evolve Fat Cow, to be honest, but one way would be to do a lower brand extension," he added, declining to comment on whether firm plans for this are in the works.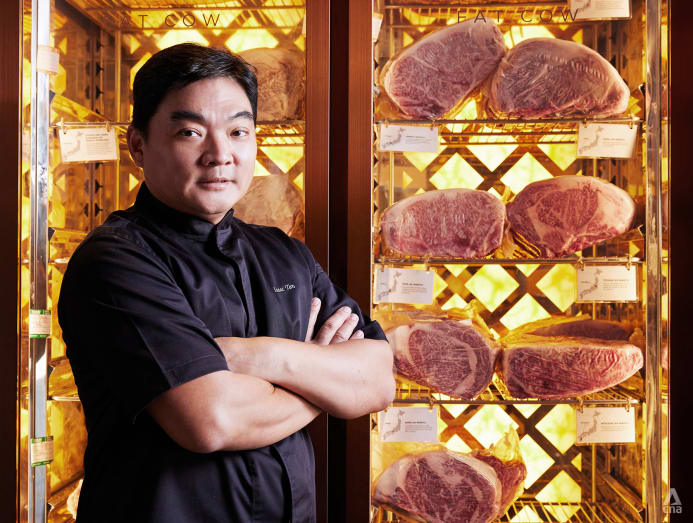 Success as the result of a team effort may sound cliche, but it is exactly what has sustained Fat Cow in Singapore's competitive market. "We are not chef-driven. That's not sustainable," said Tan. "If everyone is aligned, we can walk towards a common goal and I think that's the secret to our success – the fact that it's a team effort and a shared idea.
"Sometimes, we have to put our egos aside because there is no right or wrong when it comes to cooking. It's just different ideas and flavours, and different individual perspectives towards food. When we open our minds, we can do so much more."
To celebrate its first decade, the restaurant has introduced its 10th Anniversary Omakase Special that reiterates its mission of spotlighting Japanese wagyu. The highlight of the menu is kobujime wagyu – beef cured in kombu that yields a melt-in-the-mouth texture and deep back notes of umami.
Naturally, the menu will also feature classic Fat Cow favourites like sukiyaki and surf and turf (that is, wagyu on rice topped with sea urchin, sweet prawns and salmon roe) alongside new offerings such as kobujime wagyu with botan ebi marinated in brandy and flecked with dried mullet roe. Available till Dec 31, this line-up could be seen as a metaphor for what has taken the restaurant this far and how new ideas can successfully steer it into the future.