How this Singapore handbag designer attracted an international cult following
After consignments in some of the world's top department stores such as Selfridges and Harrods, furniture turned handbag designer Ling Fu has opened her first standalone store in Singapore's Raffles Hotel. She talks about the brand's homecoming and its journey through the years.
Seasoned bag collectors would know that scoring a coveted bag from one of the world's most storied luxury houses isn't as easy as it seems. The brands thrive on an aura of exclusivity. Customers can wait months, or even years, to be offered a bag. In the meantime, they'll have to invest in smaller accessories or leather goods in order to build an extensive profile and purchase history. Even then, the bag they end up bringing home may not be in the exact specifications they desire.
Over the years, former furniture designer Ling Fu got tired of playing the game. "I am very fond of certain handbag designs. But as the years went by, the buying experience became a bit painful," she confessed.
So Fu decided to take matters into her own hands. After learning the art of bag-making in some of the finest ateliers in Italy, she decided to start her own  label and launched Llora in 2015. At first, the media shy Fu chose to only invite close friends to view her creations. But soon, after launching in top department stores such as Barneys, Selfridges and Harrods, Llora caught the attention of bag connoisseurs around the world.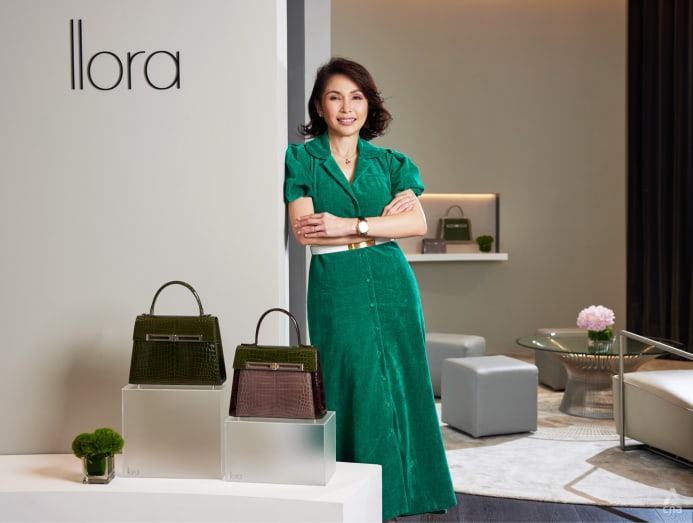 AN EYE FOR DESIGN
Fu has always had a keen eye for design. In her early 20s, in the midst of putting together her first house back in her home city of Jakarta, Indonesia, she started designing her own furniture. 
"As a young lady, I loved romantic designs," Fu reminisced. "The design of my house was leaning towards classic European with beautiful high ceilings and French windows. At that time, in the very early 90s, I just couldn't find furniture that would go with my aesthetics, unless I imported them from Europe, which would be very tedious. So I said well, I'll start designing my own."
After completing her own home, she started getting commissions from friends who were enthralled by her furniture pieces. "They wanted me to come and visit their homes. I think it is a blessing that I am very good with proportions, even from a young age," said Fu. A client then commissioned Fu to design furniture for her entire home, with a land size of around 10,000 sq ft.
Fu's line specialised in classical furniture from the Louis XIV to the XVI stylistic periods, crafted from premium wood such as teak and solid mahogany. But in 2004, Fu, who is married to architect Chan Soo Khian, founding principal of SCDA Architects, moved to Singapore with her family. "There were a lot of adjustments, so I decided to scale my business smaller and smaller," she said. Clients back in Jakarta also wanted to meet with Fu in person, but flying back and forth proved to be a tedious affair for the mum of six boys. She eventually sold off her furniture business before pivoting her focus to her handbag brand.
OBJECTS OF DESIRE
In designing her handbags, Fu draws on her own preferences, desires, and expectations. The first handbag that she designed? The structured, top-handle Savannah, and bag connoisseurs may find the silhouette of Savannah familiar.  
"I won't be shy to admit that I am a big fan of Grace Kelly. The Kelly bag was also my first Hermes bag," said Fu.  
Functionality is of utmost importance to Fu. "Users must find ease in using the bags," she said. So for the Savannah, she designed the bag with a clean look. The bag also features a front pocket to keep small items such as cards, money or keys. "Design details should be there for a reason. They should not be there if they do not have any function," Fu said. Side clasps are cleverly hidden in the Savannah, but can be pulled out in order to fasten a crossbody strap.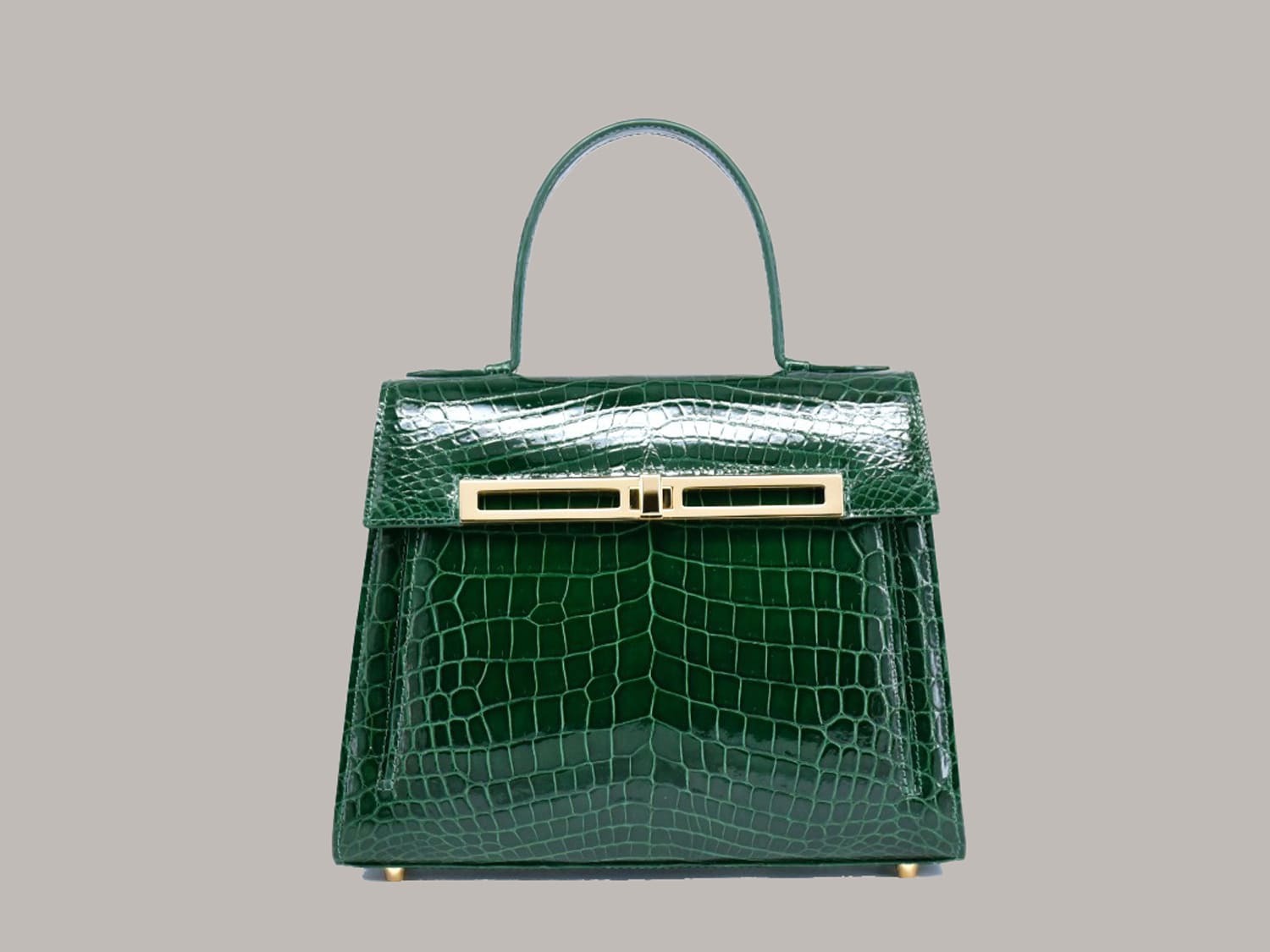 Fu describes Llora bags as "crafted luxury", made from sustainably sourced crocodile leather procured from the LVMH and Kering groups. Each finished Llora bag comes with a certificate from the Convention on International Trade in Endangered Species of Wild Fauna and Flora (CITES).
A long bar in palladium characterises many Llora bags, as seen on the Savannah. This is a patented design unique to Llora. The hardware on all its bags are made in Italy, and undergoes a longer galvinasation process than that adopted by other luxury handbag makers. "I want my hardware to last as long as the bag itself," shared Fu.
For some bags, Fu incorporates semiprecious stones such as jasper, malachite or sodalite on the long bar. These stones are cut by the same Florentine workshop used by brands such as Dior, Hermes and Bulgari.
Fu also pays particular attention to how a bag looks on a woman's frame. As she explained: "You can't design a bag that looks good, but is difficult to use or makes you look shorter or bulkier." Therefore, the chains and straps that come with Llora bags are meant to ensure that the bag does not sit lower than the hips. An extra extension is offered to taller women.
Following the Savannah, Fu's second design was the Emma bag, which can transit easily from a day bag to an evening clutch. Fu was inspired to design a bag that could hold all sorts of essentials after travelling with her family. "Because I have boys, every time we travel, they would say, 'Mum, can you carry this for me?'"
The bag's shape is an illusion of the eyes, Fu shared. Although it appears to be flat from the front, it is curved at the side to create space for keeping one's belongings. The Emma also comes in a mini size.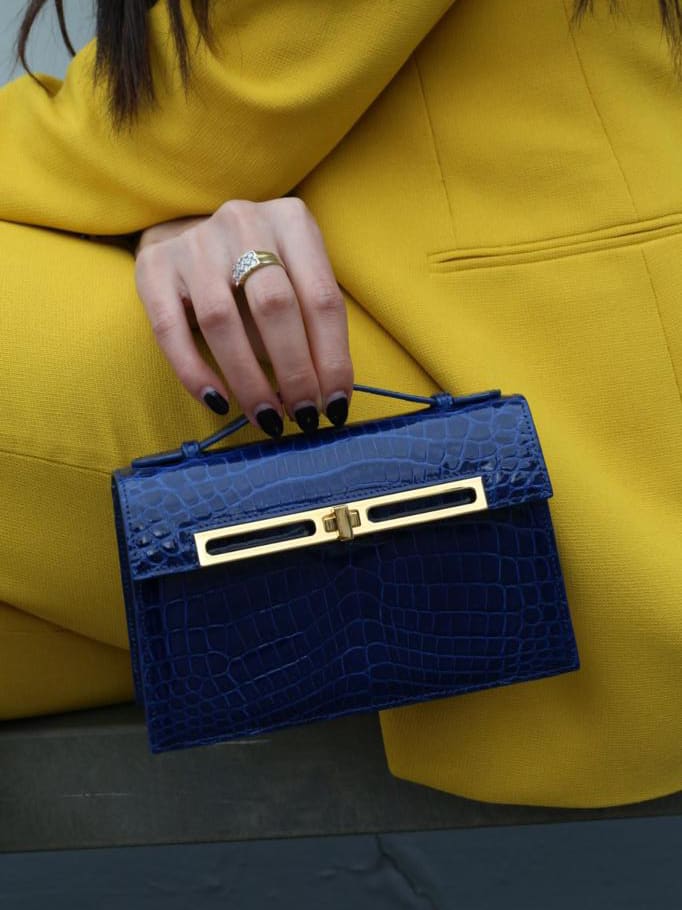 Another one of her popular bag designs is the Pippa. Inspiration for the Pippa struck when Fu was pickpocketed in Lisbon, Portugal. Designed as a carry-it-all tote made of canvas and leather, suitable for work and travel, the Pippa features a hidden zipped compartment at the bottom of bag for obscurely keeping valuables such as passport, credit card and cash. "When I work, I like to throw all my belongings in my bag. So I designed this bag to be able to keep everything but I still needed extra security to keep my credit cards. So you can put all your important belongings in the compartment, then throw anything else over it, like a bottle of water, hand sanitiser and more."
All Llora bags are crafted in the brand's atelier in Singapore. Once a prototype is completed, the brand's 14 artisans take at least eight weeks to make the most technical pieces, such as the Sevan bag, which features intricate leather marquetry. The bags have to be stitched slowly in order not to destroy the skin. It takes a lot of patience and determination to finish a piece, shared Fu, with lots of rest time in between for the artisans.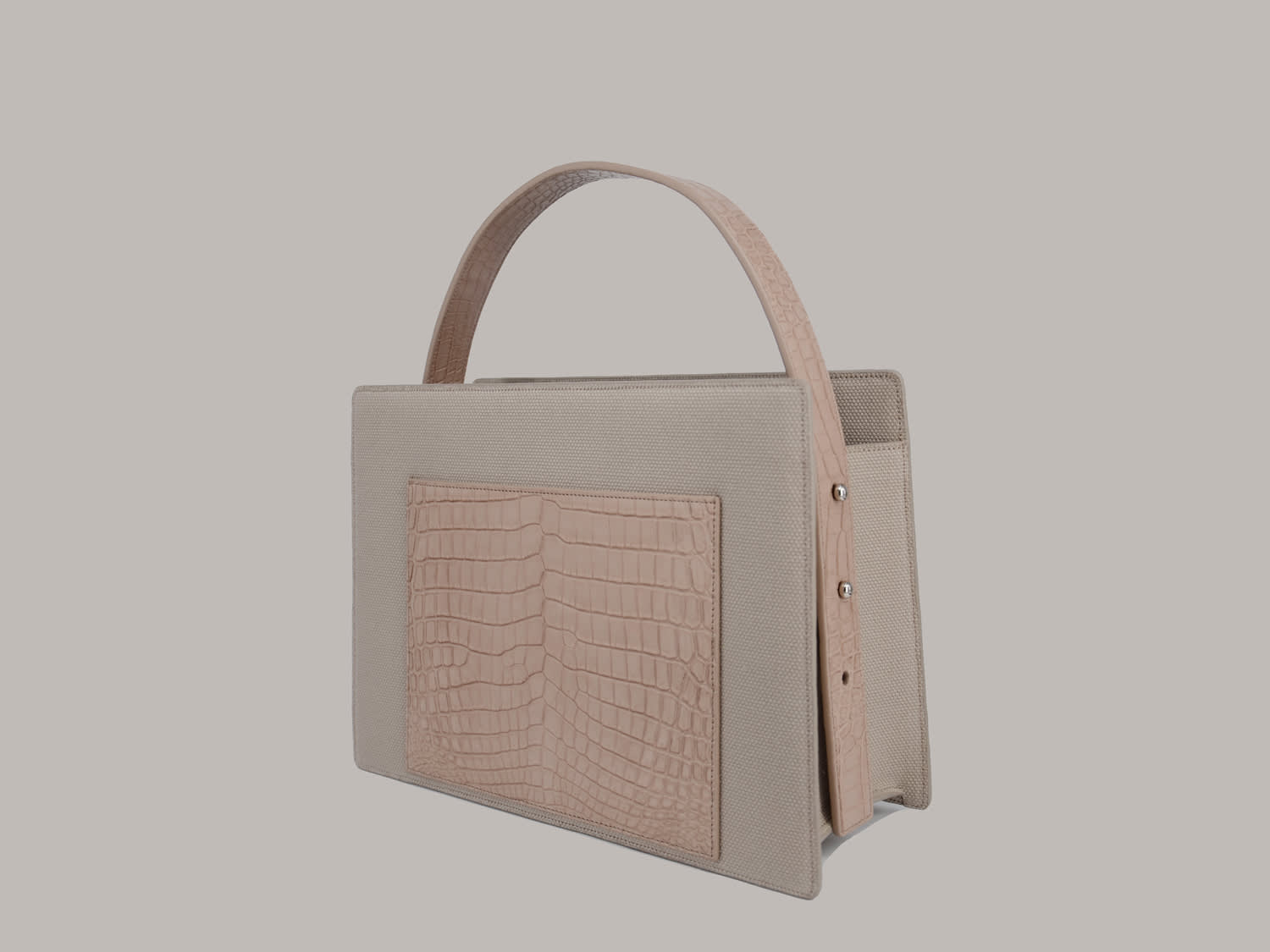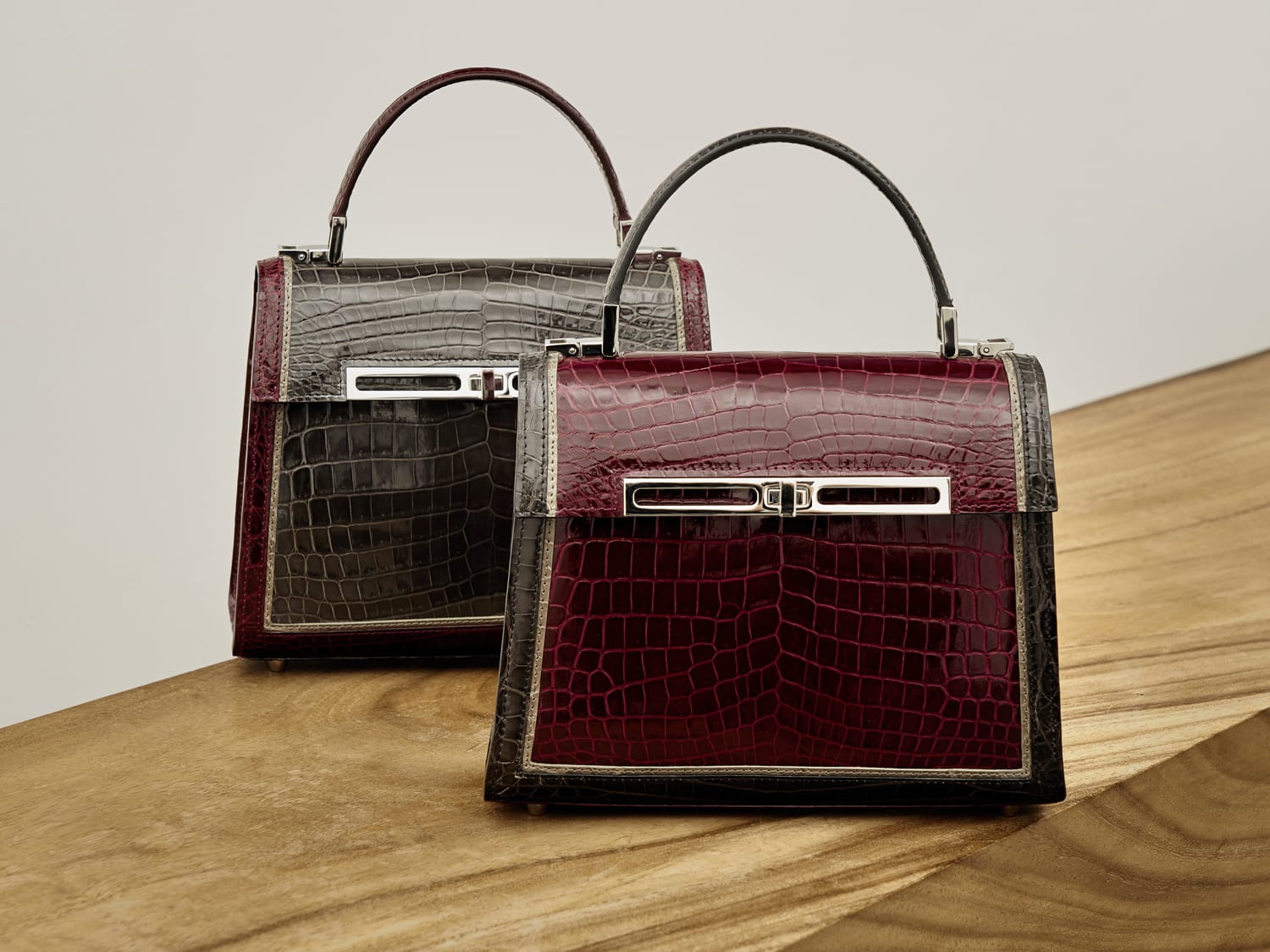 All Llora bags are produced in small numbers. This Fall, Fu will also launch a limited-edition design – the Santino – an exquisite, colour-blocked version of the Savannah. Only nine variants of the bag in exclusive colour combinations will be released.
On what makes a Llora bag stand out, Fu said it is "proportions, functionality and sensitivity to colours". She describes the typical Llora customer as an intelligent shopper, who is confident in what she wants. They come from all over the world, ranging from the UK, US, Singapore, Middle East and more.
Bags such as the Mini Emma attract customers from their late 20s, but the age demographic can go up to women in their 60s. Llora counts members of royalty and high society as customers but professional working women have also increasingly become Llora devotees.
THE LLORA JOURNEY
Llora's international expansion started off with a simple cold email to the now defunct Barneys departmental store. To Fu's surprise, Barneys took interest in her bags and the designer flew to New York to meet them. In a small board room, she displayed her designs and gave her presentation. When it concluded, Fu was prepared for questions, but there was silence in the room.
Dejected, Fu returned to her apartment, where her husband consoled her. But the next day, less than 24 hours later, she was out having lunch with friends when she received an email with a consignment contract. "That was the happiest day of my career, because scoring Barneys was like getting into the Ivy League of department stores!" Fu explained.
In five months, the brand sold a total of 70 bags. "That gave me a lot of confidence that the brand can be accepted internationally."
Soon, Fu's bags were also sold at Selfridges and Harrods in London. The brand has since pulled out of Selfridges. After the closure of Barneys, Harrods is currently the only store outside of Singapore where Llora bags are sold.
In August 2022, Llora opened its first flagship and standalone store in Singapore, located at the shopping arcade of Raffles Hotel. Designed by Ling's husband, the inviting yet minimalist boutique is inspired by the timeless and structured design of a Llora handbag. Here, Llora's designs are on show. A floor-to-ceiling display gallery showcases Llora icons such as the Savannah and Sevan bags in an array of colours. An intimate seating space in the gallery facilitates conversations between customers with the staff or with Fu herself.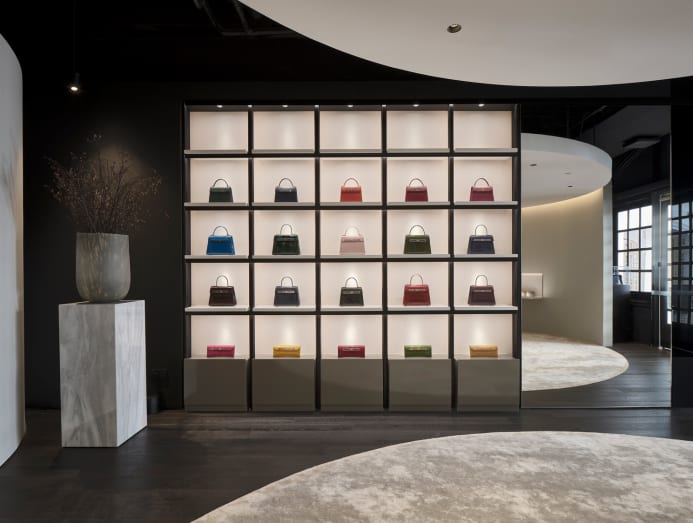 It was a staycation with her husband that inspired Fu to set up her flagship store at the legendary hotel. "My husband kept saying 'Ling, it's time to give birth to Llora. You can't keep carrying it in your womb'," Fu laughed. While having had a presence in places such as Barneys and Harrods had opened doors for Fu, she believed it was time for a homecoming for the brand. "Llora was not created in the West, it is an Asian brand. Having a flagship store in Singapore and in a very iconic hotel is the right match," she continued. 
Still, international appeal remains important for Fu, whose future plans include opening independent stores in both New York and London.
Her ultimate vision, however, is preserving the handbag making trade. "My master artisans are ageing and right now, I really want to provide more training opportunities to younger artisans," said Fu. In today's fast fashion world, she believes in changing the mindsets of the next generation of bagmakers so that they desire to "create something so artisanal, and so crafted". 
Meanwhile, Fu believes that the Llora brand has what it takes to make a mark on the luxury world. "There is something about Llora that can make this part of the world proud," she quipped.