Osim founder Ron Sim on taking iconic brands TWG Tea, Bacha Coffee and more to the global stage
After achieving international success with the massage chair empire he founded, billionaire businessman Ron Sim is now channelling his innovative vision towards building a spectrum of scalable Singapore-owned brands.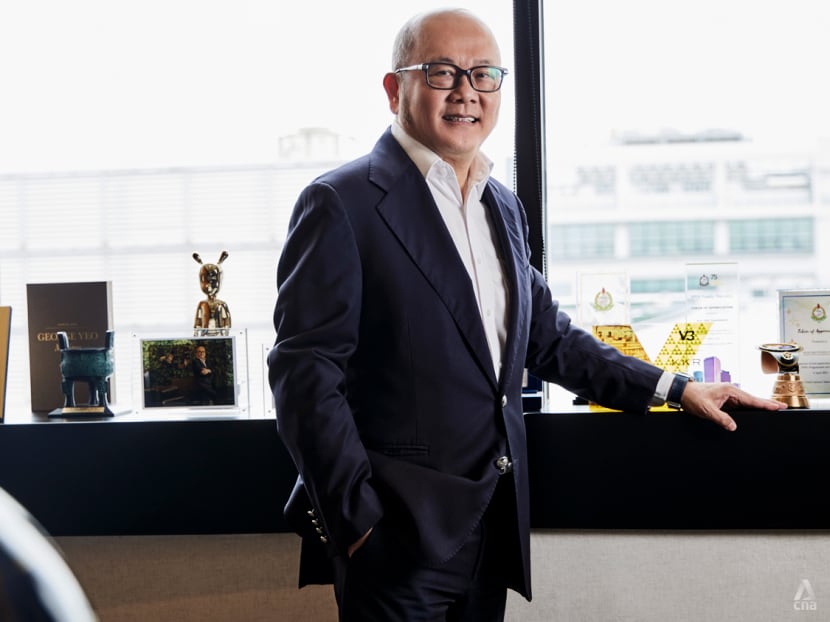 Singapore business magnate and visionary entrepreneur Ron Sim hardly needs an introduction. He is, after all, known as the man behind Osim, although these days, he prefers not to speak too much about the premium massage chair empire he founded, having handed over the reins of the company to its own CEO.  
Instead, Sim's focus in recent years has been building and expanding the other businesses under V3 Group, of which he is founder and executive chairman. Aside from Osim, brands under V3 Group include wellness supplements brand LAC, gourmet tea and coffee brands TWG Tea and Bacha Coffee, Moroccan restaurant Le Cabestan, store fixtures specialist Futuristic and more. V3 is also a shareholder of halal cheesecake specialist Cat & The Fiddle and traditional bakes retailer Old Seng Choong. "After building one successful brand, it's only natural to feel that I should build more," Sim surmised.
Sim's journey with Osim is one of Singapore's best-known rags-to-riches story, one that many are already familiar with. Born into a modest family with seven children to feed, Sim spent much of his childhood taking up odd jobs such as selling noodles and working as a waiter. "When you are born into a poor family, there's nothing but hunger, and when you're hungry, it drives you harder," shared Sim. "Since my primary school days, I wanted to go and make money instead of studying."
Sim left school after completing his O Levels and in the early 1980s, he started R Sim Trading, retailing a wide assortment of household goods. The company was hit hard by the 1985 recession, and it was then that Sim knew he needed a niche. Noticing a demand for health and wellness products, he later created Health Care & Check in 1989, selling healthcare related products. Later on in 1994, he decided to focus on massage chairs and renamed the company to Osim, combining his surname with the letter 'O' to represent the globe, a reflection of his ambitions for global expansion. Today, Osim has a widespread retail network of over 400 stores around the world, including Singapore, Taiwan, China, Malaysia, Indonesia, the US and more.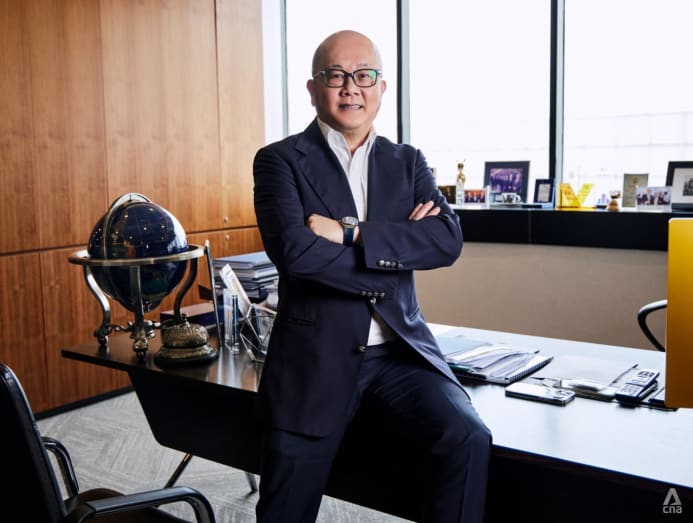 "I remember when I was in school, I read an article asking if you could choose between owning the biggest factory in the world, or the best brand in the world, which would you pick? I would pick the brand. If you have a good brand, it is a promise of value that stays with people for many years," Sim mused. "A good brand will prevail if you position it right and if you continue innovating, creating new products and new experiences that people will remember. It has always been in me to build brands."
THE VALUE OF A BRAND
In 2016, Sim took Osim private and started V3 Group. The company has three core business units – V3 Brands, which focuses on the acquisition and creation of brands in the wellness and affordable luxury gourmet sector, V3 Capital, which seeks investment opportunities in the global markets, and V3 Assets, which holds the group's interests in healthcare and real estate.
Although Sim started out his entrepreneurship journey with Osim, today, V3 Brands "is not about building one company or one product", he said. "It's about building a spectrum of brands."
Minted under V3 Brands is V3 Gourmet, which focuses on building names in the affordable luxury F&B and gourmet retail sectors. It houses both TWG Tea, co-founded by veteran entrepreneur Taha Bouqdib, and Bacha Coffee. While TWG Tea was founded in Singapore, Bacha Coffee is originally a heritage Moroccan brand established in 1910. "But we reconceptualised the brand. What you see with Bacha today is completely new and created by us. Today, it is owned by a Singapore company," added Sim.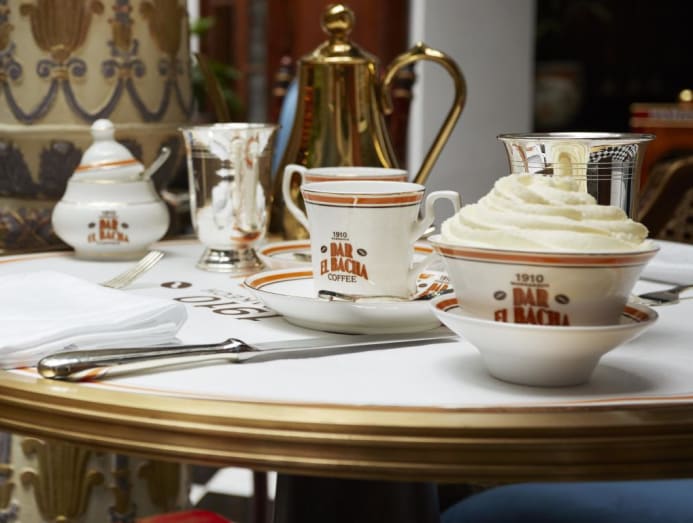 V3 Gourmet's affordable luxury focus refers to sophisticated yet accessibly priced experiences that sit between luxury designer and mass-produced offerings. Its offerings, such as TWG Tea and Bacha, are targeted at the mass affluent. "Since the early days, when we first seeded TWG Tea before we acquired the majority, I felt that tea has the potential to be positioned in a more luxurious, yet affordable way. In the past, there has always been afternoon tea at hotels, but coffee and tea offerings in the shopping malls were poorly positioned," explained Sim. "I think we have revolutionised tea and coffee in the way we conceptualised the products and packaging, and the way we created a new experience."
Sim has always believed that it is not only important to build a successful business. It is also important to build one that is sustainable and can scale internationally. This requires a deep understanding of the consumer market, he explained. "Who are you targeting? The deeper you understand your target market, the better your brand positioning. The better your positioning, the easier it is to create your concept and products."
V3 Gourmet's affordable luxury focus is driven by the rising mass affluent in Asia who desire quality products and unique experiences, Sim explained. But beyond the tangible attributes of a product, brand value is an essential factor in creating desirability and capturing the hearts and minds of consumers. "I always say, a bag is a bag. So why do people buy a Chanel or a Gucci? As people in business, we know the actual production cost, but what these brands are doing is creating great products that people desire. So it's not just about the material cost; it's about the value of the brand itself. That makes all the difference," Sim enthused.
'DON'T LOSE YOUR GUTS'
Aside from scalability and positioning, another criteria that Sim looks at to determine the potential of a brand is the traits of its leaders. Every V3 brand is run by its own founder or CEO, and Sim dedicates one day a month to each of them for company reviews and discussions on strategies.
"It's important to look at the character and capabilities of the key leaders of a company. You can't have capability without character," he believes. "How passionate, determined, resourceful and resilient are they? Many can dream big, but not many can weather the storm."
Sim believes that the mark of a true entrepreneur boils down to two traits – resilience and resourcefulness, "with or without resources", he quipped. "How committed do you want to be during bad times? Because everybody can win in good times. But can you win in bad times and get up from every fall, come what may?"
Sim added: "You cannot say you are resourceful, yet ask for resources. Resourcefulness is the ability to create resources yourself." And in difficult times, it is important to have a "never-say-die attitude". "There will be challenges, there will be failures. But those are opportunities for you to prove that you can overcome them."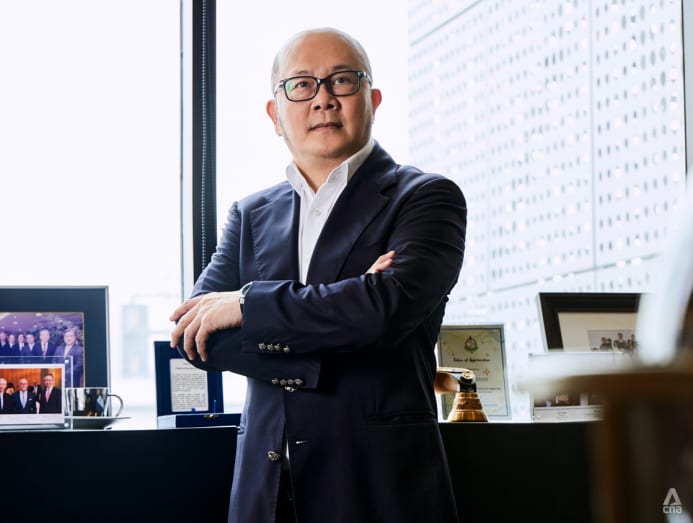 It is perhaps this attitude that has made Sim the visionary entrepreneur he is today, having steered his businesses through several crises over the decades – including recessions, financial crises and most recently, the COVID-19 pandemic. Do his CEOs come to him for advice? "They don't have to come to me, they know I always preach," Sim answered candidly. "But they also know that I practice what I preach. I always tell them that there are four key periods in a company's journey – high time, low time, correctional time and breaking point. During high time, don't lose your head. During low time, don't lose your heart. At correctional time, don't lose your guts and during breaking point, don't lose your spirit."
GRIT AND SACRIFICE
After almost 45 years in business – Osim will celebrate its 45th anniversary in 2024 – what Sim has achieved is no small feat, but as with every entrepreneurial pursuit, a lot of hard work has been poured into the journey. Luckily for Sim, he is not one to ever feel stressed. "If one enjoys his work, there's no stress. For me, I have no hobbies because business is my passion," he revealed. "I enjoy doing business all the time and I enjoy talking and thinking about business, so to my wife, I'm boring," he joked.   
For one to invest wholeheartedly in his or her vision, one has to make some sacrifices along the way, Sim believes. "There is a price you must pay. I don't believe in work life balance," he stated matter-of-factly. "I'm not saying that work life balance is not good. But when you want to be successful, you put more time into your business, which means less time for everything else. When you are passionate about something, you think about it from morning to night."
For Sim, in the early days of Osim, that sacrifice came in the form of family. "I wish I had more time with my kids when they were young," admitted the father of three. "Now I spend more time with my grandson than I ever spent with my kids."
Yet at close to 65 years old, Sim has no plans of slowing down. "I think I will easily spend another 10 years [running the company]. Even at 75, I will still sit on the board. I don't believe in retiring. I think retiring means you are waiting for death," he said bluntly. "You can cut down on your workload, but you should never fully retire. As long as you still have the bandwidth and the influence, you can still walk and talk, you should continue contributing to your company."
"We are all given one life, so we should make it a purposeful one. Everybody has different definitions of success. But to me, success is about having the ability to make your dreams come true."
THE PURSUIT OF PURPOSE
Throughout his four decades in business, Sim shared it has always been his practice to create 10-year plans. Although some years were lost to the pandemic, Sim believes V3 is on track to achieving its goals. He declined to reveal exact details of his plan but shared that his ultimate vision for V3 is to "hopefully build one of the strongest conglomerates in Asia".  
The focus for brands under V3 is to continue its expansion in overseas markets, driven by consumers' "hunger to spend" in a post-pandemic era. At present, V3 brands operate in over 100 cities in 27 countries including Singapore, Malaysia, Hong Kong, Philippines, China, UAE, Morocco, France, Taiwan, the US and more.
Since opening its first outlet in Singapore in 2008 at Republic Plaza, TWG Tea now has 69 stores globally. Bacha Coffee will have 15 stores by the end of 2023 and will open another 20 by 2024. "Bacha is not a Starbucks, so we are not interested in opening 2000 stores. We will be happy with 500 stores worldwide, 500 solid stores that offer beautiful experiences, products and service," stated Sim.
V3 Gourmet additionally has plans to open the first overseas outlet of Mediterranean restaurant Le Cabestan, located in Casablanca, Morrocco, in Singapore next year. According to the V3 Gourmet website, Le Cabestan was founded in 1926 and has hosted a prestigious clientele over the course of its history, including artists, businessmen, politicians and royalty from around the world.
Sim has certainly earned his stripes as a business titan, but what continues to drive him is a relentless pursuit for purpose. "We are all given one life, so we should make it a purposeful one. Everybody has different definitions of success. But to me, success is about having the ability to make your dreams come true," Sim reflected. "It's not just about money, it's about attaining a sense of achievement, of building a legacy."
What legacy does Sim aspire to leave behind? "It's a bit early to say, because I still have big dreams," he said without missing a beat. "At the end of the day, I came from nothing, and managed to build something great. As to how great V3 is, I will let others be the judge of that."
"There are four key periods in a company's journey...During high time, don't lose your head. During low time, don't lose your heart. At correctional time, don't lose your guts and during breaking point, don't lose your spirit."